Top 5 cheap Miami Beach Hotels
Miami Beach is a city of contrasts, with modern-day developments rubbing shoulders with Art Deco buildings from the '40s. As one of the world's most popular destinations, this narrow-stripped island, separated from the mainland by Biscayne Bay, attracts millions of tourists throughout the year. This means that hotels can get pricey, especially during the peak season from January through April. The best times to travel are during the off-peak months from May through September, as well as in October through December, also known as Shoulder Season. By steering clear of the high season, you'll avoid the larger crowds and inflated prices while still being able to enjoy the nice weather South Florida offers year round.
When you're flying in to Miami, remember that the cost of airport parking back at home can add up to a night or two of hotel stay, so be sure to reserve space at an off-airport parking lot.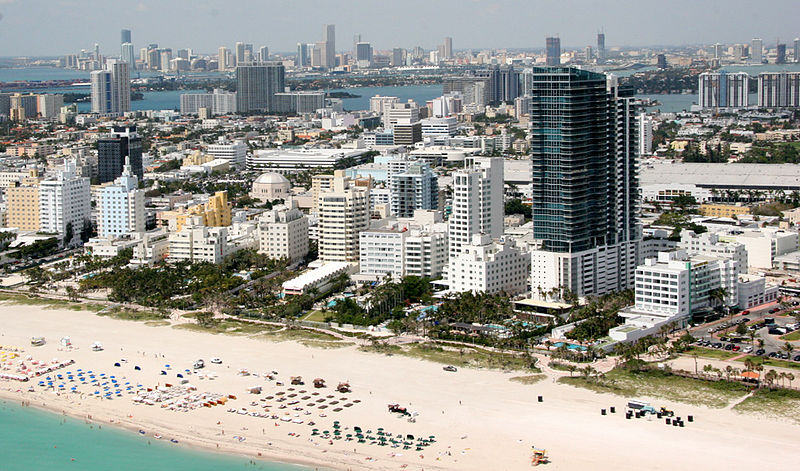 Where to Stay in Miami Beach
Miami Beach was a peninsula until 1925, when Haulover Cut was opened to connect the ocean to the bay to make it easier for ships and barges to come in to the port. Five main bridges will bring you across Biscayne Bay and the Intracoastal into the principal neighborhoods of Miami Beach.
MacArthur Causeway takes you from the airport straight into South Beach, best known for its restaurants, lively nightlife, Art Deco buildings, and, of course, the beach. Tourists can feel the diversity of cultures and lifestyles inundating the streets of Lincoln Road and Ocean Drive. In addition to being the most popular tourist destination of Miami Beach, South Beach swells with visitors and locals to Art Basel in December and the Miami International Boat Show in February.
For a scenic drive, take the historic Venetian Causeway into the northern part of South Beach, where you'll pass by the charming Standard Spa on the Bay, and famous hotels such as the Setai, W, and 1 Hotel. There is also a large public parking lot with public beach access located right by these hotels.
The Julia Tuttle Causeway also brings you straight from the airport to the heart of Mid-Beach where you'll find the posh and historic Fontainebleau Hotel. This is a calmer neighborhood which is not as walkable as South Beach. Most restaurants are located inside the larger hotels, and public beach access is limited. Mid-Beach is where most of Miami Beach residents live due to the quiet nature of this area.
North Beach is a calm extension of Mid-Beach, slightly more walkable and filled with budget-friendly restaurants, five and dime stores, and strip malls. The John F. Kennedy Causeway connects North Beach, Normandy Isle, and North Bay Village with the mainland and I-95.
A bit further north, the Broad Causeway brings you into Surfside and Bal Harbour. Here you'll find Bal Harbour Shops, one of Miami's highest end shopping malls occupied with designer boutiques such as Balmain, Gucci, and Prada.
Having mentioned some of the more upscale hotels on the beach, let's have a closer look at where to stay on a budget.
Freehand Miami
https://freehandhotels.com/miami/
2727 Indian Creek Dr, Miami Beach, FL 33140
(305) 531-2727
The Freehand Miami is a quaint and cozy oasis that exudes character and charm. It has an outdoor terrace and pool, the fun Broken Shaker Bar, and a seasonal restaurant. Although it's not oceanfront, it's a quick 5-minute walk to the beach and a 10-minute ride to the nightlife and restaurants of South Beach. It's also located conveniently across the causeway from Midtown, Wywnood, and the Design District, which are all a 15-minute drive away. Miami International Airport is a 20 minutes' drive. Keep an eye out for vacancies here; it's even fun for a staycation.
Sun Harbour Boutique Hotel
https://sunharbourhotel.com/en/
9576 Collins Ave , Surfside, FL 33154
(844) 788-1862
If the hustle and bustle of South Beach is too much and you'd like to stay in a calmer area of town, then the Sun Harbour Boutique Hotel in Surfside (North Beach) is a great option. It's a 3-minute walk from the beach and a 5-minute walk from Bal Harbour Shops. The hotel itself is a two-story, Italian style villa with 19 suites that have kitchens and appliances and private patios. There's also an outdoor pool and a hot tub. Self-parking is available on site for free.
Townhouse Hotel Miami
http://www.townhousehotel.com/
150 20th St, Miami Beach, FL 33139
(305) 534-3800
Established in 1939, the Townhouse Hotel Miami is walking distance from Lincoln Road and all the action on South Beach, yet also just beyond the heavy traffic zone. This boutique hotel offers a rooftop wooden deck with a pool and a bar, and the beach is a short 5-minute walk away. The decor is charming and modern, making this a great option for a weekend getaway.
Casablanca West Tower Hotel
https://casablancawesttower.com/
6060 Indian Creek Dr, Miami Beach, FL 33140
(786) 864-2300
The Casablanca West Tower Hotel features 45 rooms with kitchenettes and appliances. Most rooms have balconies and offer a view of the water. There's an outdoor pool, and the beach access is within a close 5-minute walk.
The Fritz Hotel
http://www.thefritzhotel.com/
524 Ocean Dr, Miami Beach, FL 33139
(305) 531-0101
Slightly more upscale because of its premium location and small number of rooms, the Fritz Hotel offers a rooftop pool and oceanfront suite with balconies overlooking the beach. Located in the heart of the South Beach Art Deco District, this is your best choice for experiencing the sidewalk cafes and nightlife of South Beach.
Whether you're looking for a relaxing getaway or a more active and fun-filled weekend, you'll find a number of great hotels at affordable prices.