Marriott LAX Parking
Parking Lot Overview
Marriott LAX Parking (Open 24/7)

Driving distance to LAX: 1.7 miles
Type of Parking: Outdoor Self, Indoor Valet
Clearance: 6'4"

Extra charge for SUVs, vans and trucks: No

Comfortable and secure hotel parking just 2 blocks away from LAX. Marriott LAX Hotel offers indoor garage valet and outdoor self parking. Free shuttle service 24/7 on big modern shuttle buses.

Hotel amenities are for your convenience and include: Starbucks cafe, Fedex/Kinkos, Champions Sports Bar, JW's Steak House, Latitude 33 Restaurant.

Additional information:
You can use either Marriott Hotel or Hilton Hotel courtesy shuttles to get back from airport terminals.
Parking Lot Plan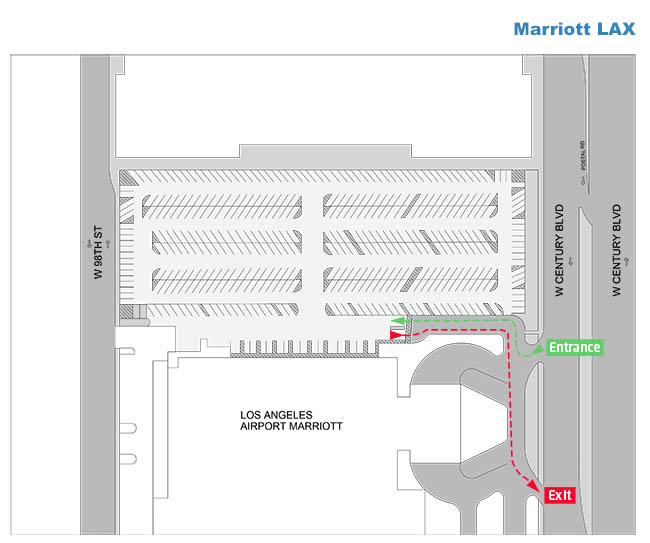 Customer Reviews Summary
Convenience (9/10)
Most users found the service to be quick and efficient, noting that it greatly simplified the parking process.
Price (7/10)
Some customers found the parking to be a bit overpriced, but still considered it to be a good value overall.
Location (7/10)
The location was generally considered to be convenient and close to the airport, but some customers had difficulty finding parking spaces.
Shuttle Service (8/10)
Most customers experienced short wait times for the shuttle, but a few had to wait longer than expected.
Customer Service (9/10)
Customers generally had positive experiences with the staff, noting their professionalism and helpfulness.
Security (8/10)
Some customers felt that there could be improved security measures in the parking garage.
Cleanliness (7/10)
A few customers reported that their cars were not as clean as expected when they picked them up.
Overall Experience (8/10)
Most customers had positive experiences with the Marriott LAX Parking, with only a few minor issues mentioned.
Reviews
"No elevator to get out of the parking garage"

Earl J Gantz

"Biggest problem is getting credit for my Marriott points. Was refused at pay booth and told to call Marriott for credit. Not acceptable."

Elliott Wolfe

"This time everything was excellent. Last time was a 3 star visit."

William L Knell

"For many years, I have been using this website for Marriott LAX Parking and will continue to do so. Friendly Marriott staff!"

Larry C.

"Convenient location, easy to find and close to the airport. Outdoor self parking, we left our car 11 days and found a good deal online. We waited only 10 minutes for the ride to the airport (it was around 5 pm), it was a 5 minutes ride. On the way back, we waited about 15 minutes only, it was 9 pm and a lot busier. The check out from the parking facility was easy, the exit to drive back to the 405 South pretty straightforward! Will definitively parked there again."

Dom - San Diego

"Very minimal wait times on both ends as well as paying the cashier."

Carl Kitani - MV

"We waited one hour for pick up on our return. Only one shuttle was available."

Mario A. Kelly - MM

"This is the best parking experience I've had near LAX. Valet took my car, loaded luggage into van and off to the airport. When I arrived back in LA, van picked us up within 10 min of our arrival at pick-up point. Took about 5 min at the hotel for them to retrieve my car and load it with our luggage. Will use this service again."

Sylvia - Palm Springs

"I've parked there many times. It is always a refreshing experience. Fast shuttles to and from the airport. Great service and easy payment. I would recommend to everyone!"

Tim E.

"If parking was covered it'd be the best place of any to park for lax. Only giving 4 stars due to having to park and leave car in an outside lot. Everything else was first rate. And for the price can't be beat. Wait time on either end was pretty much the same as other shuttles we've taken about 10 minutes."

Mark L Brown - CA

"Best service of all I have tried over the years."

Barbara D Cleary
More Marriott LAX Parking Reviews
Why book LAX airport parking with ParkON
Best price guarantee
Our prices are better than good.
They're guaranteed for LAX Parking!
Easy booking
Search, select and reserve - in less
than 5 minutes
Free cancellations
Cancel for free if your travel
plans change