The Essential Airport Amenities Guide to LAX
It's a little known fact that Los Angeles International (LAX) is a hub for more airlines than any other airport in the US. As the fourth-busiest airport in the world and second busiest in the nation, with nearly 90 million passengers flying through each year, chances are that you might find yourself spending some time here while passing through on a long layover or stopover. Whether you arrived early for your flight or are waiting your connection, you'll want to maximize your stay while traveling through Southern California.
"People are arriving earlier at the airport and tend to have longer dwell times. Airports have become more than just a transportation hub, so we're looking to provide experiences for all our guests, from visual arts to performing arts." ~ Barbara Yamamoto, Chief Experience Officer (CXO), Los Angeles World Airports (LAWA)
With the large renovation effort well underway, the good news is that LAX is already starting to offer more and more facilities in the airport. Here's a guide to what's new, tasty, and fun to do at LAX!
Renovations
Los Angeles International Airport is in the middle of a $17 billion modernization effort scheduled to be completed in 2023, with two dozen projects running across the various terminals. Renovations have already been completed at Tom Bradley International Terminal (TBIT), making it one of the world's most modern airport facilities. TBIT now rivals top malls nationwide with its selection of shops, dining options, remarkable public art displays, and even live performances by musicians.
The smaller Terminal 2 has also been completed and features new restaurants and shops. If you're traveling through other terminals, few amenities will be open during renovations and you may want to visit renovated terminals if you have time.
The LAX Loop and Shuttle
The airport is laid out in a U-shaped loop, so there is no central terminal with all amenities. However, with a valid boarding pass for the same day, you can visit any terminal. This is convenient, since each terminal has its own shopping and dining options and you'll want to choose one to go based on how much time you have before your next flight.
Terminals 6, 7, and 8 are connected through the security area, which makes it easier to move between them. For other terminals, you'll have to enter through their security line first in order to access shops, restaurants, and other amenities.
All terminals are easily accessible by walking or by taking Airport Shuttle Bus. It takes about 5 to 8 minutes to walk between each terminal. The complimentary shuttle service runs 24 hours a day, arriving at each terminal every 12-15 minutes. Wait for it on the lower, arrival level at the blue sign marked "Shuttle & Airlines Connections". You'll see a white and blue shuttle bus marked with an "A" coming around to each terminal.
What to do
With an airport as large as LAX, you will find plenty of options to spend your time in comfort and fun outside of airport lounges. If you have four or more hours, you could head to nearby Venice Beach or even to Hollywood, with FlyAway bus service, which takes you to Hollywood Boulevard.
If you don't want to risk the traffic or have arrived early for your flight, make your way over to Tom Bradley Terminal with your boarding pass in hand.
Remember that if you're arriving from an international destination, you'll have to pass through US Immigrations and Customs first, and then recheck your bags for your next flight.
Fine Dining
You'll find the best dining options at Terminal B, the rebuilt Tom Bradley International Terminal. With the renovation, it now resembles an upscale shopping mall with art installations and some of the city's best restaurants, including:
CHAYA Sushi, a great place to order pre-made sashimi and sushi rolls or to savor a custom hand-made creation with a glass of sake.
The Petrossian Caviar and Champagne Bar, for the best charcuterie, smoked fish, foie gras, and of course, wine and champagne.
Planet Hollywood, the theme-inspired venue honoring LA's movie industry, located in the pre-security zone of TBIT.
Umami Burger, for unique all-American hamburger experiences, including the Cali Burger, LAX Burger, and LAX Veggie Burger.
Vino Volo, for leisurely sipping of fine vintages from around the world with cheeses and light bites.
If you're in more of a rush, you can order online in advance from Wolfgang Puck's WPizza, also located in the pre-security zone.
There are many other excellent venues, from sit-down dining to fast-food takeout, if you're in a hurry. Each terminal has at least one food service option before TSA security check, as indicated below:
7-Eleven (pre-security zone)
800 Degrees Pizza
Border Grill
Cantina Laredo (pre-security)
Earl of Sandwich (pre-security)
ink.sack
James' Beach
Kentucky Fried Chicken
LAMILL Coffee
P.F. Chang's
Panda Express
Pinkberry (pre-security)
Pret-A-Manger
Scoreboard LA
Starbucks
Starbucks Evenings
The Coffee Bean & Tea Leaf (pre-security)
Vanilla Bake ShopWhile a lot smaller than TBIT, Terminal 2 has been renovated as well and offers a number of excellent dining options, including:
Barney's Beanery
BUILT Custom Burgers
Fresh Brothers Pizza
Jersey Mike's
Pick Up Stix
SeaLegs Wine Bar
SLAPFISH Modern Seafood Shack
Starbucks (pre-security)
Fabulous Shopping
LAX now offers one of the best airport shopping experiences worldwide at Tom Bradley International Terminal, offering something for everyone. Whether you are looking for a gift for someone at your destination, need to get a magazine or book, or simply forgot to pack something, chances are that you will find just what you need among many new shops at the airport. You can browse through common airport stores as well as Hollywood and California themed shops and surf and sports stores.
America! — This regional stores specializes in souvenirs, gifts, apparel and accessories associated with American imagery and values.
Angeleno — Located in the pre-security zone, this newsstand also offers packaged snacks, beverages, and last minute travel essentials.
Bliss — Offering a range of premium skin care and spa products.
Burberry Boutique – Located within the DFS Duty Free shop, you can find quality men's and women's apparel and handbags by Burberry.
CNBC — If you're looking for last-minute flight necessities, you'll find what you need at this floating retail space.
CNN Newsstand — A convenient stop to pick up some reading material and travel must-haves.
Coach — Perfect for shopping trendy leather handbags, scarves, watches and keychains.
DFS Duty Free
Enjoy tax-free savings on jewelry, watches, sunglasses, and confections, and more.
Emporio Armani — Make this your destination for contemporary European trends with an Italian flair for mens
and womenswear.
Gucci Boutique – Located within the DFS area, Gucci is known for fashioanble women's apparel, accessories, handbags, jewelry and more.
Hermes Boutique – Also found in the DFS shop, Hermes purse, jewelry, women's apparel, and fragrances are available.
Hudson — Located in the pre-security zone, offers a full selection of local and international magazine and travel necessities.
Hugo Boss — The German brand offers business attire, eveningwear, leisure apparel, footwear, watches, sunglasses, and accessories.
iStore — If you're looking for mobile and digita products, iStore is stocked with tech essentials and gift ideas.
LA Original — LA-branded products that are locally designed, assembled, or manufactured in Los Angeles.
Michael Kors — Ready-to-wear and high-end accessories, including handbags, fragrances, and jewelry.
Porsche Design — The iconic car brand also offers a collection of jewelry, timepieces, active-wear, sunglasses, and luxurious leather luggage.
RELAY — For any travel necessities, from magazines to electronics to snacks and wellness items.
See's Candies — Located in the pre-security zone, satisfy your sweet tooth with more than 100 varieties of treats and chocolates.
The Bead Factory — If you're looking for costume jewelry, bracelets, necklaces, rings, and even headpieces to add some flair to any outfit.
The Economist — A newsstand in homage of the popular magazine, offering news publications, light reads, snacks and bottled drinks, gifts, and souvenirs.
The Hollywood Reporter — Offering a full selection of reading materials and snacks.
Travel + Leisure — Located in the pre-security zone, you'll find a variety of luggage, travel bags and other accessories and last-minute travel essentials.
Treat Me Sweet —Treat yourself to popular candy brands, jelly beans, malt balls, chocolates, gummies, and pre-wrapped boxes for gift giving.
TUMI — Shop here for business and travel essentials.
USA Today Travel Zone — Located in the pre-security zone, find last minute travel items, beverages, and snacks.
Victoria's Secret — Feminine wares and all things beauty.
Vino Volo — Find popular vintages from around the world along with locally sourced cheeses, salmon rolls, and other light bites.
Virgin & Boost — Located in the pre-security zone, a resource for your tech and mobile device needs and accessories, including cases, batteries, chargers, and SIM cards.
Relaxing Massage
To relax before your next flight or to destress after sitting on a long flight, stop in to XpressSpa in TBIT or Terminal 5. XpresSpa offers massages, facials, manicures, pedicures, haircuts, and showers. There's nothing like relaxing massage and reflexology treatments to get you ready for travel.
Public Art Collection
The Art Program aims to humanize and enhance travel experiences and to celebrate the region's creative talent through public art exhibitions, media walls, and video installations featuring local and regional artists. Eleven spaces throughout LAX feature regularly rotated exhibits of paintings, sculptures, and art installations.
The airport also hosts live musical entertainment with local bands for travelers to enjoy.
Flight Path Museum and Learning Center
This museum on airport property features large airplane models and historical artifacts, photographs, uniforms, and other items highlighting the role of aviation in the development of Southern California. The nearby small museum is accessible via a quick ride-share or taxi.
Proud Bird Food Bazaar
This unique, large food court is located on aviation property and houses six kitchens and an open patio where you can watch flights land and take off. The best way to access the bazaar is by taking a quick ride-share or taxi. The dining experience doubles as an aviation museum, with historical memorabilia and artifacts — and a replica of a P-40 Flying Tiger plane.
PUP Program
You may see therapy dogs dressed in red "Pet Me" vests around the airport. They are there to comfort nervous and stressed passengers, who may pet and play with them. About a dozen therapy dogs have been trained to help travelers take their minds off their journey.
LAX in the Movies
With Hollywood about an hour away, LAX has appeared in countless films,TV series, commercials, music videos, and video games over the years. Some notable mentions include the movies The Graduate, High Anxiety, Heat, Speed, Fight Club, Face/Off, Training Day, Liar Liar, Catch Me If You Can, Kill Bill, The Terminal, Snakes on a Plane, and Terminator Genisys. The airport has also appeared in the series Columbo and The West Wing, as well as in the video game Grand Theft Auto.
Parking at LAX
With the growth in travel at the world's fourth largest airport, it's no surprise that parking garages have experienced shortages, so it's critical to reserve your spot ahead of time. The airport offers short- and long-term lots near each terminal, though these are pricier than off-airport options. Unfortunately, the onsite airport garages do not accept reservations ahead of time, and they operate on a first come, first served basis, so your best option is to guarantee your LAX parking spot in advance. At LAX you can find self and valet parking. All discounted parking lots are safe and provide 24-hour free shuttle transportation to terminals.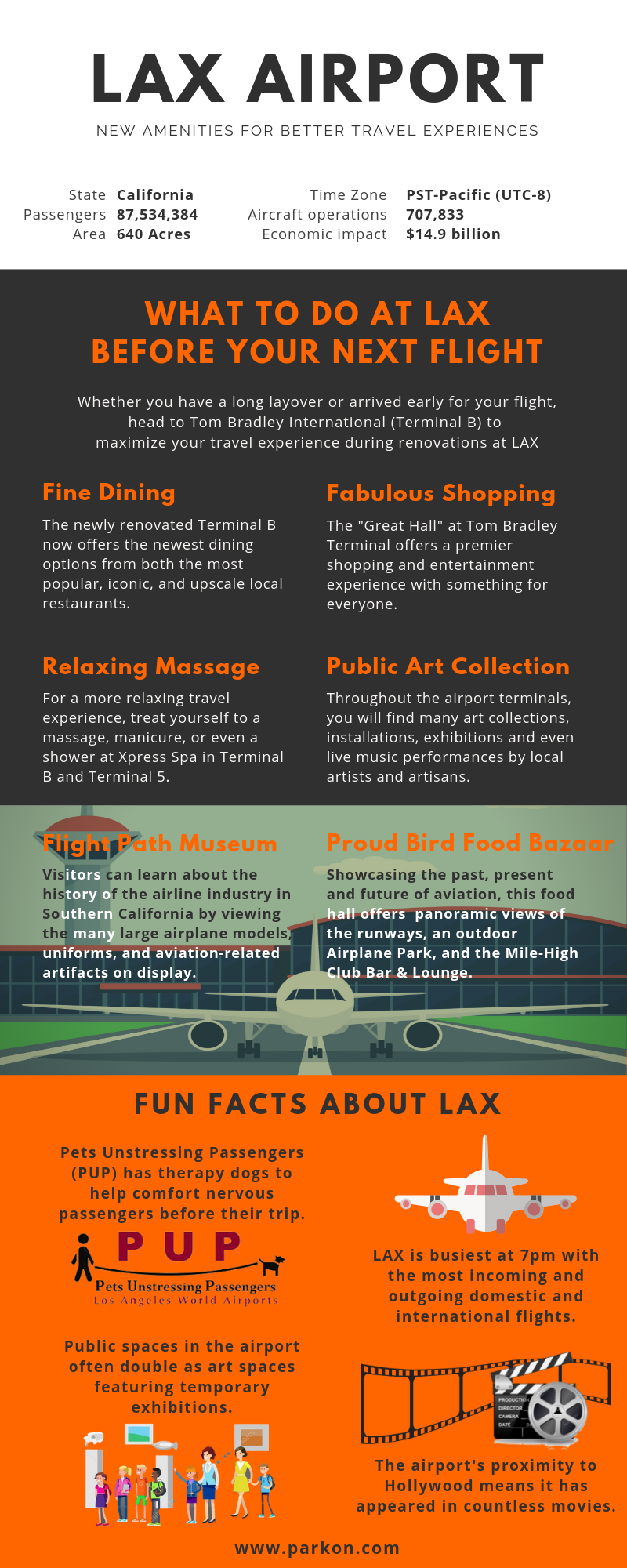 Link to Download ParkON Infographic.