Dallas Fort-Worth Airport Parking - The Ultimate Guide
By Melissa Ruiz | 2023
Reserve Dallas Fort-Worth Airport Parking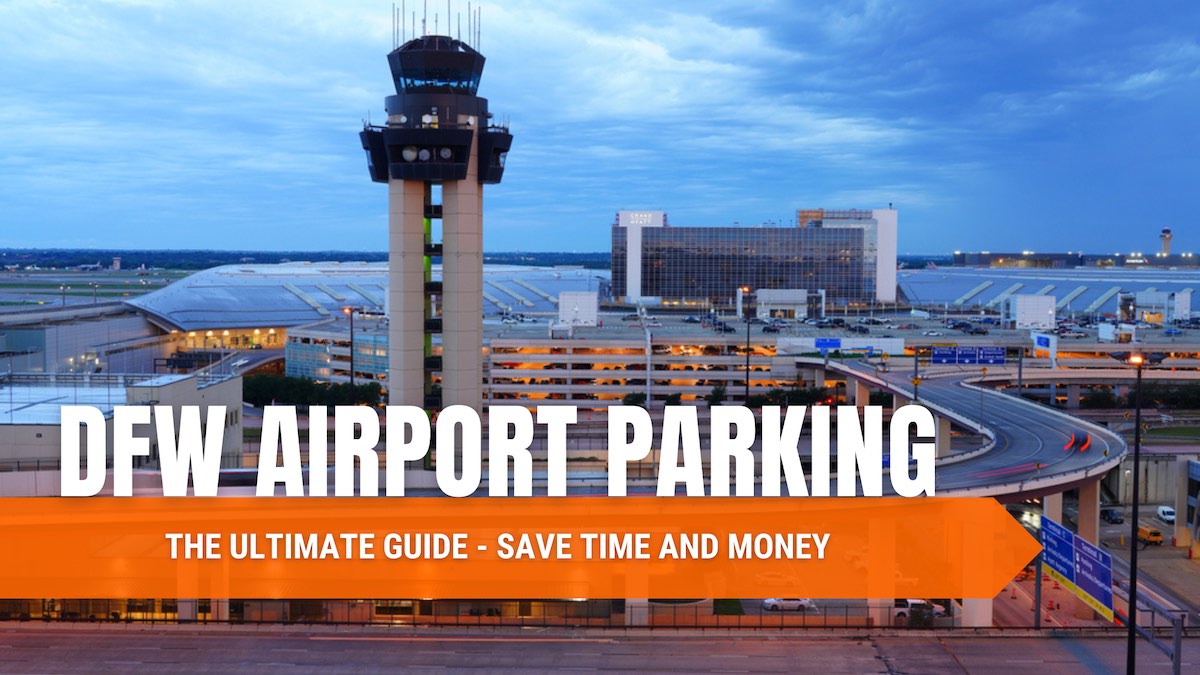 Dealing with airport parking can be a major headache for travelers, but it doesn't have to be!
In this ultimate guide, we'll show you the ins and outs of Dallas Fort-Worth Airport parking, from where to find the best deals to what services are available.
So before you head out on your next trip, make sure you read this guide—it just might save you a lot of time and money.
DFW Parking Options
Dallas/Fort Worth International Airport (DFW) makes traveling easier with its convenient parking options. From short-term and long-term to economy parking, there is a perfect choice for every traveler.
Terminal parking is ideal for travelers who will only be at the airport for a few hours. It is located close to the terminals, so it's easy to get in and out quickly, and it includes services like valet.
Express Parking is a cheaper option that offers both covered and uncovered parking and shuttle service to all five terminals.
DFW's South Remote Lot has options for self-parking that are great for people who really want to save money but still want quick access to their car when they get back from a trip.
All lots at DFW allow for overnight parking, but off-airport parking services near the airport are also an excellent option for long-term parking.
No matter what your needs are, DFW has an affordable, practical solution for your airport parking needs.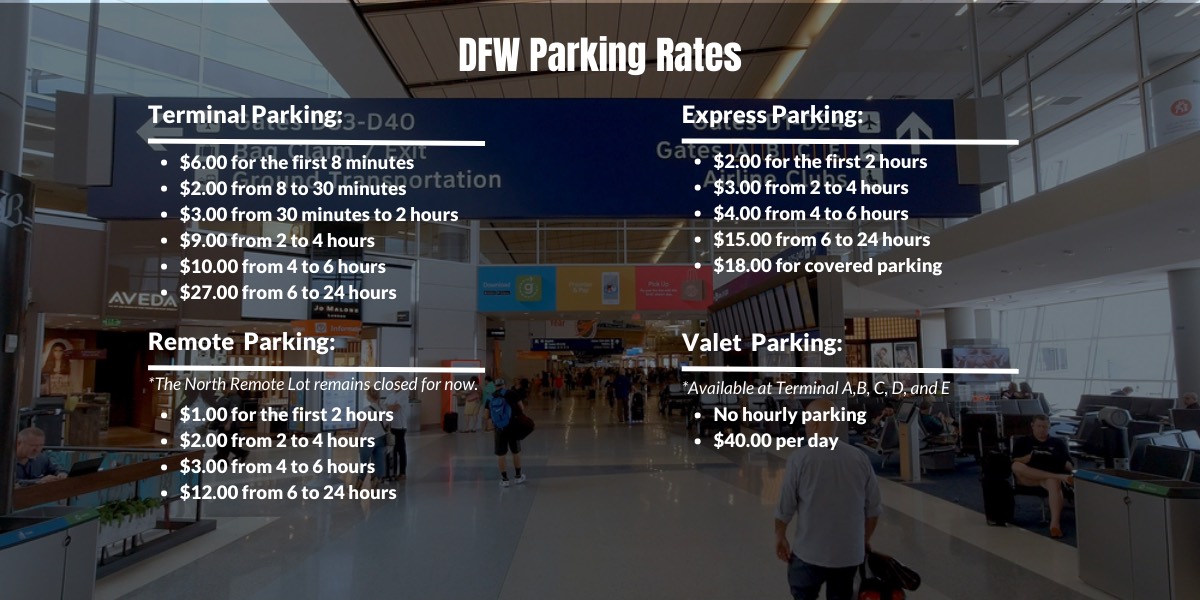 Terminal Parking
Terminal parking is a great choice for people who need short-term parking and a quick and easy way to get what they need at the airport. Terminal parking is the most convenient option because it is closest to the terminals, but it is also the most expensive at $27 a day.
It is ideal for travelers who are looking for a hassle-free solution that doesn't waste any time walking or waiting on shuttles, as it is only steps away from the terminal. Each terminal at DFW has a parking garage right next to it, so you don't have to wait long to get to your terminal.
Express Parking
If you're looking to save some money on parking at Dallas-Fort Worth Airport, the Express Parking lots near the north and south entries are a great option. Hourly and daily rates can vary depending on the type of parking you choose (covered or uncovered), but it's absolutely cheaper than parking at the Terminal Parking garage. Expect to pay between $15 and $18 per day.
These two lots are not close enough to the terminals to walk to them, but there are continuous shuttles that drop off and pick up people at the arrival and departure levels. With Express Parking, you can be dropped off right at the terminal entrance without wasting a moment of time.
DFW Remote Parking
Regularly, there are two remote lots available at DFW, but currently, the North Remote lot remains closed. The South Lot is open and is a great option for travelers on a budget. The daily rate is $12 a day and is significantly less expensive than the other parking options at an airport. Like the Express Parking area, you have to take a shuttle bus to get to the terminals from this parking area.
If you choose to go with remote parking, be sure to factor in the extra time that the shuttle ride will require for you to reach your gate on time. Even though it could take longer than other options, remote parking turns out to be well worth the savings in terms of cost.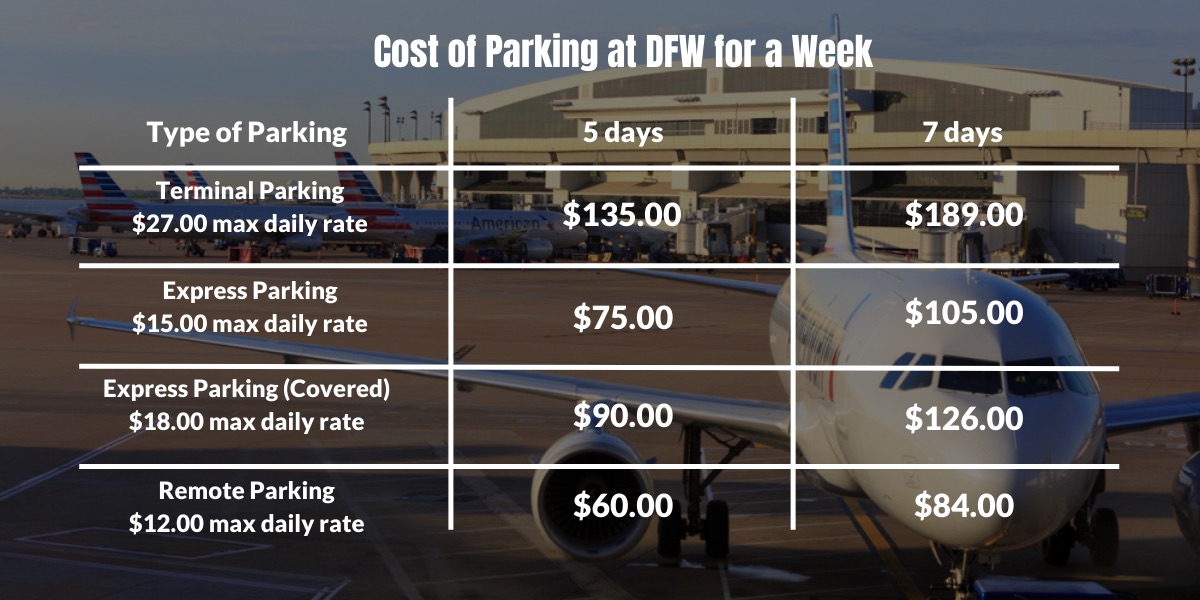 Off-Airport Parking Near DFW
The off-airport lots and parking services near DFW provide a convenient and affordable solution for travelers who need to park their cars in a secure location during their trip. These services are often less expensive than the on-site parking lots and give you peace of mind knowing that your vehicle is in a safe place while you're away. The market price for off-airport lots ranges from roughly $8 to roughly $25 a day, depending on the service and where you park.
Many of these lots offer discounts for travelers who make advance reservations, so it's worth researching different options and booking one ahead of time if possible. Here are some great off-airport parking choices in the DFW area:
Be sure to read the rules and regulations of each lot before making your choice; most require proof that you're flying out of the airport, so be prepared to show a flight itinerary or ticket as well as your driver's license upon arrival.
If you use a third-party reservation site like ParkON, make sure to keep your parking confirmation with you as proof that you paid ahead of time. You can find excellent parking rates on third-party sites since they negotiate a discounted price for bringing in reservations for the lots. If you don't have proof that you made a reservation, you might have to pay more than you were told.
When you're planning your next trip out of DFW, take some time to research your parking options in advance. With a little bit of planning, you can save yourself some money on parking and make your life a little easier when you're headed to the airport. Consider how long you'll be gone and what your budget is for parking, then choose the option that makes the most sense for you. And don't forget to look for off-site facilities that might offer discounts if you reserve a spot ahead of time.