Parking Guide for Newark Liberty Airport
Reserve Newark Airport Parking
Newark Liberty Airport
Opened in the 1920's Newark Liberty International (EWR) Airport services New Jersey, New York, Pennsylvania, and Connecticut. It's located on the west side of the Hudson River, part of the New York Metropolitan area. EWR is the fifteenth busiest airport in the United States with 3 operating terminals and a total of 121 gates. The airport and its parking facilities are managed by The Port Authority of NY & NJ.
Being a high-traffic airport, EWR can get extremely busy, and depending on the length of your trip, parking can get costly. We've put together a quick guide to navigate all the parking options available and save the most money.
EWR Parking Rates
The cost to park at the EWR airport ranges from $21.00 to $44.00 per day. Daily parking rates for off-site parking near EWR can be reserved for as low as $14.99 per day. The closer you are to terminals, the more you can expect to pay.
EWR Parking Deals
The best parking deals are at off-site airport parking lots near EWR. Off-site lots will sometimes provide coupons for daily parking. To gather all your options, get ahead of the game by using a discount airport parking reservation site to search for nearby lots and compare the best daily rates all in one place.
Parking at the EWR Airport
Reserved and drive-up parking is available at the airport. Parking choices are Short-Term Parking near Terminals, Daily Parking (P4), and Economy Parking (P6). Navigate to EWR's official website to access their reservation platform and check the capacity of lots.
Finding the Best Off-Site EWR Parking
Off-site lots are a great option for saving cash. When exploring your options, check if the lots provide free transportation to and from the airport terminals. Paying for transportation is an added cost you'd like to avoid. Also, access to your vehicle at off hours is important, make sure the lot you choose is open during your arrival and departure time. When comparing prices, keep in mind, the best prices for off-site parking are between $14.99 and $20.00 per day.
Short Term Parking at EWR
For picking up someone at the airport or a short-term visit to the airport, parking is located across Terminals A, B, and off of Terminal C. Short-term parking costs $5.25 for the first half-hour and $5.25 for each half-hour thereafter with a max rate of $44.00.
Long Term Parking at EWR
If you need parking for the entirety of your trip, long-term parking is available at the P4 Garage for $38.00 daily. To park long-term off-site, daily rates range between $14.99 and $20.00 when reserved ahead of time.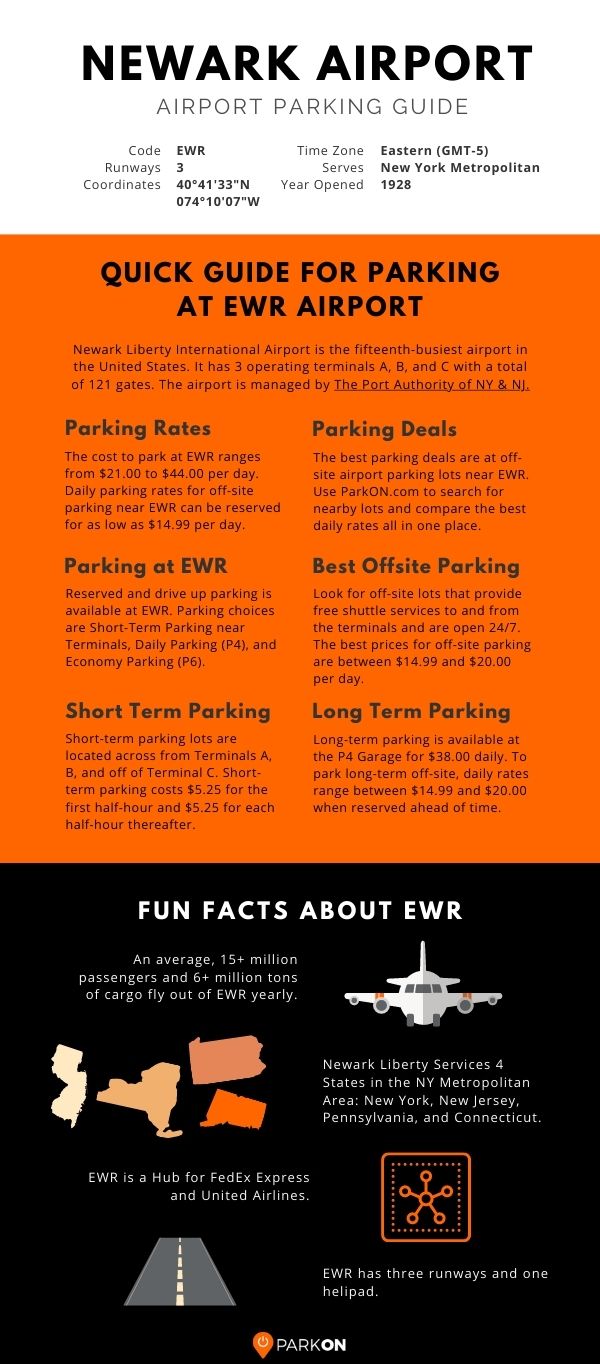 Here you can download our quick Newark Airport Parking Guide.
* Prices are based on current fees and are subject to change, please check the official EWR website for the most accurate information.