LAX Airport Parking Guide
What are the Parking Options at LAX?
LAX provides onsite airport parking lots located near each corresponding terminal. These lots offer short term and long term parking reaching up to 30 day's max. Similarly, the LAX Airport area also has several offsite airport parking lots available. These lots offer covered, uncovered, self-parking, and valet parking options. These lots offer short-term and long term parking as well. The reason to consider offsite airport parking at LAX is to mainly save money as these lots provide a discount per daily rate compared to the onsite lots at LAX. Both the onsite and offsite airport parking lots provide shuttles to LAX.
To determine the best parking option at LAX, consider factors budget, short-term parking needs, long term parking needs, time of arrival, the need to reserve and/or pay ahead of time. LAX does not provide an option for reserving and guaranteeing a parking space ahead of arrival time. Lots at LAX are first come first serve. Offsite airport parking at LAX provides the convenience to reserve guaranteed parking ahead of time.
How Much is Airport Parking at LAX?
Depending on the type of parking you choose, parking at Los Angeles airport costs from $3 an hour to $30 maximum for each full 24 hours.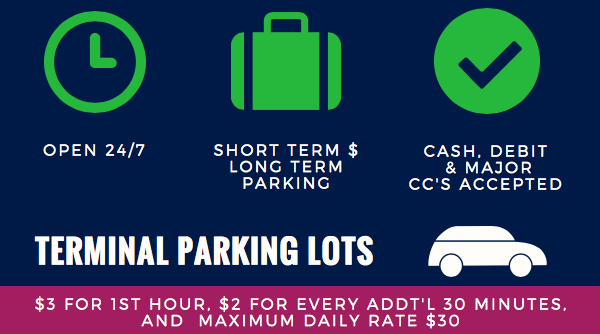 Central Terminal Area (CTA)
This parking lot contains 8,000 stalls and is available for extended stays (up to 30 days) and overnight trips. The CTA Parking Structure is open 24 hours a day, 7 days a week. After 15 minutes, expect to pay $3 for the first hour and $2 for each additional 30 minutes thereafter up to the maximum daily rate of $30. Motorcycles can park free. Lost tickets need to pay a fee of $30. Cash, Visa, Mastercard, American Express, and Discover as well as debit cards are accepted. There is currently online parking reservation for this lot. This lot is popular amongst LAX employees.
Economy Parking Lot C
This lot is located on 96th Street and Sepulveda Boulevard and has 5,000 parking spaces, parking is on a first come, first serve and there are no reservations. On the Upper Level or Departure Level, travelers can catch the free shuttle every 15-25 minutes transporting travelers from Lot C and the CTA to each terminal. The daily rate is $12 with $3 for the first hour, and $2 each additional 30 minutes.
Cell Phone Waiting Lot
If you are picking up a passenger at the airport, the Cell Phone Waiting Lot provides a place to safely wait and receive the call to pick them up. The max time a car can wait here is 2 hours.
Main LAX Airport Parking Lots
There is a total of 8 parking lots at Los Angeles International Airport. If you plan to park at one of these onsite lots, the best option is to park at the lot closest to your departure terminal. LAX has a total of 9 Terminals. Below are the parking lots closest to each terminal.
The closest parking lot to Terminal 1 is Parking lot 1
The closest parking lots to Terminal 2 is Parking lots 2A and 2B
The closest parking lot to Terminal 3 is Parking lot 3
The closest parking lot to Tom Bradley International Terminal are Parking lots 3 and 4
The closest parking lot to Terminal 4 is Parking lot 4
The closest parking lot to Terminals 5 and 6 is Parking lot 6
The closest parking lot to Terminals 7 and 8 is Parking lot 7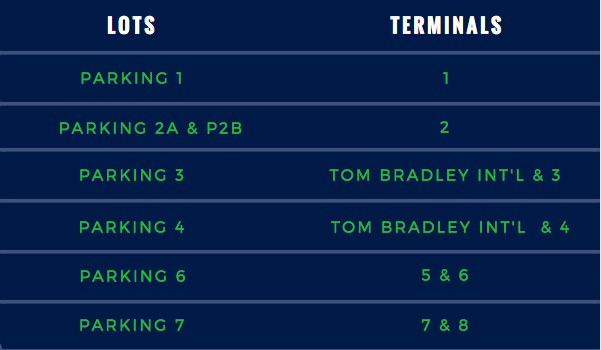 Short Term Parking at LAX
The CTA as well as the rest of the parking lots on site have options for short term parking. If your trip is shorter like 2-3 days for example, you might not mind paying top dollar for the convenience of parking one of the parking lots at LAX. However, if you prefer to reserve parking ahead of time and not gamble on the fact that the lots are full, reserve an offsite airport parking that caters to short term parkers.
Long Term Parking at LAX
The cheapest parking option at LAX is the Economy Parking Lot C because the daily rates are $12. Keep in mind, this lot is an official lot for LAX but it's not near the terminals. The rest of the parking lots provided up to a 30-day max parking stay at $30 per day. Even though the economy parking lot has a better rate, a good option is to check offsite airport parking lots to get the best rate possible on LAX airport parking.
Click on our downloadable LAX Parking Guide for your convenience.