LAX Parking Guide
What are the Parking Options at LAX?
It's no secret that LAX garages have been overflowing as passenger travel rises. This means it's essential to book your airport parking spot ahead of time, to save both time and money.
Los Angeles International Airport provides short- and long-term lots near each terminal. Though these are convenient, the higher cost of onsite airport parking can add up over time.
There are also many offsite properties with covered and uncovered spaces. Some even offer valet service. Off-airport parking lots offer discounted rates, and they all provide free shuttle service to the terminals.
To determine your best parking option at LAX, consider the length of your stay, how far you live from the airport, the amount of traffic you'll face, and the convenience of guaranteeing your space in advance. Unfortunately, the onsite airport garages at LAX do not accept reservations ahead of time, and they operate on a first come, first served basis. Offsite parking options do provide you peace of mind by reserving guaranteed LAX parking ahead of time.
How Much is Airport Parking at LAX?
Depending on the option you choose, LAX parking rates range from $5 an hour up to $40 per 24-hour period.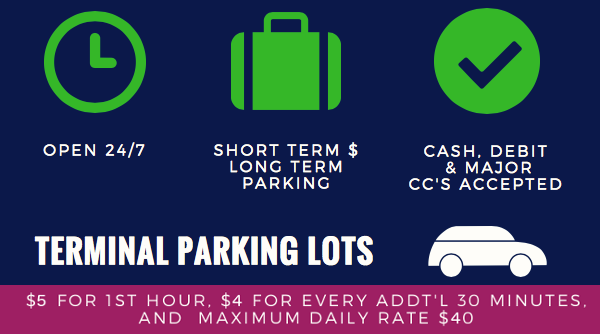 Cell Phone Waiting Lot
If you are picking someone up at the airport, the Cell Phone Waiting Lot provides a free place to safely wait for the passenger's phone call. Vehicles may not be left unattended and the maximum waiting time is 2 hours.
LAX Short Term Parking
The Central Terminal Area and other on-site parking structures all provide options for short-term parking. If your trip is a short 2-3 days, you might not mind paying top dollar for the convenience of leaving your car close to the terminal. However, if you prefer not to risk finding a full parking lot, reserve an offsite spot that caters to short term travelers. You'll have a guaranteed spot, you won't waste precious time looking for space right before your flight, and you'll save money on LAX overnight parking.
LAX Long Term Parking
The cheapest Los Angeles Airport parking option is Economy Parking Lot C, with $12 daily rates. Although this is an official LAX parking lot, it's not near the terminals. The other official airport lots provide up to a 30-day maximum stay at $30 per day. Even though the economy lot has a better rate, check offsite airport options to find the best deals for LAX airport parking.
Economy Parking Lot C
Located on 96th Street and Sepulveda Boulevard, this structure has 5,000 spaces available on a first-come, first-served basis, as there are no reservations. On the Upper Level or Departure Level, travelers can catch the free shuttle that comes around every 15-25 minutes to take travelers to their terminals. The rate is $4 per hour up to a maximum daily rate of $12.
Central Terminal Area (CTA) Parking Lot
Terminal Area garages are located directly across from the passenger terminals. CTA offers 8,000 stalls in 8 structures and caters for both overnight trips and for extended stays of up to 30 days. It is open 24 hours a day, 7 days a week. After a 15-minute grace period, expect to pay $5 for the first hour and $4 for each additional 30 minutes up to the maximum daily rate of $40. Motorcycles can park free and lost tickets pay a fee of $40. Cash, Visa, MasterCard, American Express, and Discover as well as debit cards are accepted. These garages, which are popular among LAX employees, do not accept reservations.
Main LAX Airport Parking Lots
Los Angeles International Airport contains 8 parking lots. If you plan to leave your car at one of these onsite lots, the best option is to select the lot closest to your departure terminal. LAX has a total of 9 Terminals. Below are the structures closest to each terminal.
For LAX Terminal 1, use LAX Parking Lot 1
For Terminal 2, use Parking Lots 2A and 2B
For Terminal 3, use Parking Lot 3
For Tom Bradley International Terminal, use Parking Lots 3 and 4
For Terminal 4, use Parking Lot 4
For Terminals 5 and 6, use Parking Lot 6
For Terminals 7 and 8, use Parking Lot 7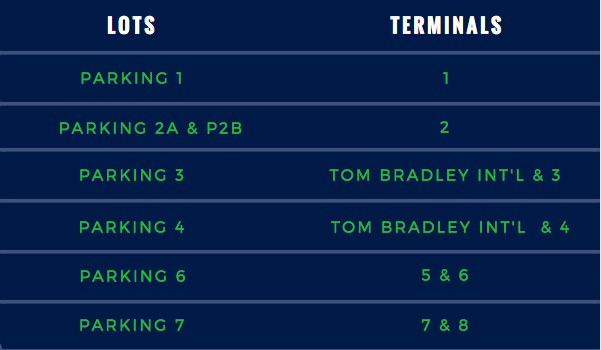 Download our convenient LAX Parking Guide.