The Best Airport Restaurants inside LAX
By Adelyn Orfila | 2019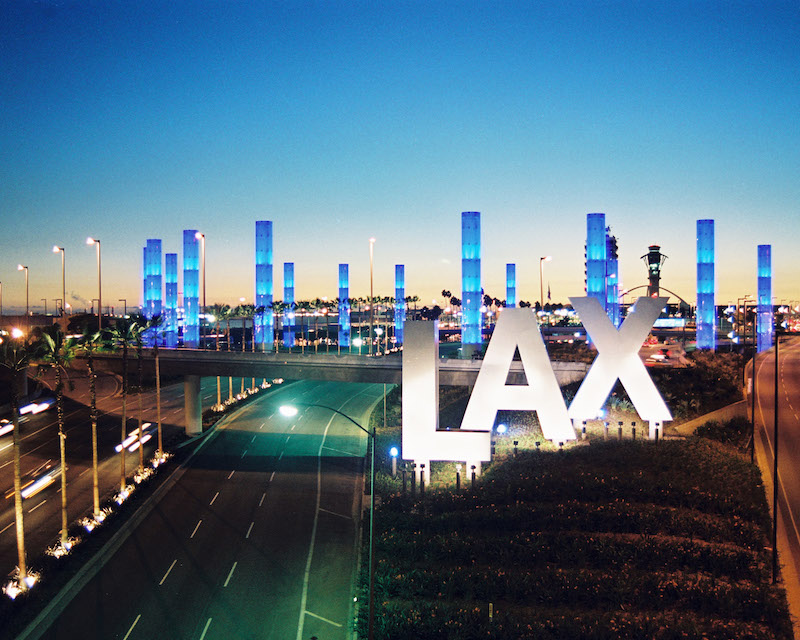 Source: passengerterminaltoday.com

Airports are known for having slim-to-none dining options that are for the most part terrible, but when it comes to Los Angeles International Airport, the food scene here could definitely compete with restaurants across town. Dining options here were once limited to fast food joints and convenience store snacks, but after a multi-billion dollar investment to one of the world's busiest airports, the scene completely upgraded, and restaurants were not only improved, but actually became crowd favorites among travelers. Below is a guide to the best airport restaurants inside Los Angeles, organized by terminal, price point, and speed.
Terminal 1
Trejos Tacos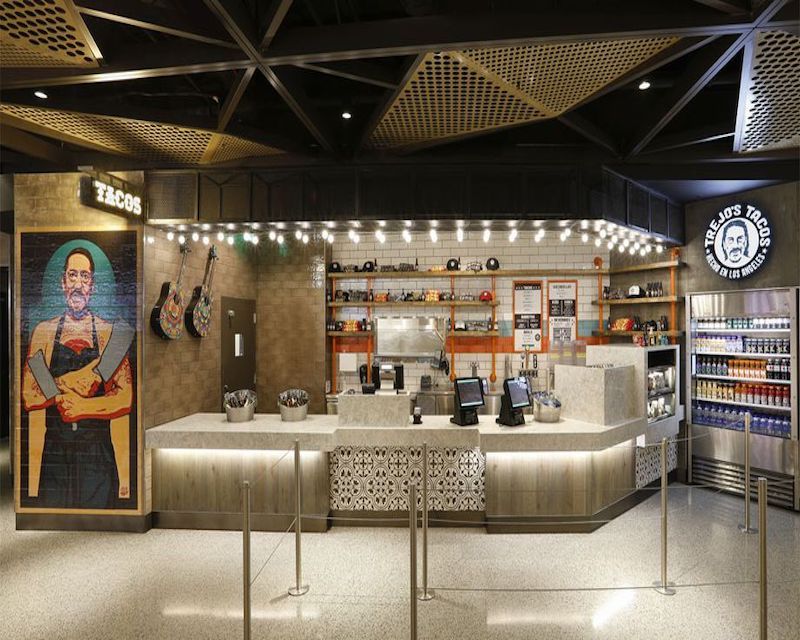 Source: la.eater

Gate: 11A
Price: $
Speed: Moderate
Trejos Tacos is a Mexican restaurant by actor Danny Trejo. With over 10 taco options, large burritos, bowls, and quesadillas, this place is sure to get a kick out of travelers who want to enjoy classic on-the-border food. There are also Trejos Tacos locations across Southern California.
Urth Caffe & Bar
Gate: 11A
Price: $$
Speed: Moderate
This Southern California-based café is known for serving organic coffee, teas, and farm-to-table bites. They were the nation's first exclusively organic, heirloom coffee company. If you're from the area and love a good coffee, chances are you're pretty happy Urth is inside the airport. They have unique roasts and blends and even serve a roast exclusively for LAX called the Traveler Bend.
Cassell's
Gate: 11A
Price: $
Speed: Moderate
Cassell's is a 60-year-old burger joint that is near and dear to many Los Angelans. Al Casell first opened his doors in 1948 in Los Angeles and to this day still carries a high name for himself. Cassell's is known for its classic cheeseburgers and signature patty melts made from premium beef. They are also open early, so if you have an early flight, you can enjoy a classic 50s-style breakfast.
Terminal 2
Slapfish
Gate: 23
Price: $$
Speed: Moderate
Slapfish offers light and healthy seafood options for those travelers who are either on-the-go or have time to sit and enjoy their meal at the full bar. Their menu features fish tacos, lobster rolls, salads, and bowls. They also have shrimp burritos which are a crowd favorite.
Sealegs Wine Bar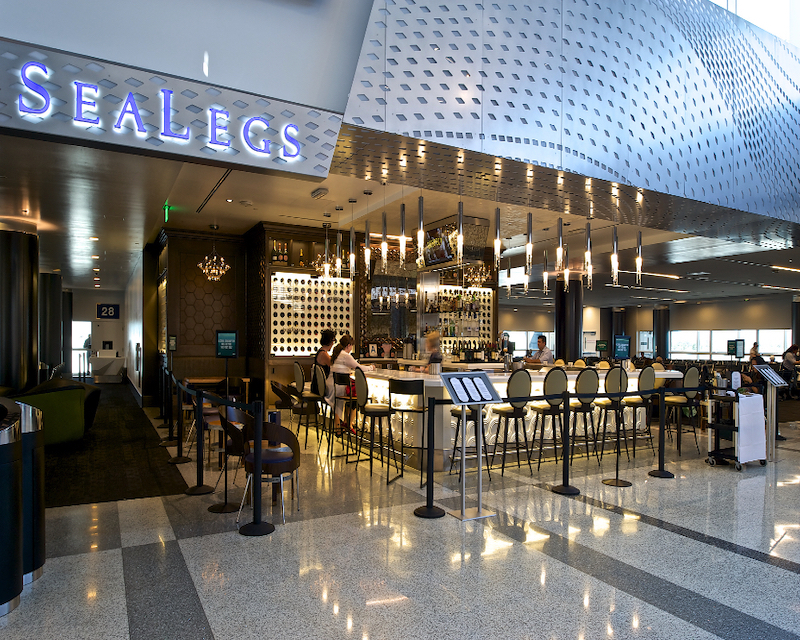 Source: premierinterior.com

Gate: 26-27
Price: $$$
Speed: Slow
Sealegs Wine Bar is a delicious sit-down upscale American restaurant with an extensive wine list (there is one glass of wine that costs $100). Come here with a lot of time so you can enjoy the ambiance and menu to the fullest extent. Dining options range from flatbreads to chicken sandwiches and kale salads.
BUILT
Gate: 24A
Price: $$
Speed: Fast
BUILT is a build-your-own burger establishment where you can choose to customize your burger from the bread to the toppings, or simply order from the already built menu. The beef is juicy, the toppings are fresh, and the fries are crispy. Meatless options are also available.
Terminal 3
The Parlor
Gate: 37A
Price: $$
Speed: Slow
The Parlor is a gastropub diner inspired sports bar where travelers can catch their favorite team playing before catching their flight. The Parlor serves sandwiches, burgers, and other American comfort food classics. It even has delicious crafted cocktails that pair well with the meals. The original Parlor is located in Hollywood.
Shake Shack
Gate: 34
Price: $$
Speed: Fast
Shake Shack is a nation-wide loved burger joint that made its way inside LAX. This Northeastern-bred establishment is known for their roadside burgers and cheesy fries. Shake Shack also serves breakfast at LAX, so if you're here early, you're covered.
La Familia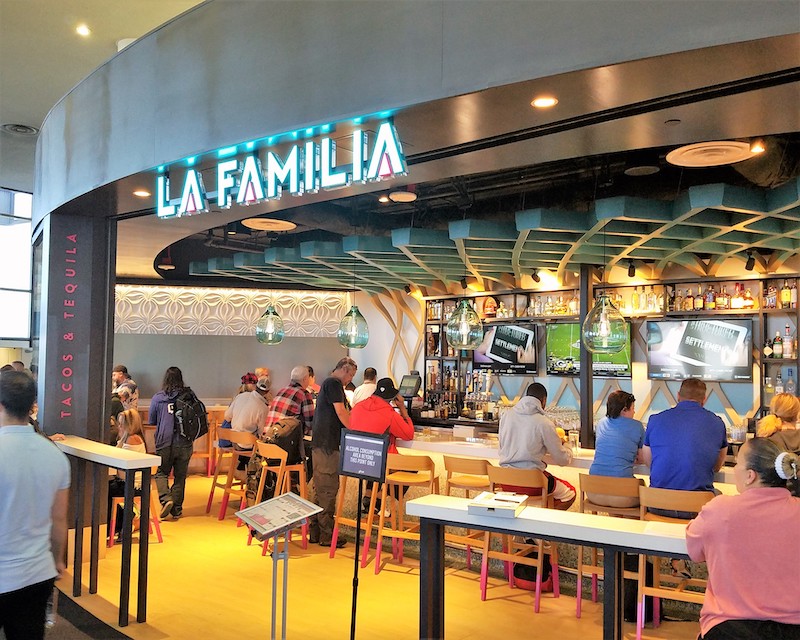 Source: afar.com

Gate: 32
Price: $$
Speed: Slow
La Familia is a vibrant, sit-down Mexican restaurant that offers a delicious Tex-Mex infusion menu including chipotle BBQ wings, carnitas tortas, tacos, and bowls. This restaurant also carries a full bar, so if you have nothing but time to spare, you can relax and enjoy a spicy margarita with your guac and chips.
Terminal 4
Homeboy Cafe
Gate: 40
Price: $
Speed: Fast
Homeboy Café is the perfect solution for when you're in a rush and need to grab something to eat in a hurry. It carries the usual deli options like wraps, salads, pastries, and other grab-and-go items. Homeboy Café also offers breakfast sandwiches and coffee, so if you're an early flyer, you're covered. These guys also won't break the bank with their friendly prices.
Sammy's Woodfired Pizza
Gate: 42A
Price: $$
Speed: Moderate
It's about time we mention a pizza place. Sammy's Woodfired Pizza is the perfect spot for when you're craving a delicious, crisp woodfired pizza. Some of the more popular options include the margherita, barbecue chicken, and my personal favorite, the organic arugula, prosciutto and pear pizza. Other menu options include soups, appetizers, and there's even a breakfast menu available until 10am.
Real Food Daily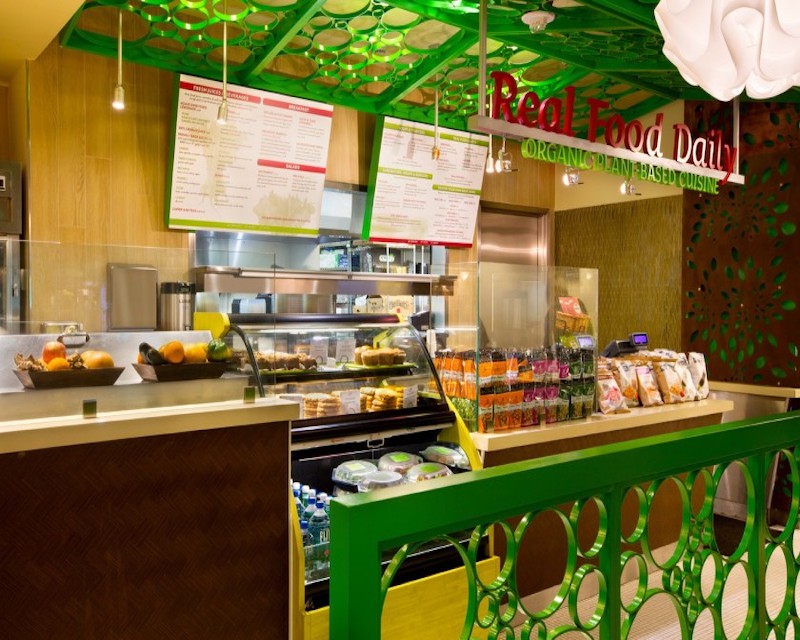 Source: latimes.com

Gate: 44
Price: $$
Speed: Moderate
If you're from Los Angeles, you know that Real Food Daily is the place to go to if you're looking for clean vegan food. Located inside the food court by Gate 44, Real Food Daily offers salads, vegan burgers, sandwiches, and all-day breakfast. Real Food Daily is 100 percent plant-based, and there are two more locations outside of LAX.
Terminal 5
Lemonade
Gate: 50B
Price: $$
Speed: Moderate
Lemonade offers fresh Southern California comfort food in a fast-casual style. You can either sit down and enjoy your meal or take it with you on the airplane. Lemonade's menu features sandwiches, salads, poke bowls, and of course, delicious and refreshing lemonades. This place is great because although the meals come in large portions, they still feel light and healthy because everything is cooked so fresh. The meals here are worth every penny.
Ford's Filling Station
Gate: 55A
Price: $$
Speed: Moderate
Ford's Filling Station is an American-style gastropub that offers pizzas, sandwiches, bar bits, and serves breakfast until 10am. It is a smaller, airport version of the original Ben Ford's Gastropub. There's also a full bar where you can drink and relax before your flight or during a connection. Service is quick and the staff is friendly, and a go-to item is the bacon-wrapped dates.
Farmer's Market to Go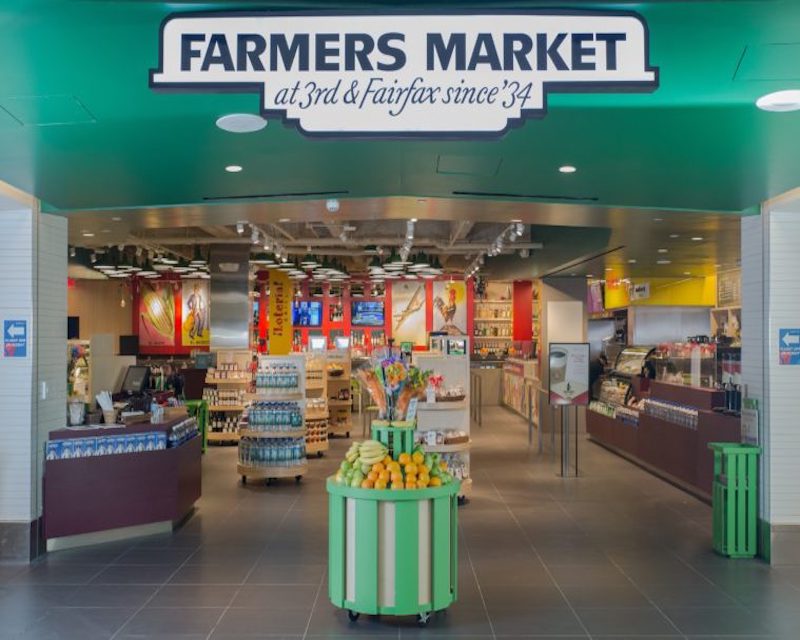 Source: laweekly.com

Gate: 54A
Price: $-$$
Speed: Fast
Farmers Market to Go is a local farmers market that made its way into LAX. The original, located at the corner of Third and Fairfax, is a community favorite and has been there for 80 years. The Farmers Market at LAX features a selection of full meals, snacks, wine, coffee, and other treats from businesses like ¡Loteria! Grill, Monsieur Marcel Gourmet Market and Bistro, T&Y Bakery, Magee's Nuts, Magic Nut and Candy, Coffee Corner, The Dog Bakery, Bennett's Ice Cream, and Dragunara Spice Bazaar. If you like to explore, I suggest you come here with extra time.
Terminal 6
Before I continue with Terminal 6, note that Terminal 6 recently underwent renovations, so the food options are endless and delicious. I will only showcase three top restaurants as I have been with the other terminals, but just know that if you're flying out of Terminal 6, you're set with options!
Osteria by Fabio Vivani
Gate: 64A-64B
Price: $$
Speed: Slow
Osteria by Fabio Vivani is a sit-down Italian restaurant by Chef Fabio Vivani. This spinoff restaurant, much like Vivani's flagship restaurants, uses only high-quality ingredients to create the freshest Italian dishes you could ever imagine. Vivani's recipes go back 400 years old that were passed down from his family. Dining options include pizza, burgers, and salads. Osteria also serves beer and wine that pair well with each meal. A breakfast menu is also available for morning travelers.
The Marketplace by Wolfgang Puck
Gate: 63
Price: $-$$$
Speed: Fast-Slow
The Marketplace by Wolfgang Puck features The Kitchen, The Kitchen Counter, and The Wine Bar. The Kitchen by Wolfgang Puck is a classic fast casual airport restaurant that features salads, pizzas, full entrees, pastas, and paninis. Here you make the line, order your food, and chefs will prepare it for you as you wait. Once your meal is ready you can sit down and eat. Right next to The Kitchen is The Kitchen Counter, which offers gran-and-go items such as already made sandwiches, fruit cups, chips, and more. The Wine Bar, located in the same area, is a full bar that features an extensive wine and beer list. Enjoy a drink here after finishing your meal or simply just waiting for your flight to depart.
Blu2o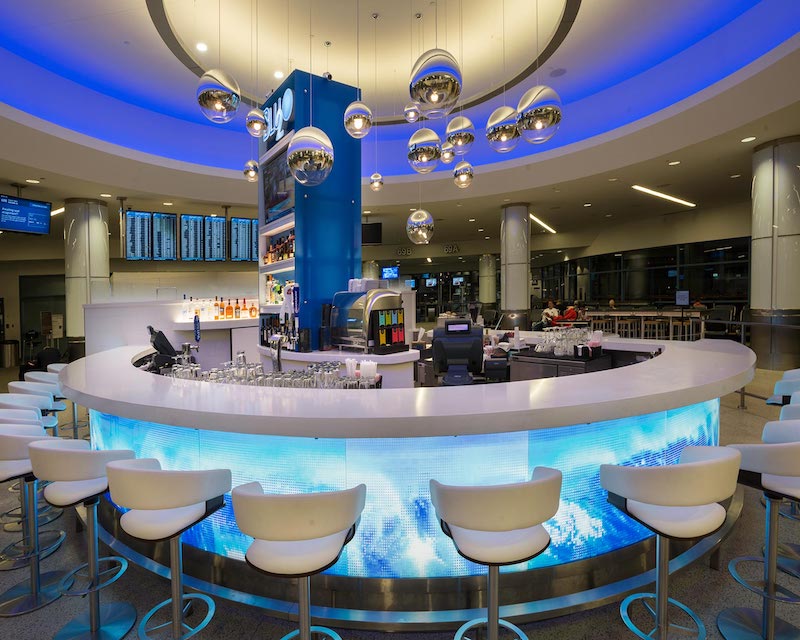 Source: hendersonengineers.com

Gate: 66-67
Price: $$
Speed: Slow
Blu2o is a beachfront experience restaurant by renowned LA chef David Myers. Chef Myers developed a menu that features seaside culinary experiences such as shrimp salads, poke bowls, and a smoked salmon flatbread. There are also turf options such as chicken bacon spinach salad and chicken and white cheddar flatbread. The restaurant bar is located in the center of Gates 66-69 and features glass accents and blue hues to resemble the ocean. Blu2o also has a small fridge filled with grab-and-go items if you can't stay long.
Terminal 7
B Grill by BOA Steakhouse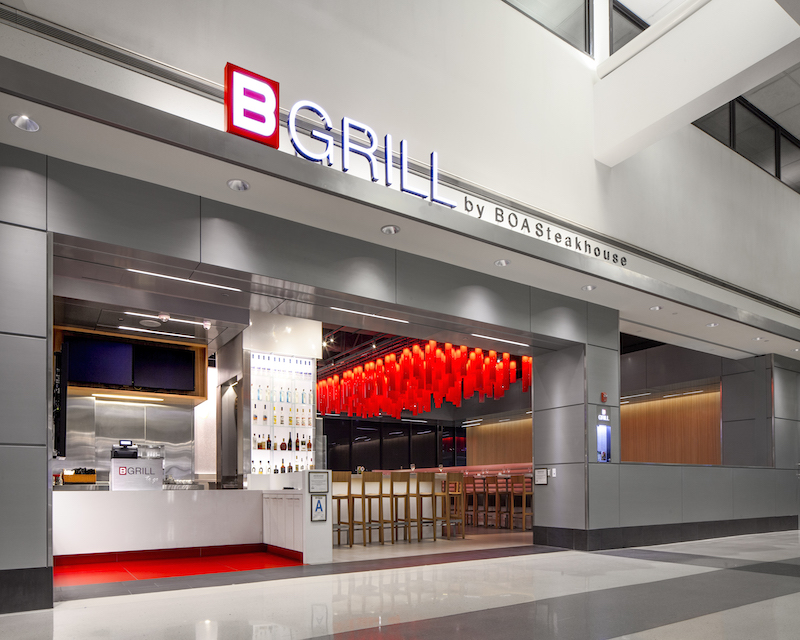 Source: rdolson.com

Gate: 73
Price: $$
Speed: Moderate
B Grill by BOA Steakhouse is a smaller, airport spinoff version of the original BOA Steakhouse. BOA Steakhouse is known for its steaks, but B Grill inside LAX is known mainly for its burgers. Local restaurants inside LAX are always a hit for travelers. B Grill also offers sandwiches, salads, burgers, larger entrees, wine and beer. B Grill also serves breakfast until 10am, options include eggs, pancakes, and other classic breakfast items.
Ashland Hill
Gate: 73
Price: $$
Speed: Slow
Ashland Hill is a traditional sit-down American restaurant that serves breakfast and brunch and a few other items as well. If you're at LAX early, I definitely recommend grabbing breakfast from here. My go-to is the chicken and waffles with a nice cappuccino.
Terminal 8
Engine Co No. 28
Gate: 83
Price: $$
Speed: Slow
Engine Co No. 28 is a traditional sit-down American restaurant that is decorated with photos of firefighters as a tribute to the original restaurant, which is a restored 1912 firehouse located in downtown LA. Engine Co No. 28 offers a delicious breakfast menu which includes chicken waffles, blueberry pancakes, and eggs benedict. Regular dining options include salads, burgers, sandwiches, and soups and chilis. A full bar is also available.
TBIT
Tom Bradley International Terminal, or TBIT for short, is the bread and butter of LAX. This terminal opened in 2013 and was part of the multi-billion dollar renovation, which LAX is still undergoing. TBIT is home to delicious restaurants, so narrowing it down to the best ones was definitely a challenge.
Petrossian Caviar & Champagne Bar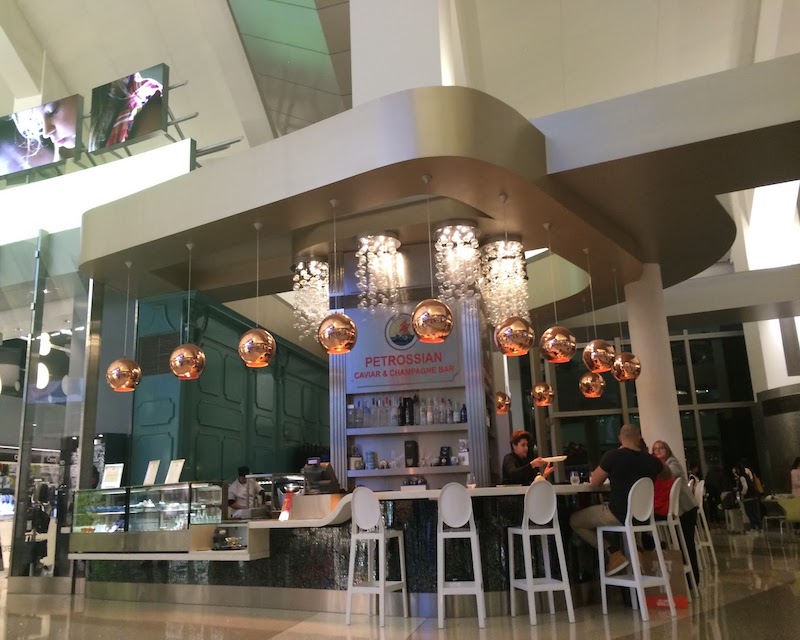 Source: onemorebiteblog.com

Gate: 148
Price: $$$
Speed: Slow
The name says it all here with the Petrossian Caviar & Champagne Bar. Come with deep pockets if you're in the mood for your taste buds to be pampered and treated like royalty. Caviar options range from $205-$1008, and you can enjoy a bottle of wine for $1120. Other dining options include a smoked trout platter, caviar flatbread, and a charcuterie board. The Petrossian Caviar & Champagne Bar has other locations in New York, Las Vegas, Belgium, France, and Dubai.
ink.sack
Gate: 148
Price: $$
Speed: Fast
ink.sack is the place to go if you're in a rush and want delicious food ASAP. This fast-casual restaurant offers classic and modern sandwiches created by chef Michael Voltaggio. It was also named one of the best airport restaurants in the US by Food Network. The most famous item is the banh mi, which comes with pork shoulder, bacon, chicharrones, pickled vegetables, and onion spread. If a sandwich seems too heavy, there are also salads.
Umami Burger
Gate: 148
Price: $$
Speed: Moderate
Umami Burger, named Los Angeles' best burger in 2010 by GQ, is a gem inside LAX. Umami burger is known for taking classic burgers and adding a modern twist to them with secret ingredients that are sure to get you hooked. With multiple locations across Southern California, these burgers have made a name for themselves with locals and tourists alike. If you're in the mood for a juicy burger, this is the spot to go to. Umami at LAX also serves burgers exclusively to the airport, including the LAX Burger, the LAX Veggie Burger, and three breakfast burgers. Local restaurants always seem to become a crowd favorite inside the airport.
Vanilla Bake Shop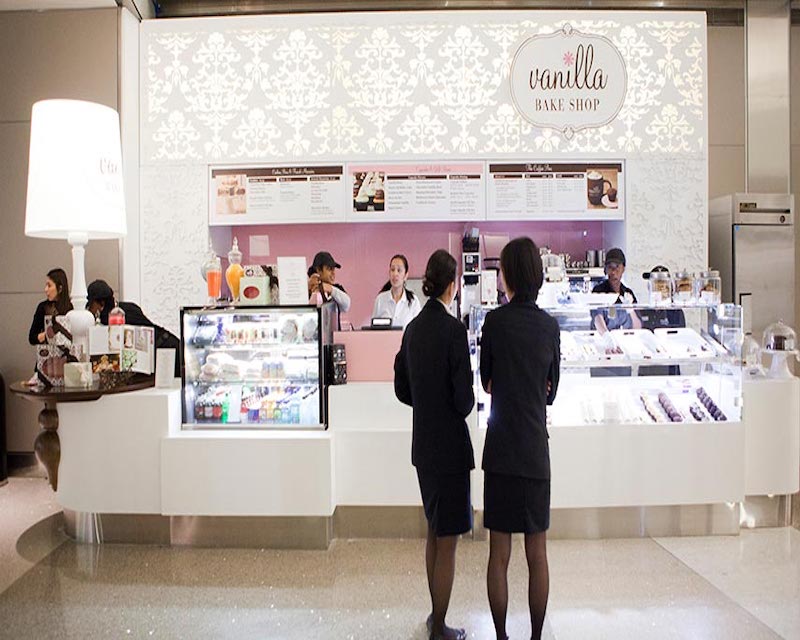 Source: laxshopdine.com

Gate: 150
Price: $
Speed: Fast
Throughout the entire article we didn't mention a dessert place, and that's because we saved the best for last for all of our readers out there with a sweet tooth. Vanilla Bake Shop is an LA-based bakery known for their homemade cakes, cupcakes, and assorted sweets. Everything is made from scratch, so you'll only get fresh and delicious treats every time.
Whether you're in the mood for pizza, burgers, Mexican, or classic American dining, the restaurants at Los Angeles airport got you covered. Say what you want about airport food and airport restaurants, but Los Angeles has definitely made a name for itself when it comes to cuisine. We hope this article helps you decide on where to eat when traveling out of LAX. And if it made you hungry while reading it as much as it made me while writing it, then I'd say my job here is done.