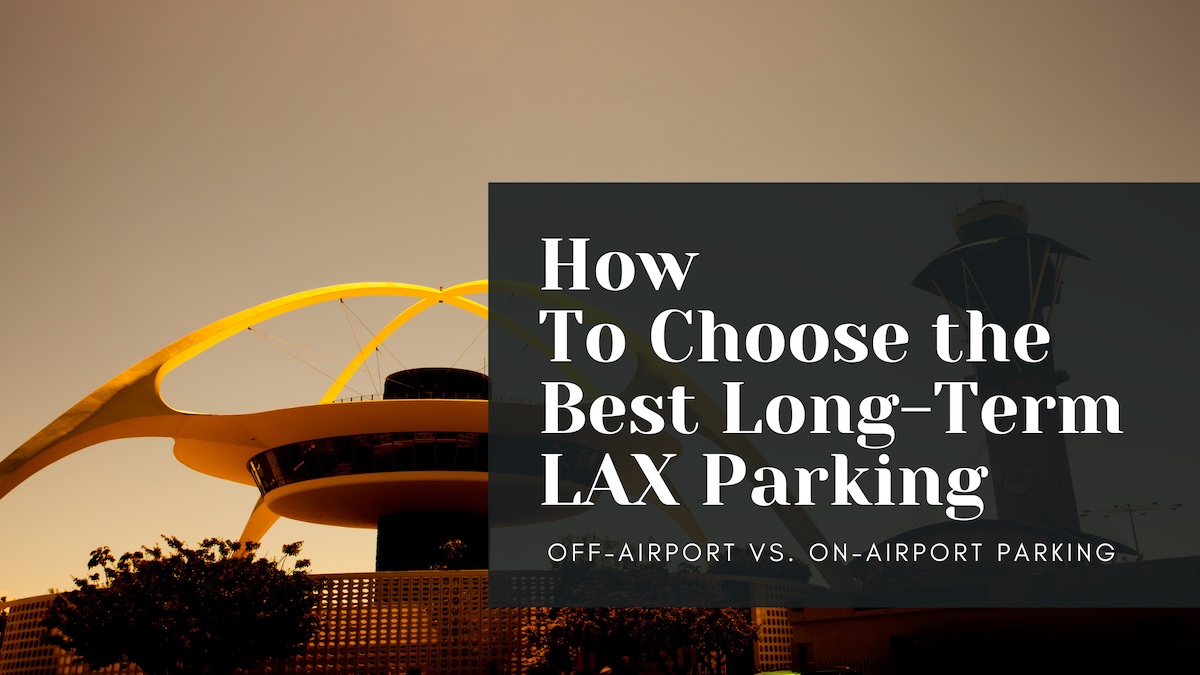 How to Choose the Best Long-Term Parking for LAX Airport
By Melissa Ruiz | 2023
If you're planning to leave your car at LAX for a while, ParkON has got your back. We have been helping customers save on airport parking for well over a decade and are familiar with LAX parking services. If you are flying out of LAX, there are quite a few options for long-term parking, and we're here to give you some helpful tips and advice to find the best parking spot for your trip!
The airport's long-term parking areas are a popular choice and provide both covered and uncovered parking spaces at various price points. In contrast, off-site parking lots are frequently less expensive and offer shuttle services to and from the airport. A few close-by hotels also provide long-term parking packages for visitors that include free shuttle service.
No matter which option you choose, it's important to research prices, availability, and security measures before making a reservation. Prior planning will ensure a stress-free travel experience. With the right information, you could choose a reputable parking service that offers competitive rates and reliable shuttle services. You should also take the time to read reviews and compare prices online before making a reservation.
Lots near LAX
The Los Angeles Airport area, in particular, is well-known for having a number of airport parking lots competing for your business. These parking lots provide reliable and affordable airport parking services for LAX but not located within the airport's campus.
Although the LAX Economy Lot is technically outside of the airport, for the purposes of this article, we will concentrate on the lots that are not affiliated with the airport. These lots are considered off-airport and include hotels such as the Hilton LAX Airport and airport shuttle services such as Wallypark Premier.
While travelers have a plethora of locations to choose from, it is recommended that off-airport parking be reserved in advance. Drive-up parking is available, but booking ahead of time will help you avoid any last-minute stress on the day of your flight. In general, off-airport parking near LAX is a great option for travelers looking for affordability, convenience, and peace of mind.
Advantages of LAX offsite parking
One benefit is the increased security measures that many these parking facilities offer. Numerous parking lots have at least some of these safety features if not all:
Surveillance cameras
Gated entrances
Security guards
Furthermore, they are frequently less expensive than parking at the airport. You can save money on parking fees and apply those savings to other travel costs. Some of the cheapest lax parking lots are:
UVP Parking
PrimePark LAX
The Renaissance Montura LAX Hotel
Daily rates can jump up to $35–$45 during peak travel season, but in general, the range is between $10 and $25 per day.
Top-rated LAX airport parking
Some of the top-rated parking lots include QuikPark LAX, 105 Airport Parking, and Airport Center Express. These facilities offer shuttle services to and from the airport, as well as 24-hour security and a variety of parking options. They are rated highly because of shuttle reliability, overall value, clean and well-lit facilities, and the fact that they are open 24 hours a day, 7 days a week.
For hotel options, look into the Hilton LAX Parking, the Marriott LAX Parking, and the AC Hotel by Marriott. If you have an early flight and want to avoid LA traffic, perhaps a hotel parking service is the most convenient option. However, you do not have to be a guest at any of the hotels mentioned to take advantage of their great rates.
Disadvantages of parking outside of the airport
The main disadvantage of parking outside of the airport is that you will be unable to walk to any of the terminals. If you value being as close to the terminal as possible, then parking off-site is not for you. Passengers who park elsewhere are shuttled to and from the airport. Depending on how far the parking lot is from the airport and the shuttle schedule, this could add 15 to 45 minutes to your travel time.
Parking at LAX Airport
The official airport parking lots at LAX are ideal for long-term parking. LAX has nine terminals in total, each with its own adjacent parking garage. In addition to the terminal parking garages, LAX has an economy lot that is located outside of the airport at 6100 W. 94th Street.
The terminal parking garages are located within walking distance of all the terminals, making it easy to get to your gate quickly. Those who park at the terminal parking garage can choose between general parking, premium parking, and valet parking. Economy parking is the most budget-friendly option because it requires you to park your vehicle in a remote lot and take a shuttle to the terminals. All parking areas at Los Angeles airports have EV charging stations available.
It is important to note that Los Angeles International Airport is the second busiest in the United States and the third busiest in the world. During peak travel times, on-site parking can fill up quickly, so it's always a good idea to book in advance or arrive early to secure a spot.
What is the best place to park long-term at LAX?
The Economy Lot is the most popular long-term parking option at the airport due to the ease of catching the shuttle and the lowest daily rate.
How long can I park at LAX?
Los Angeles International Airport's parking FAQs state that vehicles may park there for up to 30 days, so any of its parking lots are suitable for long-term parking. If you intend to leave your car parked for a longer period of time than this, take into account the other parking services mentioned or other options like ridesharing or having a loved one drop you off.
Advantages vs. disadvantages of on-site parking
Overall, if convenience is your top priority and you don't mind paying a premium price, on-site parking is the way to go. If you're looking for a budget-friendly option, then parking at LAX may not be the best choice for you. Parking at the terminal garages can be quite expensive, especially if you're leaving your car for an extended period of time.
How to ensure a positive long-term parking experience at LAX
Number one is determining which type of parking is best for your needs. When it comes down to it, the main distinction between parking at the airport or choosing a parking service is one of logistics and price. If you're looking to save money and don't mind a couple of extra minutes, off-airport parking is a great option. However, if you prefer the convenience of being closer to the airport, the terminal parking garages are ideal, albeit at a higher price point.
Some lots can offer similar amenities and services that you would find at LAX, like valet parking and covered parking, as well as EV charging. However, keep in mind that parking services outside of the airport operate independently from Los Angeles International Airport. The main differences will be in the shuttle ride experience and the security of your vehicle.
Tips for a smooth shuttle service
Long-term parking often requires a shuttle to take you to your terminal, and your shuttle experience can make or break the beginning of any trip. Similarly, when you return home, a quick and convenient way to retrieve your car is crucial for a great overall experience. Here are a few pointers to help you avoid any shuttle hiccups:
Account for the extra time you will need to ride the shuttle. It will usually take 15 minutes and sometimes up to 30 minutes for hotel shuttles.
Shuttle schedules may change. For the most current schedule, call the lot ahead of time.
For very early or late flights, make sure to use a shuttle service that runs all day. This ensures you won't be stranded.
To not miss your shuttle pick-up, wait to request it until after you've collected your luggage. Resist the temptation to jump the gun, or you may end up waiting even longer to return to your lot.
At LAX, there is a designated shuttle pick-up area at the departures level. Look for the red sign that says hotel and private shuttles.
Ensuring the security and safety of your vehicle
If you are going on a longer trip, whether it be for a week, a month, or more, it could be nerve-wracking to leave your car unattended for such a long time. To help ease your worries, here are a few tips to keep your car safe:
Use an airport parking lot with 24-hour surveillance, preferably with an on-site security guard. This is probably the most important step for keeping your vehicle secure.
Park in the lot's well-lit areas, where security will also be paying closer attention.
Make sure to remove all valuables from your car before leaving for the airport.
Take pictures of your car's front, side, and rear parts, just in case. These photos provide evidence of the condition you left your car in.
In conclusion, if you are looking for long-term parking options at LAX Airport, there are several reliable options to choose from. Planning ahead is important because it will help you save time and money.
Additionally, if you plan on using a shuttle service to get to and from the airport, it is important to be mindful of the pick-up process and wait until you have picked up your luggage before requesting a pick-up.
We will close this article with some final recommendations on choosing the best long-term parking at LAX:
Explore all your long-term parking options near LAX, such as off-site parking facilities or hotels that offer parking packages.
Compare the rates and services of different on-site parking options, such as Economy Lot vs. Central Terminal Parking Structures.
Research the security measures in place at LAX's various parking areas and how they compare to those of off-site options.
Review the process for reserving a long-term spot at LAX or pre-paying for extended stays, and book your parking in advance whenever possible.