8 Google Travel Tips for Your Next Vacation
By Melissa Ruiz | 2022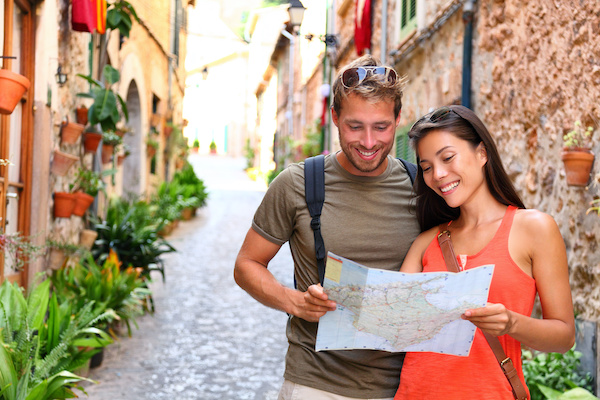 In the summer of 2021, 40% of Americans said they planned on taking at least 1 vacation that season, which was a similar number to pre-pandemic summers.
It's been a long 2 years, and you deserve to treat yourself. So you're thinking of going away one or two times too.
Whether you're rusty on travel or have never gone away before, there are some ways you can save money with Google travel (and time!). And the more cash you save, the more you'll have for fun things!
If you're going on vacation soon, then keep reading. Here are 8 Google travel tips you should know.
1. Check Google Flights for the Lowest Prices
If you have some flexibility, you can check Google Flights to see when it's cheapest to fly. You'd be surprised at what a few days' difference makes! By moving your departure dates by just a day, you can save hundreds of dollars.
Even better is, as of May 2022, the site allows you to track deals. Simply put in which dates you wish to go on vacation, or select "any dates", plus your desired airports, and Google will email you if any fantastic deals pop up in the next 3 to 6 months!
It's best if you sign up for alerts months before your trip so there's more wiggle room.
2. Check Other Airports on Google Flights Too
Can't budge on your travel dates but are willing to try different airports to get the lowest prices? Then the good news is, Google Flights lets you do this!
Input your travel dates then select up to 7 departure and destination airports. Google Flights will then show you all the possibilities, with the cheapest one on top.
Not only can this help you get better deals, but it might also help you get out of your comfort zone and explore other cities!
3. Pull up Your Itinerary in Google Maps
It's great that all our trip details and receipts are digitalized. Otherwise, there'd be lots of papers to print out!
However, it can get tricky and confusing searching through your emails for the exact information needed.
A great way around this is by using Google Maps. Select "Saved" and then "Reservations", which will pull up every reservation you have. This is conveniently compiled from your Gmail account.
Next, tap on a specific reservation to get all the details. You won't have to fumble around on your phone anymore!
4. Use Google Maps to Check if an Area's Busy
Google Maps has a handy feature to show how busy an area is in real-time. You can use this to check not just businesses, but also places like parks and beaches.
If you're not planning on going anywhere specific though, there's an even more convenient feature. You can open Google Maps and drag the screen around to see how busy any area is, without inputting a specific address.
Both of these features can help you plan out your days, especially if you don't like crowds or want to avoid getting sick.
5. Use Google Hotels to Book Cheap Stays
You might've heard of several websites to book cheap stays, such as Hotels.com. But it's much easier (and more affordable) to use Google Hotels instead.
Search for the city + hotels (i.e. "NYC hotels") when planning a trip and you'll get immediate results. The page will let you sort by top-rated, budget options, luxury stays, free cancellation, and more.
And you'll see a carousel of the hotels' main pictures, overall ratings, and a map with an overview of where all the hotels are located. The map's very useful, as you get a quick overview of where the cheapest accommodations are and where they're located.
Once you find a hotel you like, click on it and then on "Book a room". And you're done!
6. Set Up Alerts for Google Hotels
One thing you might notice about Google Hotels is that it has a similar interface to Google Flights. So as you might've guessed, you can set up price alerts! You can set the site to email you if prices drop for the days you need accommodation.
While it's wise to set the price alert months before you go on vacation, don't toggle it off after you've booked your stays. If you've booked a hotel that has penalty-free cancellations within 24 hours, you can always cancel and rebook for a lower price if prices drop within the next day.
7. Find Parking With Google Maps
Are you planning on renting a car while on vacation? Then this guide to using Google travel is urging you to use Google Maps to find parking.
Within the app, you can see how much parking is available in a certain area. You can also find other nearby garages and lots so you can arrive at the destination and get parking within seconds.
This is an excellent tip for those who like to plan, as you won't waste precious time circling for a free spot. Make sure to mark where you've parked so you won't be frustrated looking for your car later on.
You can also reserve parking ahead of time if you already know where you're going, such as LAX.
8. Make Dinner Reservations on Google Maps
You're scrolling Google Maps to see what's nearby your hotel or attractions you're going to. Has a fancy restaurant caught your eye? Then there's no need to exit and look it up for a reservation!
Tap on the restaurant and you can then reserve a table. Some restaurants also have a waitlist if they're busy.
If you aren't sure what choices are available to you, you can tap on "Restaurants" in Google Maps and it'll give you a list of local choices.
Bonus tip: You can also use this feature to reserve tickets for fun activities or book appointments (such as at the spa) to treat yourself.
Keep These Google Travel Tips in Mind
These Google travel tips are a fantastic starting point if you don't want to spend a fortune when taking a vacation.
And even if you're not jetting away anytime soon, these are some of the best travel tips to have when you eventually do.
Do you need parking while traveling? Then book with ParkON now. You can also reserve rental cars through our site.