Long-Term Airport Parking - The Ultimate Guide
By Melissa Ruiz | 2022
If you are planning an extended trip, you might be thinking about where to safely park your car.
Can you park long-term at the airport? How much is it going to cost? Will your car be kept safe?
Or you might be thinking, "Maybe I can just take a rideshare service."
You could also arrange for a friend to give you a ride.
But what if your flight departs or arrives late?
What if you are traveling with kids or elderly people?
Cramming into a rideshare service in the late hours might not be the most pleasant experience.
Burdening a friend or family member in the late hours for a ride is not exactly considerate... or dependable.
Let's face it. There is no better feeling than jumping in your own car after a long trip and heading home.
If you are still debating what your best choice is, we have got you covered.
We put together this guide to answer the most common questions about long-term airport parking.
Let's get started.
What is Long-Term Airport Parking?
Technically, the airport and offsite airport parking services consider long-term parking as any parking needed for the duration of a trip, be that 2 days or 7 days.
What is Considered Long-Term Airport Parking?
When travelers think about parking at the airport, most think of long-term parking as a type of parking for extended trips. However, long-term airport parking is any parking that requires at least one overnight stay.
Another way to look at it is-any parking stay that will reach the maximum daily rate is considered long-term airport parking.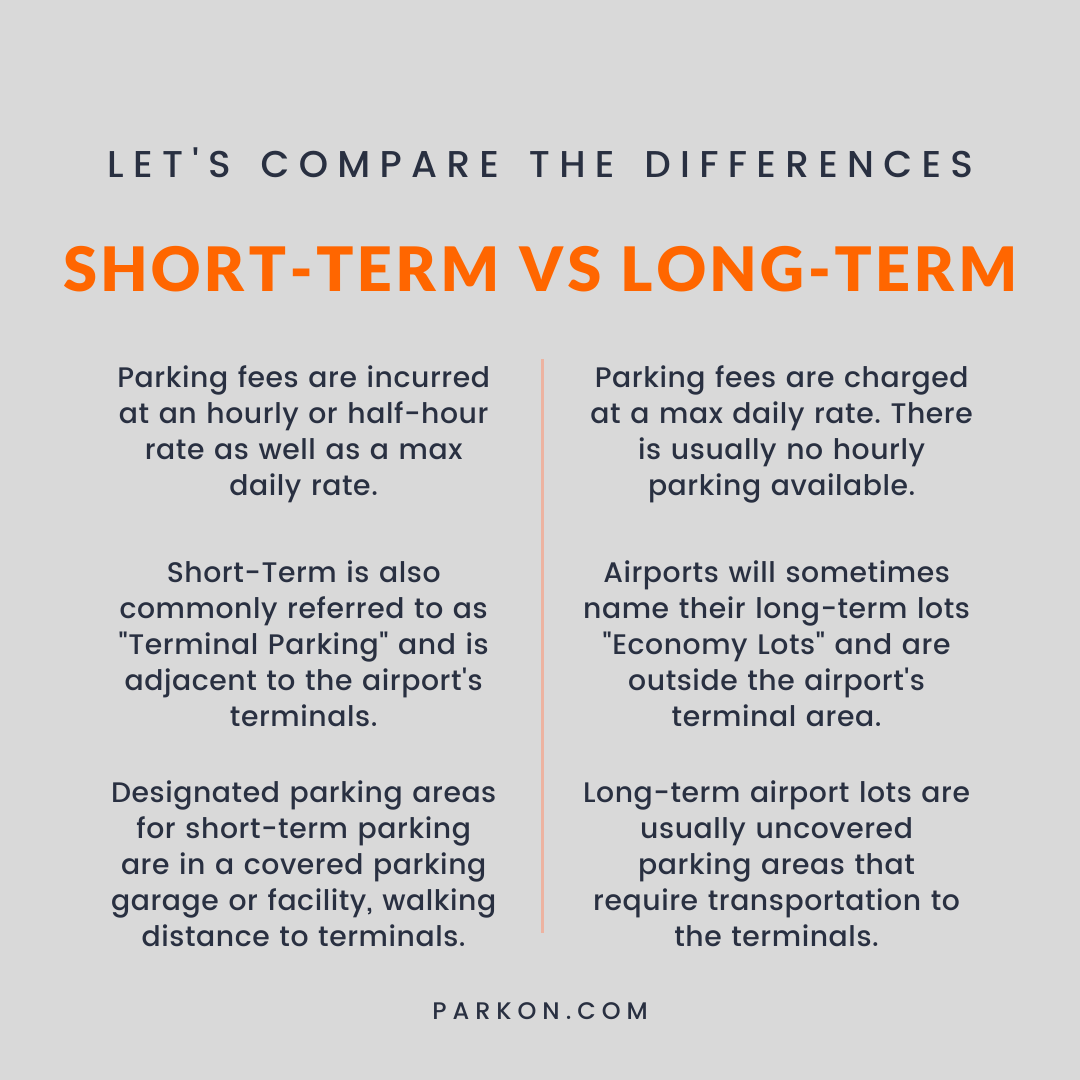 Where is Long-Term Parking at the Airport?
Airports will usually designate a parking lot outside of the airport's main structure for long-term parking. Another name for the long-term lots is "economy lots". Some airports could have both types of parking choices (long-term and economy) or one or the other.
After finding a parking space, travelers will need to be transported to the terminals. Depending on the airport, transportation can be via an airport shuttle, a people mover, or a train system.
Airport Parking Tip: Remember to allow extra time for transportation to the terminals while parking in a long-term or economy parking lot. Aim to be at the airport 30 minutes before you need to be at your terminal.
Long-term or economy parking lots are usually not covered. If you would like to protect your vehicle from the elements during your trip, this is something to consider.
What is the Difference Between Short-Term and Long-Term Parking?
The difference between short-term and long-term parking is how the parking rate is charged. Short-term parking is charged at an hourly rate vs. a daily rate.
The other differentiating factor is where the parking area is located within the airport.
Many times, short-term parking is also referred to as "terminal parking". As the name suggests, these parking areas are adjacent to the airport's terminals; therefore, they come at a premium.
Rates for terminal parking rise incrementally up to a 24-hour period. This pricing structure is intended to serve airport guests who just require parking for half an hour or a couple of hours. This could be someone escorting a loved one or conducting business at the airport.
How Long Can I Park at the Airport?
Airports vary in policy, but the usual number of days an airport will allow you to park your car is 30 days. Anything more than 30 days would require you to contact the airport parking office and make special arrangements (if possible).
Where the airport is located regionally could influence the number of days they allow cars to park. Some of the busier international airports, like SEA, MCO, or ATL, allow up to 60 or 90 days.
Our data shows that the average length of a parking stay is between 5 and 7 days.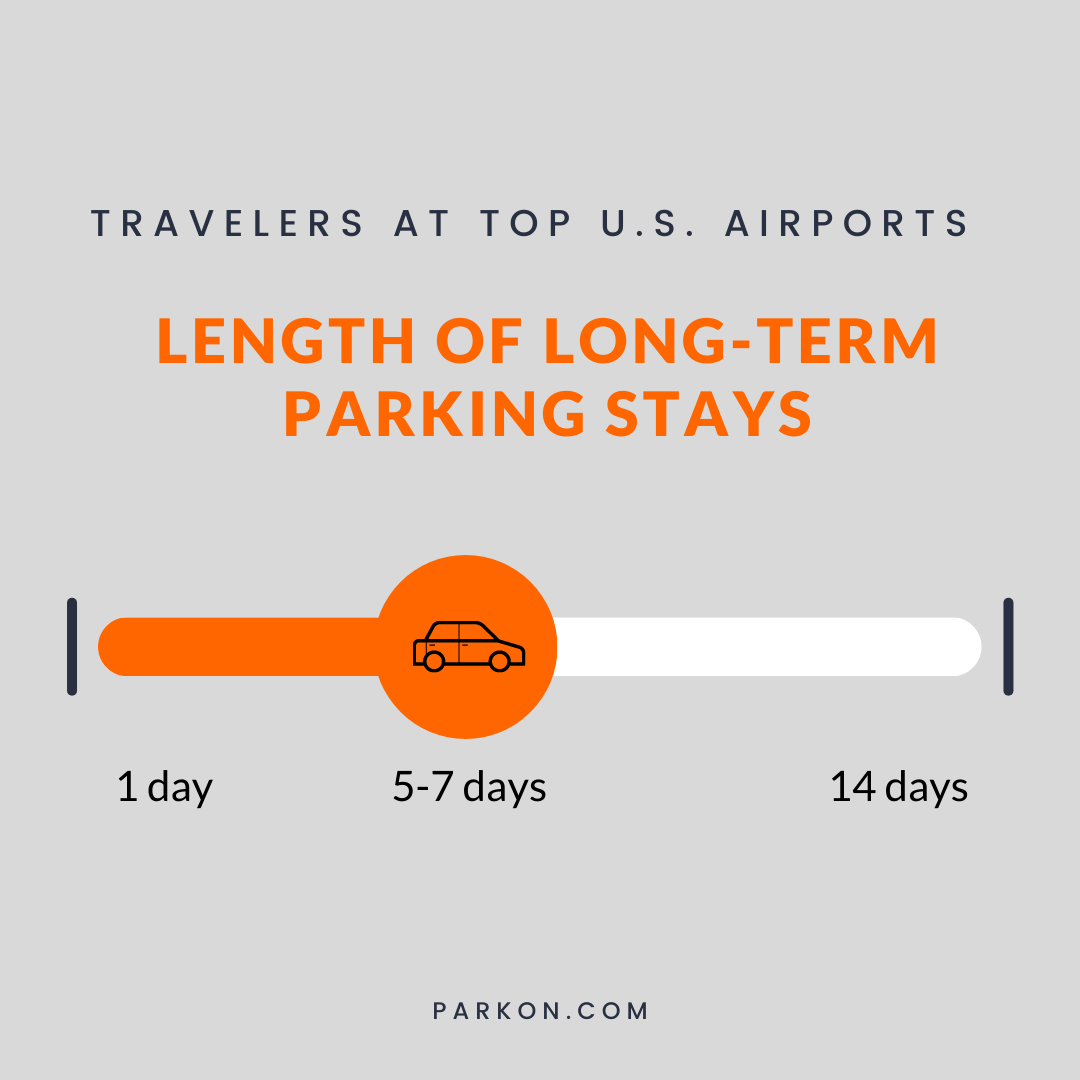 Where Can I Park Long-Term at the Airport?
The most common place to park long-term at the airport is in the designated long-term lot or economy lot.
The availability of these lots can be limited. The daily parking rate for a long-term lot vs. a short-term lot is more economical. Therefore, a long-term lot can fill up during busy travel days.
Every airport has its own unique parking offerings, but typically, airports allow overnight parking in their designated "short-term" parking areas. This is another option if the price is not an issue and you prefer to park closer to your terminal.
If your airport has valet parking, you can also use this service to park long-term. Undoubtedly, this will be the most expensive option.
Airport Parking Tip: Take into account how much luggage you are bringing. An off-airport parking service may be useful if you are traveling alone and have a lot of luggage. They will help you load and unload your luggage onto the airport shuttle. If you are traveling with at least one additional person, it is a good idea to leave your travel companion at the terminal with the luggage first, while you park in the long-term lot.
How Much is Long-Term Parking?
This varies greatly by the airport and the metropolitan area that it serves. Below, we have listed the prices from airports across the country to give you an idea.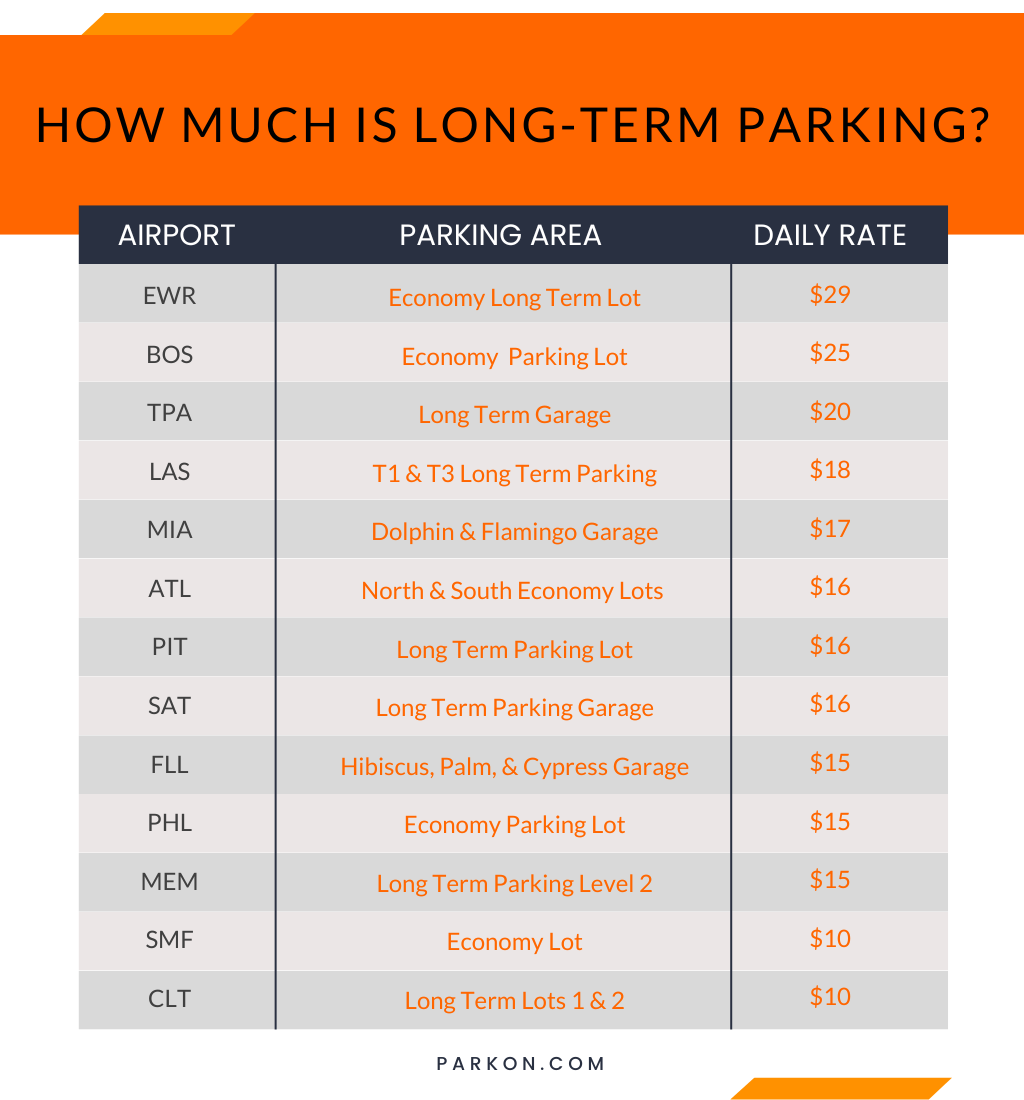 How Do I Save on Long-Term Parking?
Pre-booking or reserving your parking ahead of time is the easiest way to save on long-term airport parking. Why?
Some airports will give you a reduced daily rate if you pre-book your parking. To give you an example of the difference in cost, here are pre-booked rates vs. drive-up rates for some of the most popular U.S. airports.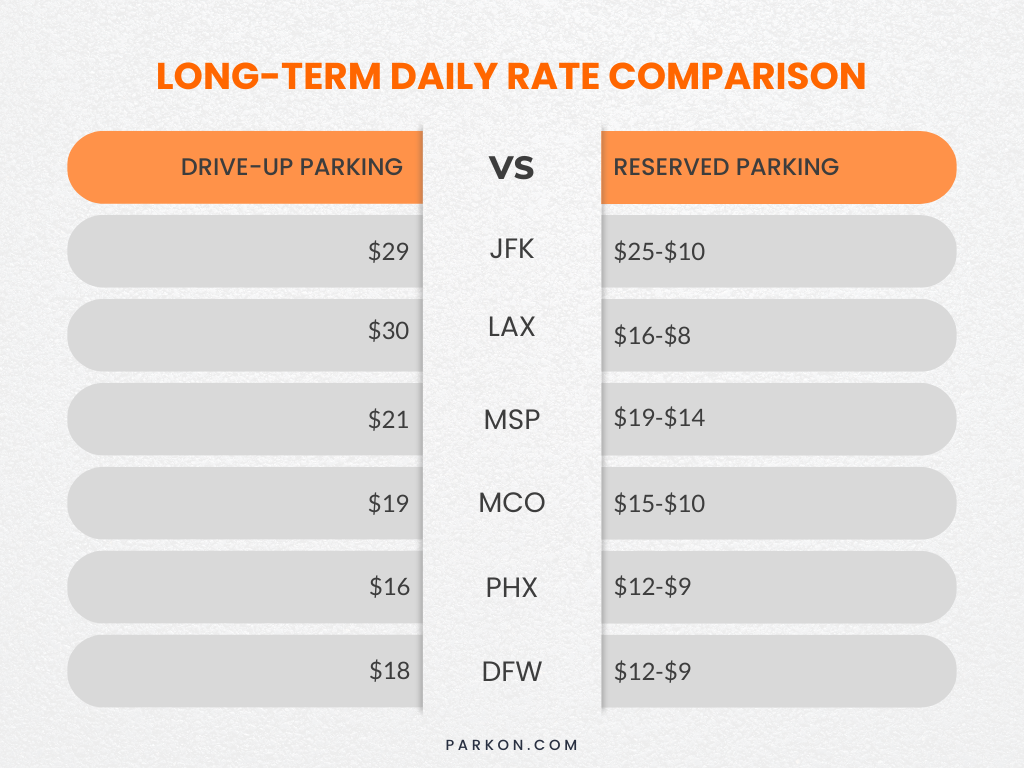 Airport parking is a significant stream of revenue for the airport. Offering pre-booked parking makes it easier for travelers to use their service, and this way, they can compete with off-site airport parking lots that already offer parking reservations through their websites.
If you want to find the best rates, off-site airport parking is the best bang for your buck. Why?
Airports that have parking rates on the higher end create a demand in the market for cheaper parking options. Airports like LAX, SEA, EWR, and JFK are great examples.
These areas have some of the greatest offsite airport parking services available. For less than you would pay at the airport (even with pre-booked rates), you can reserve first-class airport parking in a safe and secure location.
Off-airport lots can provide additional amenities that the airport does not offer: increased security, car washes, valet parking, covered parking, and dent guards, just to name a few.
All these perks sound great, but beware, not all off-site airport lots are created equal. If you are considering an off-site airport parking service, at minimum, use this as your checklist:
✔ Recent positive ratings
✔ Free shuttle to and from the airport
✔ Onsite security or surveillance
✔ Open 24 hours
To sum it all up:
Long-term airport parking is any parking needed for the duration of your trip.
At the airport, the long-term or the economy parking lot is the most affordable parking option.
In general, long-term airport parking lots charge by the day rather than the hour.
Airports generally allow you to park your car for 30 days.
The cost of long-term parking varies greatly from airport to airport.
You can save on parking rates by pre-booking your space or using off-airport parking.
We hope this guide was helpful. We would love to hear your feedback. Is there anything we missed?