Long-Term Parking Options at Newark Airport
By Melissa Ruiz | 2023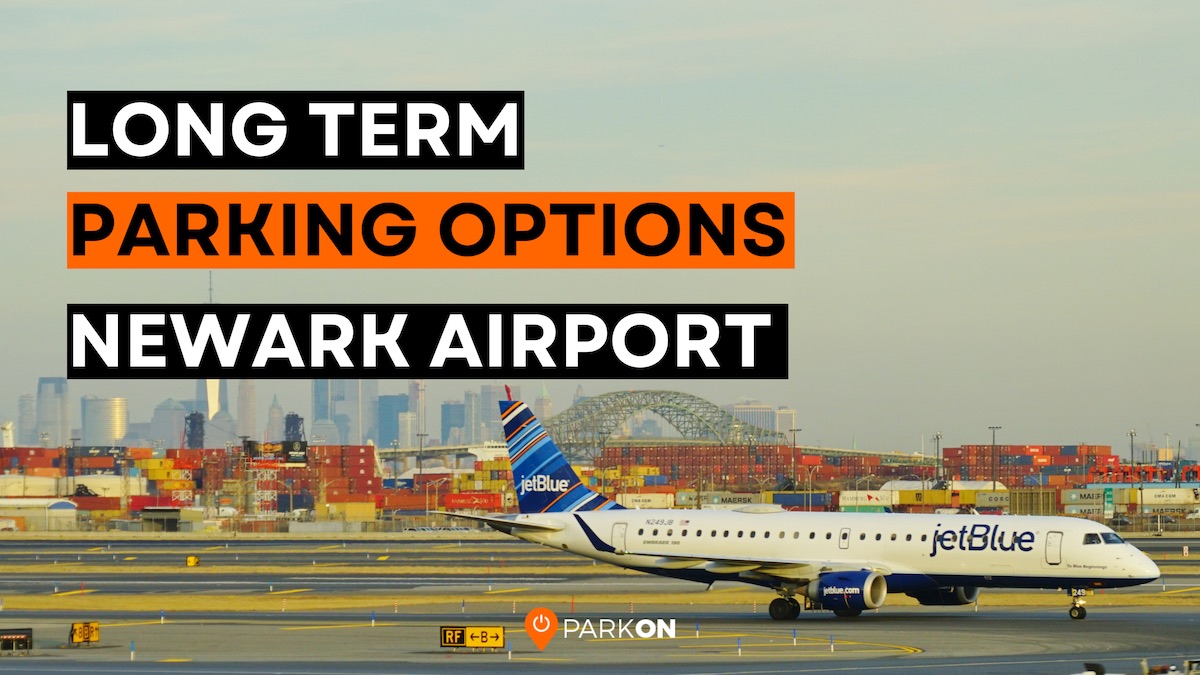 Do you have a long trip ahead and need to leave your car in the airport parking lot?
As anyone who has been to Newark Liberty International Airport (EWR) knows, finding the perfect spot for long-term parking can be challenging.
Whether you're flying out of town on vacation or a business trip, having a convenient place to park your car is essential.
In this blog post, we'll explore all the options available for long-term parking at EWR so that travelers are armed with enough information about whether they will be gone for a few hours or weeks!
1. Overview of Long-Term Parking Options at Newark Airport
2. Exploring the Economy Lot and Daily Garage
3. Examining the Valet Service and Frequent Parker Program
4. Comparing Rates Across Different Lots
5. Tips for Choosing a Parking Spot at EWR Airport
6. Benefits of Covered Spaces

Overview of Long-Term Parking Options at Newark Airport
Travelers flying out of Newark Liberty International Airport have several ways to find long-term parking. There are plenty of economical off-airport parking options within a 5- to 10-minute shuttle ride.
Air travelers can also use the Economy Lots or Daily Parking Garages at Newark Liberty International Airport as an alternative option. The rates are lower than at the short-term parking lots, and you are able to pre-book your parking space.
Additionally, travelers that choose long-term parking at Newark Airport will benefit from convenience, with their car being closest to their terminal.
Ultimately, those flying out have several cost-effective and convenient long-term parking options available.
Exploring the Economy Lot and Daily Garage
If you are heading out of Newark Liberty International Airport, you'll want to weigh your long-term parking options available at the airport's on-site facilities.
If you're looking for the cheapest option on the airport campus, then you'll want to consider the EWR Economy Lot—this lot offers the best value if you're staying four days or more. A shuttle ride is needed from the lot to the terminals, so keep this in mind when timing your arrival.
The Daily Parking Garage at EWR is the second option on-site. The Air Train takes you to the terminals from the garage. Because this lot is cheaper than the short-term parking garages and closer than the economy lots, it is arguably the most popular (and sometimes full) lot at Newark Airport.
No matter which long-term parking option fits your needs best, EWR makes it easy for travelers to get to their destination on time.
Examining the Valet Service and Electrical Vehicle Parking
If you are flying out of Newark Liberty International Airport and want to take the guesswork out of finding a parking space, valet service might be the way to go.
Valet service makes it easy to drop off your car and not worry about finding a spot in the airport's busy parking garage or lots.
There is no valet parking on-site at Newark Airport, but there are several off-airport lots that provide top-quality valet service with respect and care for your car.
If you have an electric vehicle, Newark Liberty International Airport has electric vehicle charging stations for your convenience. For long-term parking on-site, you can find these stations at the Daily Parking Garage (P4). ParkON currently offers two parking lots that accept EV charging. Those lots are the Hilton Newark Airport Hotel and Park2Go Newark.
Make sure to investigate all these options before your next trip from EWR, plan ahead, and reserve any services you may need in advance for a stress-free trip.
Comparing Rates Across Different Lots
Traveling out of Newark Airport can be stressful enough without having to wonder if you secured the best deal on long-term parking.
To help ease the added pressure, comparisons of EWR parking rates across different lots can be crucial in making an informed decision on where to park your car.
With the cost going up to $40 per day, it's worth taking a few minutes out of your pre-trip prep to compare lots and find the best rate that fits within your budget.
| Type of Parking | Costs Per Day | Costs for 1 Week |
| --- | --- | --- |
| Daily Parking at EWR | $29-$40 | $203-$280 |
| Economy Lot at EWR | $21-$29 | $147-$203 |
| Off Airport Lots near EWR | $10-$20 | $70-$140 |
ParkON makes it easy to compare off-airport parking rates all on one site. If you perform a search for EWR parking rates on the days you are set to travel, you might even find helpful services like valet parking and help with your bags.
Tips for Choosing a Parking Spot
When it comes to choosing a parking spot for your upcoming flight from EWR, there are several things to consider. First and foremost, you'll need to decide whether on-site parking or off-site airport parking is right for you.
On-site parking is usually more convenient, but may come with a higher price tag. Off-site lots offer better rates and more flexibility, but require taking a shuttle to the airport.
The best way to decide is by factoring in what your parking priorities are. Do you want to save money, or get the most convenient spot? Do you need to leave your car for an extended period of time, or are you only going away for a few days? All of these considerations will help you decide which option is best for your needs.
Once you've decided on the type of parking you need, we recommend pre-booking or using an online reservation option so you don't have to worry about finding a space on short notice.
If you do opt for an off-airport lot near Newark Airport, look for one with plenty of security cameras that is open 24 hours a day,and has staff on the premises. The facility should also offer shuttle services to help transport you back and forth from the lot quickly and safely.
Lastly, make sure that you have an emergency contact easily accessible when using long-term Newark airport parking - this person should know where exactly you left your car in case of any issues during your travels.
By following these simple tips, travelers will be able to choose the best Newark airport parking spot for their trip with ease.
Benefits Covered Spaces
Opting for covered parking means that your car will be well-protected from the elements, including snow, rain, sleet, hail, and more. By choosing covered parking spots, travelers can help ensure that their cars stay in good shape during the duration of their trips.
Your car is also less likely to get damaged in a covered space than in an open lot or on-street parking. Prices vary depending on how long the car is parked and at what facility it is parked.
EWR's Daily Parking Garage is covered parking, but keep in mind that reserving a covered space at an off-airport lot is often cheaper than parking at EWR. It is a great bargain for anyone looking to save money and keep their car safe while traveling out of Newark Airport.
Conclusion
Long-term parking at Newark Airport can be overwhelming with so many options and pricing. This article looked at all the available lots to help any traveler pick the perfect spot for their stay.
But remember that there's more than just rates to consider when parking overnight - convenience, ease of access, and safety should all be weighed against each other for a convenient travel experience.
It's also worth taking advantage of frequent flier programs or valet services to simplify the process. When you're ready to lock in your spot, be sure to check out our EWR Parking page and find the best option that suits you! Safe travels!