Long Term Parking at Orlando Airport
One of the highlights of Orlando International Airport (MCO) is that you can find long-term parking in most of its on-site airport parking options. This is a fantastic and accommodating benefit to have within such a busy, international airport. The types of parking you will find at MCO are cell phone lots, economy lots, parking garages, terminal parking, curbside valet parking, and on-site hotel parking at the Hyatt Hotel MCO. In general, it is one of the more accessible and affordable airports for parking. With that being said, even with all the on-site parking options, there are many off-site parking lots and hotels where airport parking is also offered. We will go into the benefits of off-site parking near Orlando airport shortly.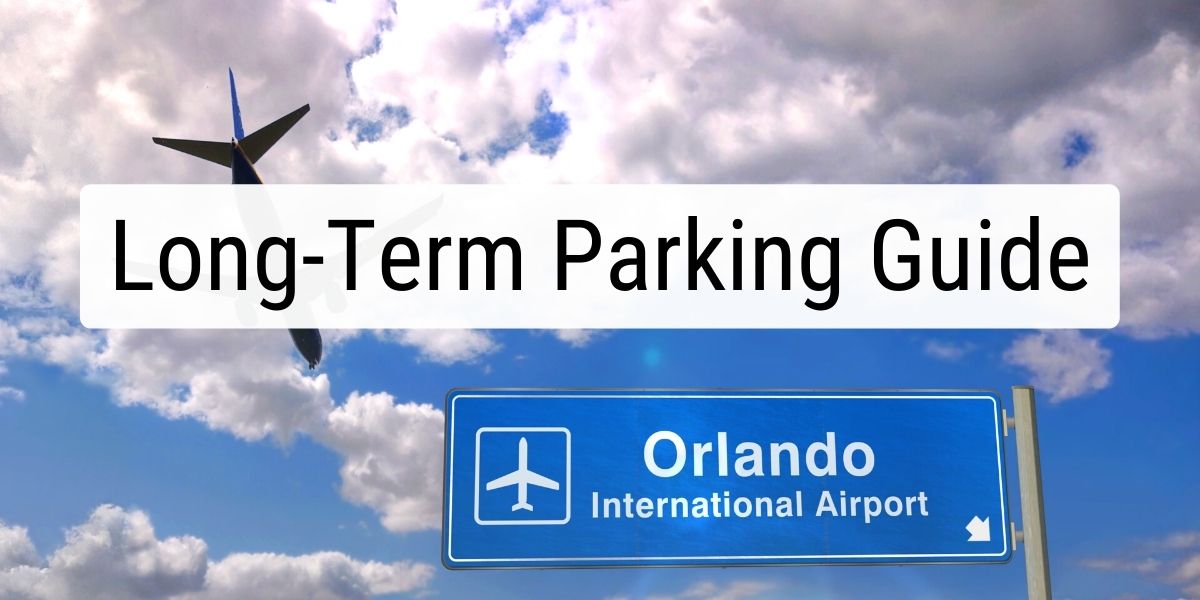 Where not to park long-term at MCO
All parking lots and garages at the Orlando airport offer long-term parking except for the two cell phone lots located in the north and south parts of the airport. The cell phone lot is used for short-term parking where people can wait to pick up their loved ones from the airport. People commonly wait at these lots until they receive a call or text message from the person they are picking up. The two cell phone lots are free but there is no overnight parking or commercial vehicles allowed. Therefore, these lots are not suitable for long-term parking.
How much is it to park long-term at MCO?
To accommodate the influx of tourists and residents that fly out of this airport daily, MCO allows vehicles to park for as long as 45 days at their economy lots, garages, and valet services. Below are the daily rates for each long-term parking location at Orlando airport:
Economy Lots
North Pike Place: $10 per day
South Pike Place: $10 per day
Parking Garages
A: $19 per day
B: $19 per day
C: $17 per day
Terminal Top Parking: $19 per day
Valet Parking: $25
Hotel Parking
Self: $12
Valet: $16
Tips for long-term parking at MCO
Here are a couple of things to consider when choosing which lot is best for your parking needs:
Vehicle clearance: Parking Garages A & B, and Terminal Top Parking have a clearance of 7'0". If you have a vehicle taller than that, then the Economy lots or Parking Garage C is your best option.
Gates: If you want to park as close as possible to your gates, Terminal Top Parking or Curbside Valet Parking provides direct access to terminals. Parking Garage A is located adjacent but just to the north of Terminal Top Parking. This is closest to Gates 1-29 and 100-129. Parking Garage B is located adjacent but just to the south of Terminal Top Parking. This is closest to Gates 30-59 and Gates 60-99.
Protection from the Elements: If you are leaving your car for several days or even weeks, keep in mind that Orlando is a very hot and sunny place. If you do not want to have your car uncovered and left out in the sun or rain for a long period of time, choose from the covered parking options which are the parking garages, terminal parking, valet, and hotel parking.
Park and Stay: If you have an early morning flight or want to extend your trip after you have arrived back at the airport, MCO has an onsite hotel, the Hyatt, which provides stay and go packages that include parking. If you are not partial to the Hyatt, look to other nearby airport hotels like the Marriott and the Renaissance which also provide stay and fly options and free shuttles to the airport terminals.
Additional Services: Do you want your car washed and detailed while you are on your trip? These services are available at the Hyatt Valet Parking for an additional fee or you can reserve WallyPark Premier Airport Parking which also provides car washing and detailing.
Reserve long-term airport parking near MCO Airport
Orlando has a growing population, several theme parks, and close proximity to Port Canaveral. Even though there are many options for parking at the airport, MCO does not offer parking reservations. All the parking available on-site is first come, first serve with the exception of hotel parking. If you would like to guarantee your parking space ahead of time, many parking providers near the airport provide this peace of mind. Additionally, these independent parking lots and facilities provide parking for travelers that are cruising out of Port Canaveral. Their business is focused on parking and has additional amenities and complimentary shuttles to the port and terminals. Not to mention, if you need safe and secure parking for longer than 45 days, off-site airport lots can facilitate longer parking stays. To see what parking options are near MCO Airport, initiate a search on our MCO Airport Parking page.