Driving Habits in LA
Loud Music and Driving in Pajamas: Los Angeles Driving Habits Revealed
May 30, 2016
We provide airport parking for LAX, one of the largest international airports in the world, so we know how to keep your car safe while you travel the world. However, we often wonder what happens to the cars and their drivers when we don't look after them – so we decided to take an honest look at the driving habits of Los Angeles residents.
Gathering such honest information can be challenging: no one wants to admit they're a bad driver. Since it's not uncommon for people to be coy about their driving abilities, we asked their partners instead.
As it turns out, partners are not so coy. From their most annoying habits, to whether they would fail re-taking their driving test, these LA residents confessed to us their true feelings on their partners' driving skills. Let's take a look at the results:
Loud Music Tops Our Poll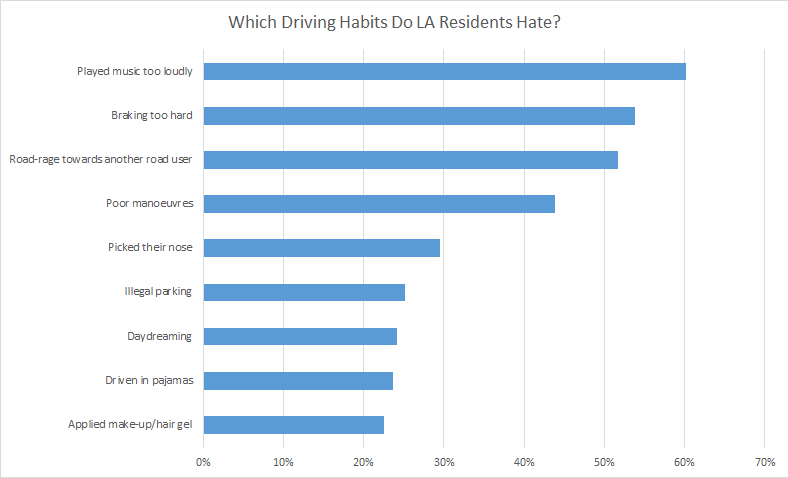 We asked our respondents what they considered to be their partner's worst habits while behind the wheel. Top of the list was playing music too loudly, with 60% of people admitting their partner should dial down the volume when on the road. The second worst habit was braking too hard (54%) followed closely by having road rage towards another driver (52%). Surprisingly, almost a quarter (23%) of respondents said their partner has made a habit of driving in their pajamas – perhaps some people enjoy the LA sun a little too much.
Our survey spanned five of LA County's major cities: Los Angeles, Long Beach, Beverly Hills, Burbank, and Pasadena. Of all included cities, Beverly Hills was shown to have the most disruptive drivers, as 74% of its residents said their partner played music too loud while driving (by far the highest percentage of all cities) and 59% of people citing road rage as a regular driving habit.
Speeding and Cell Phone Use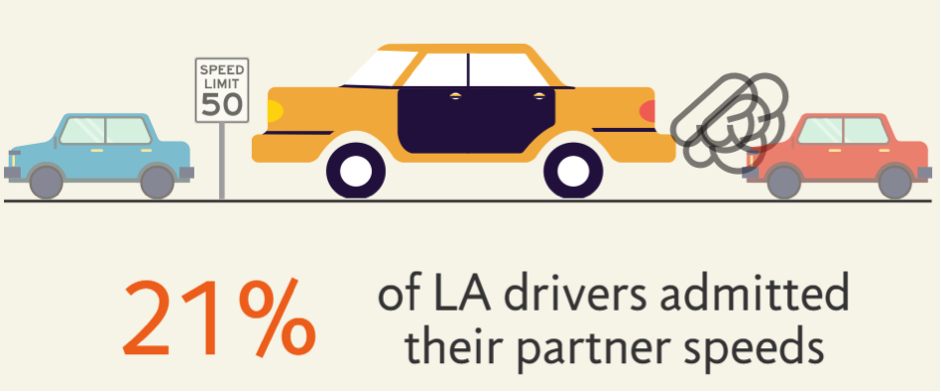 Dangerous driving can lead to fines, points on your licence, and, most importantly, it puts the lives of you and others on the road in danger. When asked about the most dangerous thing their partner has done while driving, 29% of respondents confessed that their partners had used a mobile phone while driving. With over six million registered automobiles in LA County, and the fine for distracted driving sitting at $161, that means there could be an estimated $289 million worth of offences taking place on LA roads.
Speeding and driving while under the influence of alcohol or drugs were also common, with 21% and 18%, respectively. These habits could have huge implications for Los Angeles, as a speeding ticket carries a $35 base fine, but is also subject to additional penalties and a 20% surcharge, meaning the true cost of a speeding ticket can be hundreds of dollars. Driving while intoxicated brings a fine of $390 – $1,000, and over $1,000 of penalty assessments, as well as the potential for further DUI assessments, a jail sentence, a licence restriction and the attendance and completion of an alcohol treatment program. We encourage all of our customers to drive safely, no matter their destination.
Confident Drivers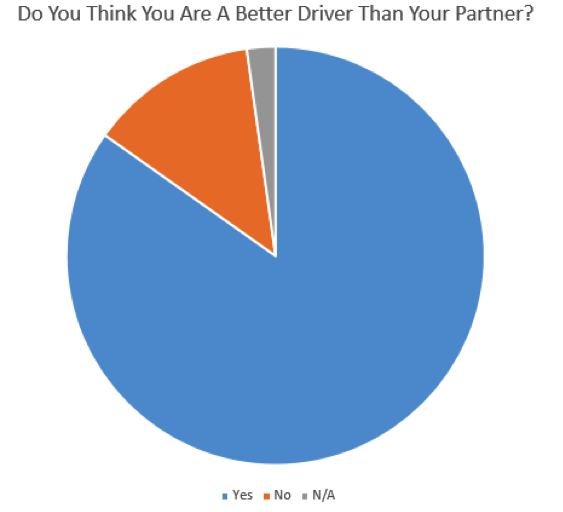 Our survey also asked whether our respondents felt that they were a better driver than their partner, with an overwhelming 85% of people saying yes. Looking at the gender split of those surveyed, 91% of men admitted they think they drive better than their partner, with just 79% of women saying the same thing.
When asked if respondents felt their partner would fail a driving test if they were asked to retake it, almost half of the men surveyed (47%) said yes, compared to only 30% of women. These two factors suggest that men are much more confident of their driving ability than women.
On a city level, Beverly Hills again came out on top, as 65% of its respondents believed their partner would fail a driving test. On the other end of the scale, only a third of Los Angeles city residents doubted their partner's ability to pass the test, although 85% of them still believe they are better driver.
We provide safe and secure parking so that, no matter where you go, you're sure that your car is safe. The next time you fly, book a ParkOn parking lot. Just be sure to not turn up to the airport in your pajamas!