Pre-Flight Airport Parking Guide
By Melissa Ruiz | 2023
If you're planning a trip and need to figure out where to park at the airport, then you've come to the right place!
Our Pre-Flight Airport Parking Guide is here to provide travelers with everything they need to know about planning for parking, types of parking, and how to save on parking fees.
We'll help make your time getting to the airport much smoother by arming you with all the information necessary for stress-free travel.
With this helpful guide, we hope that your pre-flight experience will be enjoyable!
Outline
Benefits of pre-flight airport parking
Do you stress about finding parking at the airport?
What about the hefty price tag on the way out?
Say goodbye to circling the airport access roads endlessly and bankrupting your trip budget.
Pre-flight airport parking services offer a convenient solution to many types of airport parking woes.
Not only can it save you time and effort, but it also provides a secure and affordable option for long-term parking.
Many pre-flight parking facilities offer shuttle services directly to and from the airport terminal, making your travel experience smoother and more enjoyable.
Plus, you can rest easy knowing your car is in a safe and monitored location while you're away. Make your next trip less stressful by taking advantage of the many benefits of pre-flight airport parking.
How to find the right parking lot for your needs
Finding the right parking lot for your needs can sometimes feel like a daunting task. After all, there are countless options available, each with its own advantages and disadvantages.
ParkON and other aggregator sites are excellent one-stop solutions for people looking to compare airport parking lots.
Using such sites, you can easily compare multiple options at once and gain access to reviews, location information, and daily rates for the duration of your stay.
However, by taking some time to consider exactly what you need from a parking lot, you can make the process much simpler.
Some key factors to consider might include the location of the parking lot, the size of your vehicle, and any specific amenities or services that you might require. This includes covered or uncovered parking, electric vehicle charging, and valet service.
By doing your research and being thoughtful about what you need, you can find the perfect parking lot that will make your life easier and allow you to navigate the world with confidence.
Tips for getting the best deal on pre-flight airport parking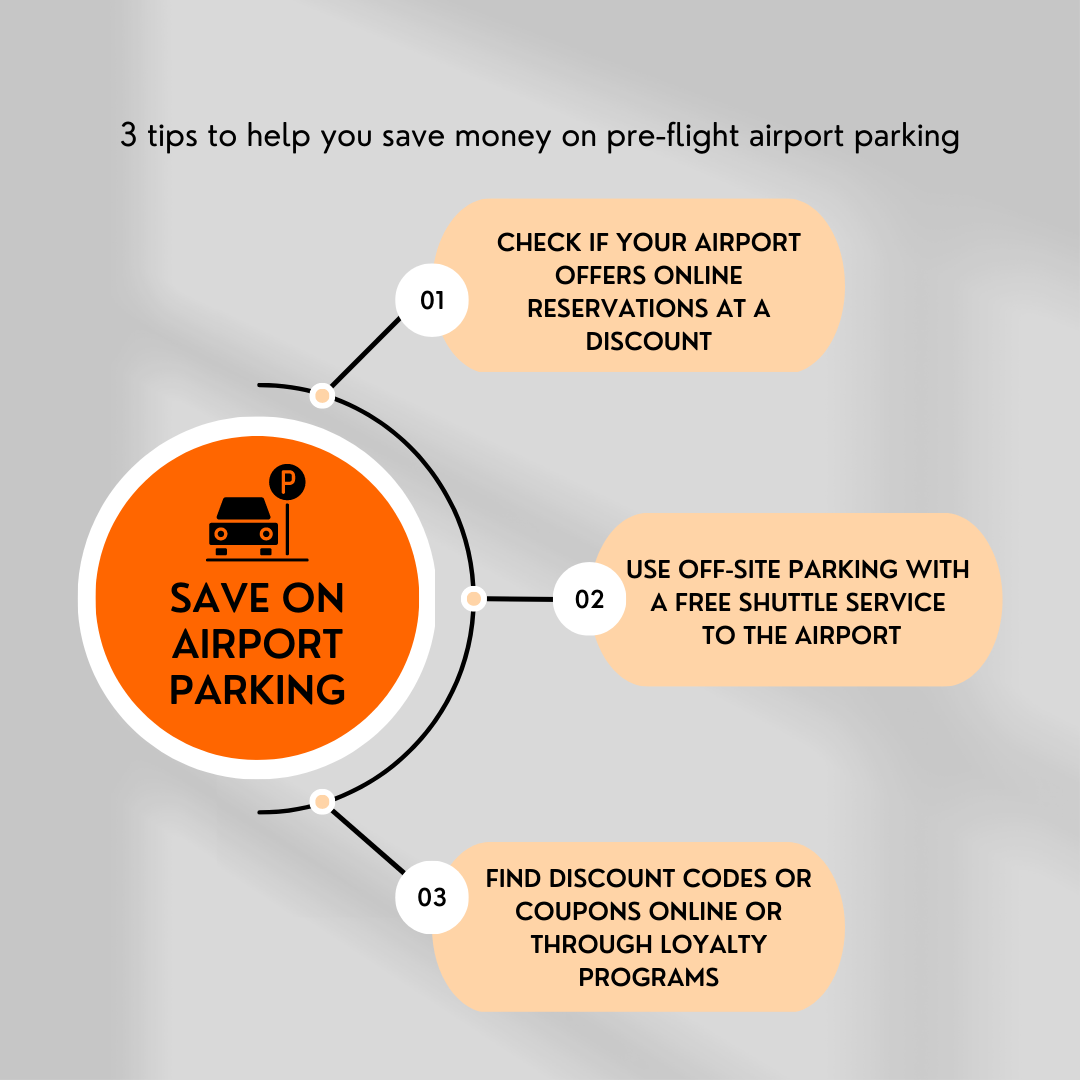 Airport parking can be an added headache on already stressful travel days. But with a little bit of planning, you can also find yourself saving some money.
Here are some tips on getting the best deal on pre-flight airport parking.
Firstly, check to see if your airport offers online parking reservations. More airports are starting to offer discounted parking rates for online reservations, which can be substantial.
Secondly, consider off-site parking that offers a shuttle service to the airport. This can be a more cost-effective option that is less congested than airport parking lots.
Lastly, consider using discount codes or coupons that can be found online or through loyalty programs.
Saving money on parking can take some research, but the extra cash in your pocket may make your travel budget stretch further.
Preparing your car for pre-flight parking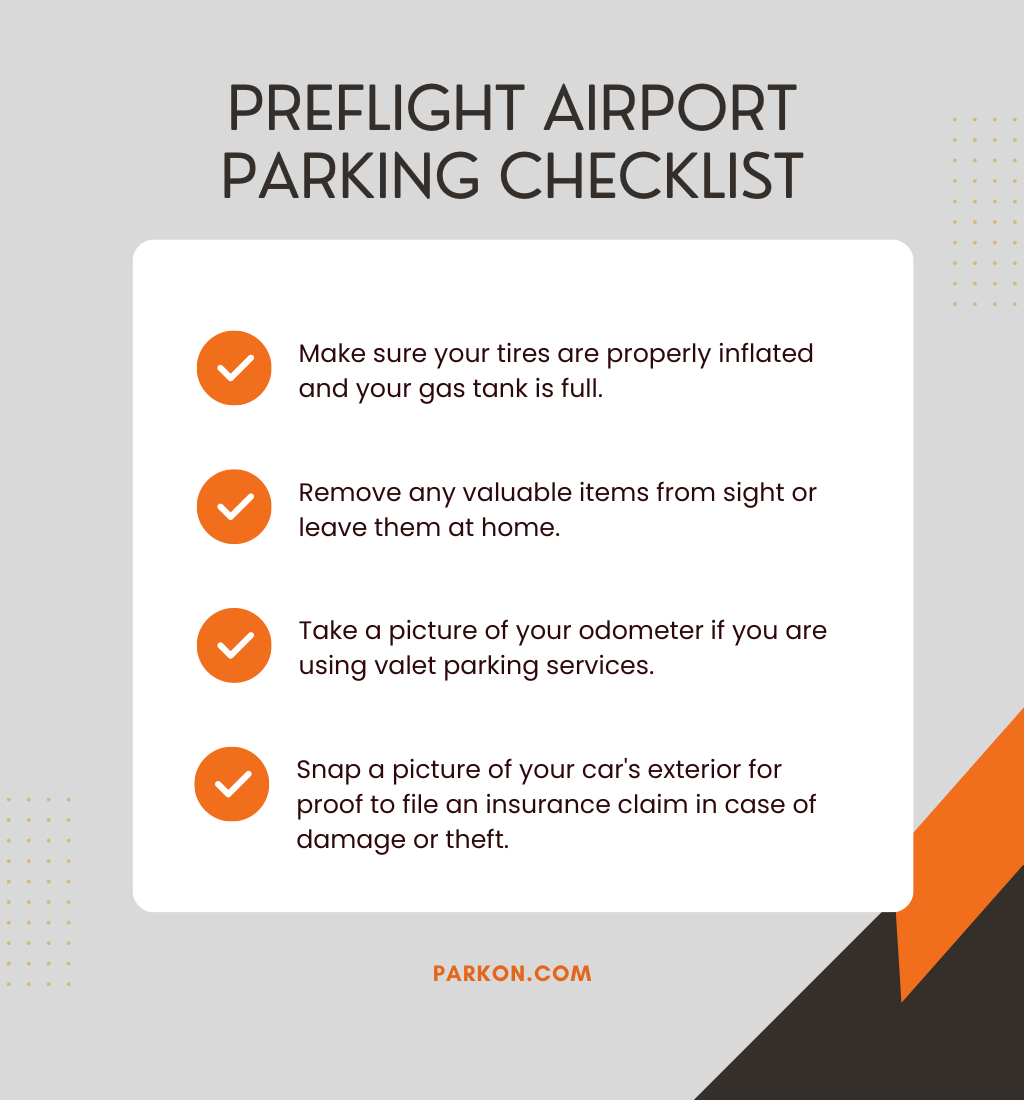 When you're preparing to leave on a trip, ensuring that your car is ready for pre-flight parking is just one part of the process.
Before you park your vehicle and head to the airport, there are a few essential things you need to do to ensure your car will be in top shape when you return.
First, make sure your tires are properly inflated and your gas tank is full. You don't want to come back to a car with a dead battery or flat tires.
If you are worried about a dead battery upon your return, choose an off-airport lot that is open 24/7 and can help jump-start your car as a courtesy.
Double-check that all of your windows and doors are closed and locked, and remove any valuable items from sight.
If you are opting for valet services, take a picture of your odometer to make sure your car has not been taken on a joyride.
Snap a picture of your car's exterior in case of damage or theft. If anything does happen, you will have timely proof for insurance claims.
By taking these simple precautions, you can enjoy peace of mind knowing that your car is well-prepared for pre-flight parking.
What to do if you have to leave your car at the airport overnight
Leaving your car at the airport overnight can be a nerve-wracking experience, but with some careful planning and preparation, you can ease your worries and ensure a stress-free trip.
The first step is to research the parking options available to you and choose a reputable parking lot. Look for reviews online or ask for recommendations from friends and family.
Once you have decided on the lot, familiarize yourself with the location using a map tool like Google Maps. If you happen to live close enough, take a dry run to the lot to reduce the chance of getting lost and missing your flight.
Next, be sure to lock your car and remove any valuable items from sight, or simply leave them at home.
Finally, take note of where you parked and keep your parking ticket in a safe place, such as your wallet or purse.
By following these simple steps, you can rest assured that your car will be safe and sound while you're away.
To sum it all up:
Taking the time to pre-plan your pre-flight parking can make a big difference in how stressful and cost effective your travel experience is.
From researching reputable parking lots to ensuring you're getting the best deal and readying your car for its stay, there's a lot that goes into doing it right.
Be sure to take safety into consideration whenever leaving a car at an airport, and be aware of what to do if you have extended or overnight stays.
Ultimately, pre-flight airport parking doesn't have to be a stressful hassle: with the tips provided here, you'll be well on your way to making an informed decision about where and how to park.
Need pre-flight airport parking? Reserve now with ParkON for the best deals on parking! Whether it's a short trip or a long haul, with some foresight and research, you can make sure that the start of your journey is off on the right foot (or wheel!).