Newark Airport Long Term Parking
4.5
out of
5
Airport Parking Rating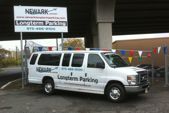 Reviews
11/16/2015Bonnie F Snyder
Overall, your service was very efficient and timely. It made our journey much easier and I would definitely use your service again.
---
05/15/2017Jacquel Clemons
I love this place!!
---
11/15/2015Christopher
As soon as I arrived a shuttle was waiting for me to board. When I returned I had to notify them a second time but times like that are inevitable. The call was promptly acted on and the shuttle picked me up within a couple minutes. Great friendly staff, will use the service again.
---
08/26/2015Mary Fanzutti
Affordable and very nice customer service.😄
---