How Much Does Parking Cost at DFW Airport?
By Melissa Ruiz | 2023
Reserve Dallas Fort-Worth Airport Parking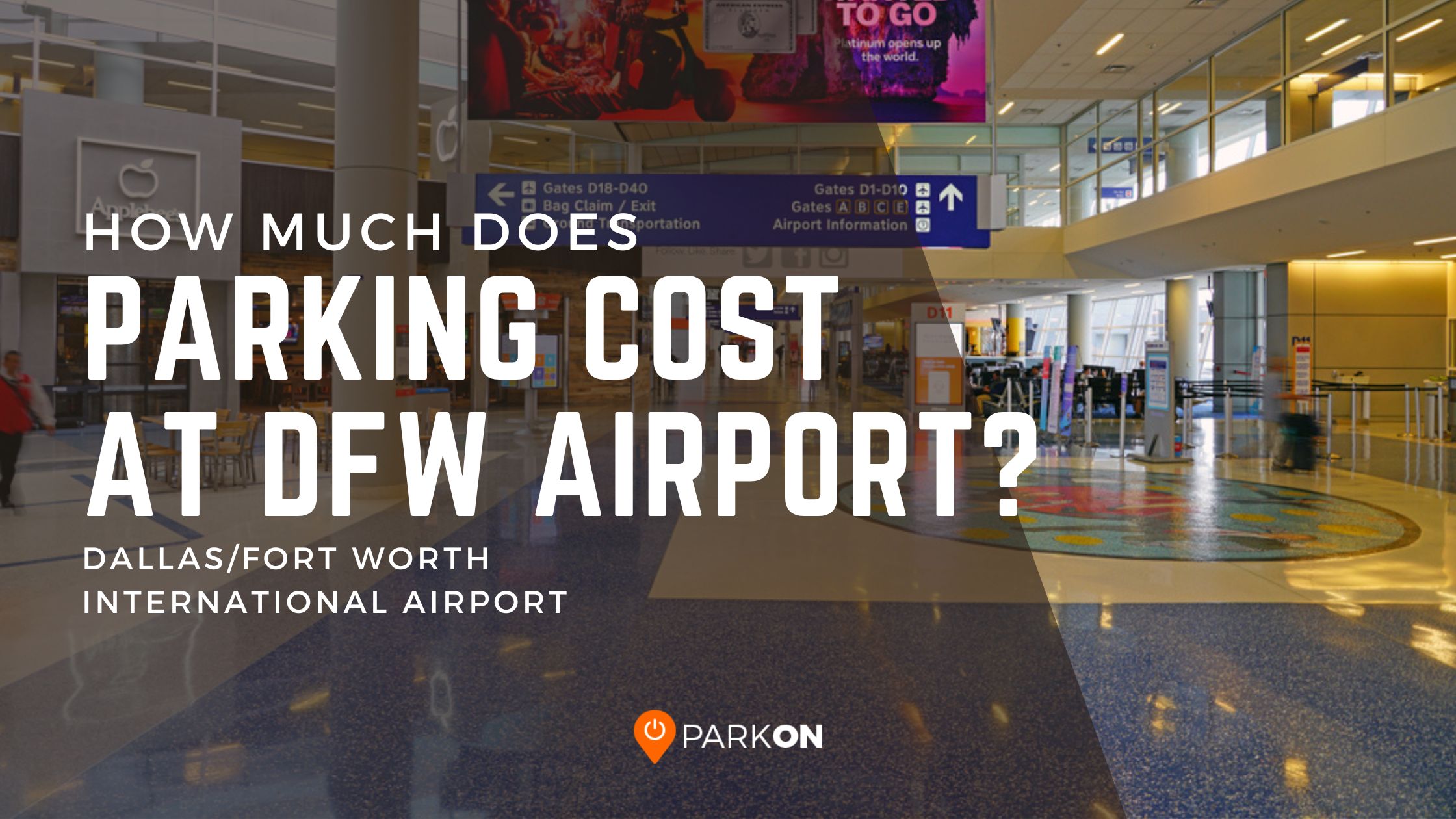 Do you have a trip leaving from Dallas/Fort Worth International Airport coming up and want to know how much parking will cost?
Before you start your trip, it's always a good idea to find out what prices are like right now.
This article tells you everything you need to know about the different kinds of parking at DFW Airport and how much each one costs.
Keep reading, and we'll show you how to find cheap, easy parking that will help you get the most out of your trip.
Outline
An Overview of Parking Options at DFW Airport
DFW Airport has a wide range of parking options to meet the needs of travelers.
They have convenient parking in their "Terminal" parking garage and more economical options like their "Remote" and "Express" lots. Even valet parking is available.
Terminal Parking
Most convenient option
One garage next to each terminal (A, B, C, D, E)
Closest to terminals and gates
Covered parking
Hourly and daily parking is available
Prepaid parking available
Express Parking
Two lots, located on each south and north entrance of DFW
Requires a shuttle
Covered and uncovered spaces available
Hourly and daily parking is available
Prepaid parking available
Remote Parking
The south lot is open, and the North lot remains closed
Requires a shuttle
Uncovered parking spaces
Hourly and daily parking is available
Prepaid parking available
Valet Parking
The most convenient parking option at DFW
Available at each terminal parking garage
Covered parking
Daily parking rate
In many airports, it is common for parking options to be referred to as "short-term" or "long-term" parking. At DFW, the lots do not have this type of naming convention, but all parking options allow for both short-term and long-term parking (overnight parking).
All these options are on-site parking, meaning that these parking areas are at the airport. There are also independent lots and airport hotels that provide parking and shuttle services. We'll go into these alternative parking solutions further ahead.
How Much Does It Cost to Park at DFW Airport for an Hour or a Day?
The cost of parking at DFW Airport is dependent on the lot and length of stay. For example, the Terminal Parking garage costs $3 for up to a 2-hour stay, while a 24-hour stay at an uncovered parking space in the Express Lot costs $15.
Below, we have put together the most current fee schedule for you. Please note that rates may change without notice.
Parking Area
Time
Rate
Terminal
0-8 minutes
8-30 minutes
30 mins to 2 hours
2-4 hours
4-6 hours
6 hours - 24 hours
$6.00
$2.00
$3.00
$9.00
$10.00
$27.00
Express
0 min - 2 hours
2 - 4 hours
4 - 6 hours
6 - 24 hours
$2.00
$3.00
$4.00
$15.00 - $18.00 for Covered
Remote
0 min - 2 hours
2 - 4 hours
4 - 6 hours
6 - 24 hours
$1.00
$2.00
$3.00
$12.00
Valet
Flat fee
$40.00
Except for the terminal parking garage, the lots at DFW Airport charge for two hours at a time.
Terminal parking is sold in eight-minute increments all the way up to two-hour increments so that people who need to do business at the airport, pick up loved ones, or drop people off at the gates can do so.
What are the Best Value Deals for Long-Term Parking at DFW Airport?
If you have a longer trip scheduled, daily parking fees add up and could easily implode your vacation budget. There is nothing more jolting than arriving back at the airport from your extended trip and having to pay hundreds of dollars to take your car out.
The best value for long-term parking at DFW Airport is the Remote South Lot, located on the other side of South Airfield Drive. This lot is ideal if you plan on being away from home longer than a week, and it has plenty of free shuttle service to take you to and from the terminals. The lot is open-air and not covered but the entrance is gated and the area is fenced in.
Long-Term Parking Lots Near DFW Airport
DFW airport's remote lot is the cheapest option at the airport, but nearby lots at an off-airport location are an excellent value. The prices of these independent parking lots and operators are competitive and usually cheaper than parking at Dallas/Fort Worth International Airport.
JoyPark and several of the airport hotels, like the Marriott, Embassy Suites, and Doubletree, provide inexpensive and secure parking with complimentary shuttle transportation to and from DFW's terminals.
Pros and Cons of Different Parking Lots at DFW
Budget is a significant factor when planning your airport parking, but we can also provide some pros and cons for DFW's parking lots to help you choose the best option. Focusing on the advantages and disadvantages of each parking option is an excellent way to determine which lot will meet your needs.
Parking at DFW can range from on-site parking to off-site lots and garages. On-site parking offers the most convenience and is closest to the terminals, but it may be more expensive than other options. Off-site lots or garages offer cheaper rates, but you do have to take a shuttle to the terminals.
When deciding between on-site or off-site parking, here are some key considerations: convenience, proximity to terminals, security, and whether the car will be under cover. It's important to carefully weigh each of these factors before making a decision. For example, covered parking is more expensive, but it provides protection from elements like heat and rain.
Here are the pros and cons of different parking choices for DFW parking.
Parking Area
Pros
Cons
Terminal
Walking distance to terminals;
Covered parking spaces;
Hourly and overnight parking;
Gated entrance;
Airport security surveillance;
Valet parking available;
The most expensive option;
No luggage assistance except for valet parking;

Express
Covered and uncovered parking;
Hourly and overnight parking;
Gated entrance;
Airport security surveillance;
The second most expensive option;
Requires a shuttle;
No luggage assistance;
Remote
Most affordable on-site parking;
Hourly and overnight parking;
Gated entrance;
Airport security surveillance;
No covered parking;
Requires a shuttle;
No luggage assistance;
Off-Airport Lots
Most value for your money;
Gated and/or fenced in lots;
Covered and uncovered parking;
Luggage assistance;
Valet parking available;
On-site security and surveillance;

Requires a shuttle;
Tips for Finding Cheap and Convenient Parking Spots Near DFW Airport
When looking for a good parking spot near DFW Airport, knowing that you are getting convenient parking at the cheapest price is key. Here are some tips to help you find the best parking deal:
Research and compare prices for on-site and off-site lots: On-site parking tends to be more expensive, but closer to the terminals. Off-airport lots are often the most economical option, but may require additional time due to shuttle service and/or distance from the airport itself.
Take advantage of prepaid parking: DFW Airport allows travelers to pay for parking ahead of time which can really pay off. Prepaid parking is subject to availability but you can save up to 50% off your parking fees.
Use a parking aggregator site to help you research parking lots more efficiently. For example, ParkON has several lots to choose from and they negotiate airport lots to give them the best rates to help them fill their spaces. Compare rates, reviews, amenities, and reserve your parking at a great price all in one place.
Look for airport parking coupons and promo codes. This tip applies mostly to off airport lots as some services offer loyalty programs or discount codes that can help you save even more. You can use our promo code to save on DFW parking - get an additional 20% off your daily airport parking rate when you reserve through ParkON.com.
Finding the right parking spot for DFW Airport doesn't have to be expensive. With these tips, you can easily save money on both long and short term parking without compromising on convenience. Keep in mind that it pays off to do a little research before you book your spot, as some services offer loyalty programs or discount codes that can help you save even more.
In conclusion, we hope that we have been able to answer how much parking at DFW costs and how to choose the right space for your budget. Enjoy your (now cheaper) trip from Dallas/Fort Worth International Airport. Happy travels!