Orlando Airport Parking Guide
What are the Parking Options at MCO?
If you are looking for the best options for parking at Orlando International Airport (MCO), ParkON offers quite a few. There are five onsite parking lots and about 11 off-site parking lots. You can easily select from these choices, the airport parking that best suits your needs. Finding your ideal Orlando Airport parking will only take you a few minutes. This Orlando Airport guide will help you pick the best spot!
Determining the most suitable parking option at MCO, it's best to consider your budget, the length of stay, short-term and long-term parking needs, and the need to reserve ahead of time. Bear in mind that onsite airport parking is on a first come first serve basis, whereas off-site airport parking gives you guaranteed airport parking.
How Much is Airport Parking at MCO?
Parking at Orlando Airport Terminal starts at $2 for 20 min increments up to $19 Max daily rate.
Valet Parking:
Long-term or short-term parking includes complimentary curbside check-in for passengers on Alaska, American, JetBlue and United.
Opens from 6 am to 11 pm.
Cell Phone Waiting Lot
There are two cell phone waiting areas that are free of charge, where drivers can wait to pick up arriving passengers.
The North Cell Phone Lot is located at 8730 Jeff Fuqua Blvd N.
The South Cell Phone Lot is located at 10546 Jeff Fuqua Blvd. S.
Short Term Parking at MCO
For short-term parking (90 minutes or less), we recommend any of the structures close to terminals. These parking lots charge about $3 for the first hour and some for each additional 30 minutes, meaning they're perfect for quick stop - offs. However, due to traffic, we recommend you arrive well in advance of your arranged pickup or drop off time.
Long Term Parking at MCO
For long-term MCO parking, expect to pay from $6.99 per day for basic, outdoor parking. Indoor or valet parking will be a few extra dollars. Shuttle rides to the airport only take about 10-15-minutes, which run every 10-20 minutes, depending on traffic and most shuttles operate 24/7.
A better option for you is to check our offsite airport parking lots to get the best rate possible on Orlando airport parking.
Best Rated Parking Lots at Orlando International Airport
ParkON offers a quick and easy online airport parking reservation system where you can choose from outdoor self-parking, indoor or outdoor valet.
We have teamed up with various lot operators who have served MCO for many years to offer you the best parking rates and most convenient options. You can save a great deal of money in comparison to parking at Orlando Airport. All lots have free shuttle services to and from Orlando Airport.
Orlando Airport Marriott
Omni Airport Parking
Renaissance Orlando Airport
Best Rate Parking
Park Me Fly
WallyPark Premier Airport Parking
Park 'N Go
Xpress Airport Parking
Jetway Parking
Ace Rent A Car Valet Parking
For parking near the terminals You can pick from the following parking lots: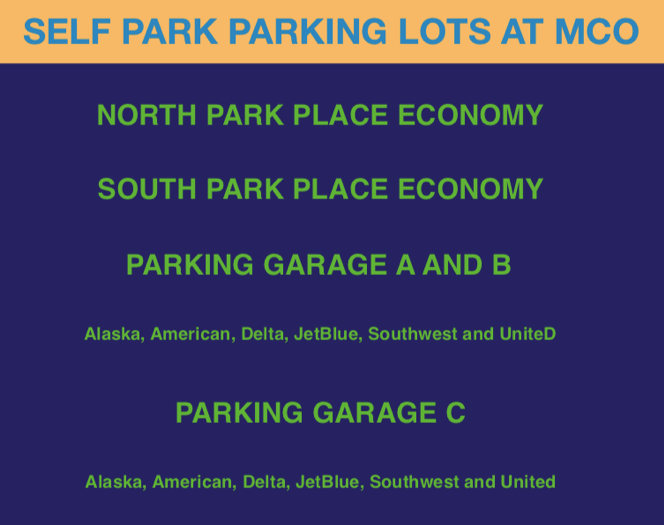 Click on our downloadable Orlando Parking Guide for your convenience.