Orlando (MCO) Airport Parking Guide
By Melissa Ruiz | 2022

If you need airport parking for Orlando International Airport (MCO), the airport itself has several parking options to choose from. Managed by the Greater Orlando Aviation Authority, MCO has thought of parking solutions for short-term airport visitors and travelers that need long-term parking.
Orlando's airport is vast, and knowing where to park or what type of parking best suits your needs could quickly become overwhelming. And what about off-site parking near MCO? Is off-site airport parking a better option?
Orlando Airport's hourly and daily parking rates are not as expensive as those of other major airports in the state or even the country. Perhaps you want your car detailed during your parking stay, or maybe your trip requires an overnight stay at an airport hotel. If that is the case, then off-site parking could be a more convenient or cost-effective option.
Other questions we aim to answer in the guide about parking at MCO are where the parking areas are and how much it costs to park there. What are the closest parking garages? Is there economy parking at MCO? What if I have an oversized vehicle? What if I just need to pick someone up or drop someone off?
Keep reading as we navigate through MCO airport parking options. We guarantee this Orlando Airport parking guide will help you pick the best spot!
What are the parking options at MCO?
At MCO Airport, there are three types of parking: terminal parking garages, economy lots, and two cell phone lots. Near the airport, there is off-site parking through several parking services and the surrounding airport hotels that serve the Orlando airport area.
Short-Parking at MCO
If you need short-term parking on an hourly basis, have a shorter trip, or want a parking spot within walking distance of the terminals, there are three parking structures that have direct connections to MCO's gates.
From north to south, the three parking structures are:
Parking Garage A
Terminal Top Parking
Parking Garage B
The Terminal Top Parking structure is the largest parking garage on-site and has direct connections to Terminal A on the north side and Terminal B on the south side. If you are looking for valet parking at MCO, there is curbside valet parking and Hyatt valet parking in the Terminal Top Parking garage.
Orlando very recently opened a beautiful new terminal, Terminal C. This new south terminal complex has its own parking structure. If you are flying out of Terminal C, you can find convenient parking spaces at Parking Garage C. The new terminal is detached from the main airport building, but you can connect to the airport's train station and Terminal Link Station from Parking Garage C.
Long-Term Parking at MCO
With the exception of the cell phone lots, all of the parking spaces are permitted for overnight parking and are open 24 hours. As a result, visitors who need parking for several days or weeks can do so at any of the MCO lots. There are a few things to consider when selecting the ideal area to park for long-term parking. The cost of daily parking, the availability of advanced reservations, and the degree of car security are all factors to be taken into account.
The most popular on-site, long-term parking at Orlando International Airport is economy parking. The economy lots are the most economical parking areas at the airport and, therefore, fill up fast. Unfortunately, MCO does not offer parking reservations at this time. The parking spaces at the economy lots are first come, first served. Year-round, there are two lots open:
North Park Place Economy Lot - located at 5501 Cargo, use the exit for Jeff Fuqua Blvd to access Cargo Road.
South Park Place Economy Lot - located at 10536 S. Jeff Fuqua Blvd.
The West Park Place Economy Lot is open seasonally and is located at 8202 Tradeport Drive. There is an exit off of SR 528 that provides access to Tradeport Drive.
Off-Airport Parking at MCO
Off-airport parking lots are a fantastic option for long-term parking. ParkON offers plenty of parking lots that can be conveniently reserved online for guaranteed airport parking. All lots are within 3 miles of Orlando International Airport. They have a complimentary 24-hour shuttle service to and from the airport and offer exceptional customer service. Customers can choose from covered or uncovered parking, self-parking options, and valet parking services. Many lots provide 24-hour camera surveillance and gated parking areas for extra security.
Below are the best-rated off-airport parking lots near MCO:
Cell Phone Waiting Lot
The two cell phone lots on the north and south sides of the airport offer free parking where drivers can station themselves while waiting for a call or text to pick up arriving passengers. Similarly, drivers can use this area to stand by before dropping off a passenger at the terminal curbside. Cars must not be left unattended and no overnight parking is allowed. Also, no private cars are allowed in this area.
The North Cell Phone Lot is located at 8730 Jeff Fuqua Blvd N.
The South Cell Phone Lot is located at 10546 Jeff Fuqua Blvd. S.Terminal Parking
How Much is Parking at Orlando Airport?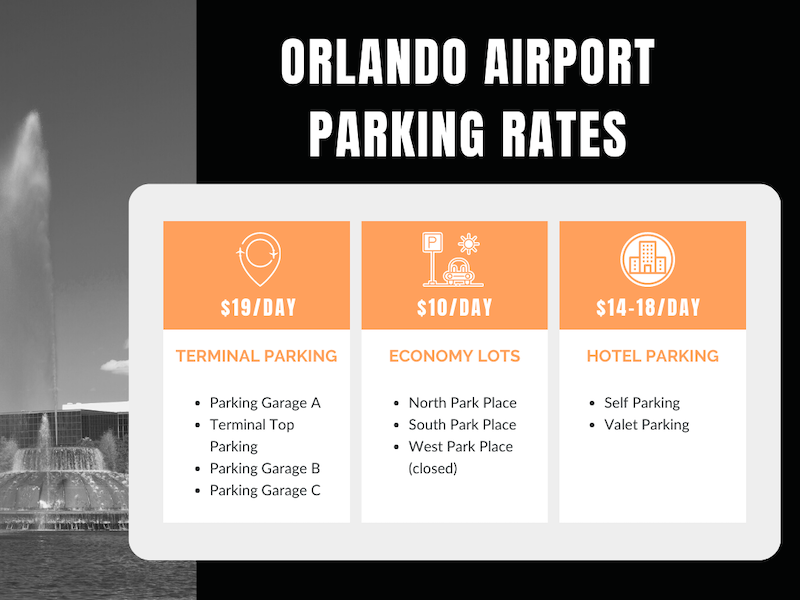 ParkON offers a quick and easy online airport parking reservation system where you can choose from outdoor self-parking, indoor or outdoor valet.
There is a 20-minute grace period at the parking garages to allow some time to find a parking spot. The economy lots have a 10-grace period. The airport accepts payment at the end of the parking stay in the form of cash, American Express, MasterCard, Visa, E-Pass, or SunPass Plus.
MCO Airport Parking rates
Parking Garage A, Terminal Top Parking, Parking Garage B, and Parking Garage C:
$2 for 21 to 30 minutes
$1 for each additional 15 minutes
The maximum daily rate is $19
Curbside Valet Parking and Hyatt Valet Parking:
$4 for the first 20 minutes
$1 for each additional 20 minutes
The maximum daily rate is $25
North Park Place Economy Lot, South Park Place Economy Lot, and West Park Place Economy Lot:
$5 after the first 11 minutes
The maximum daily rate is $10
Vehicles utilizing the North and South Cell Phone Lots can wait for free.
MCO provides free parking for disabled veterans and vehicles with specialized equipment like ramps, lifts, etc. In order to qualify for free parking, vehicles must have a State of Florida Toll Exemption Permit or have a disabled veteran's plate.
Generally, off-airport parking rates near MCO range between $5 per day to $15 per day depending on which parking lot you choose and which parking amenities the lot offers.
Additional Information About Parking at MCO
Vehicles can park at MCO for a maximum of 45 days and 90 days at the economy lots.
Valet parking is accessed at Terminals A and B on the 3rd level (Departures).
Vehicle clearance information for Orlando International Airport's covered parking areas:
Parking Garage A: 7'0"
Terminal Top Parking: 7'0"
Parking Garage B: 7'0"
Parking Garage C: 8'2"
Electric vehicle parking is available at the following locations:
Parking Garage A, Level 2, Row A
Parking Garage B, Level 2, Row P
Accessible parking spaces can be found in the parking rows closest to the garage elevator shafts and also by the shuttle waiting areas.
We hope this MCO airport parking guide answers all the questions you have about how to park at Orlando Airport. We have created a printable guide that you can pin, bookmark, or save to have the information handy. ParkON proudly offers excellent off-airport parking lots at the best rate possible. If you would like to reserve parking, please navigate to our Orlando airport parking page.
Click on our downloadable Orlando Parking Guide for your convenience.