JFK Airport Guide: Getting There, Parking, and Terminal Information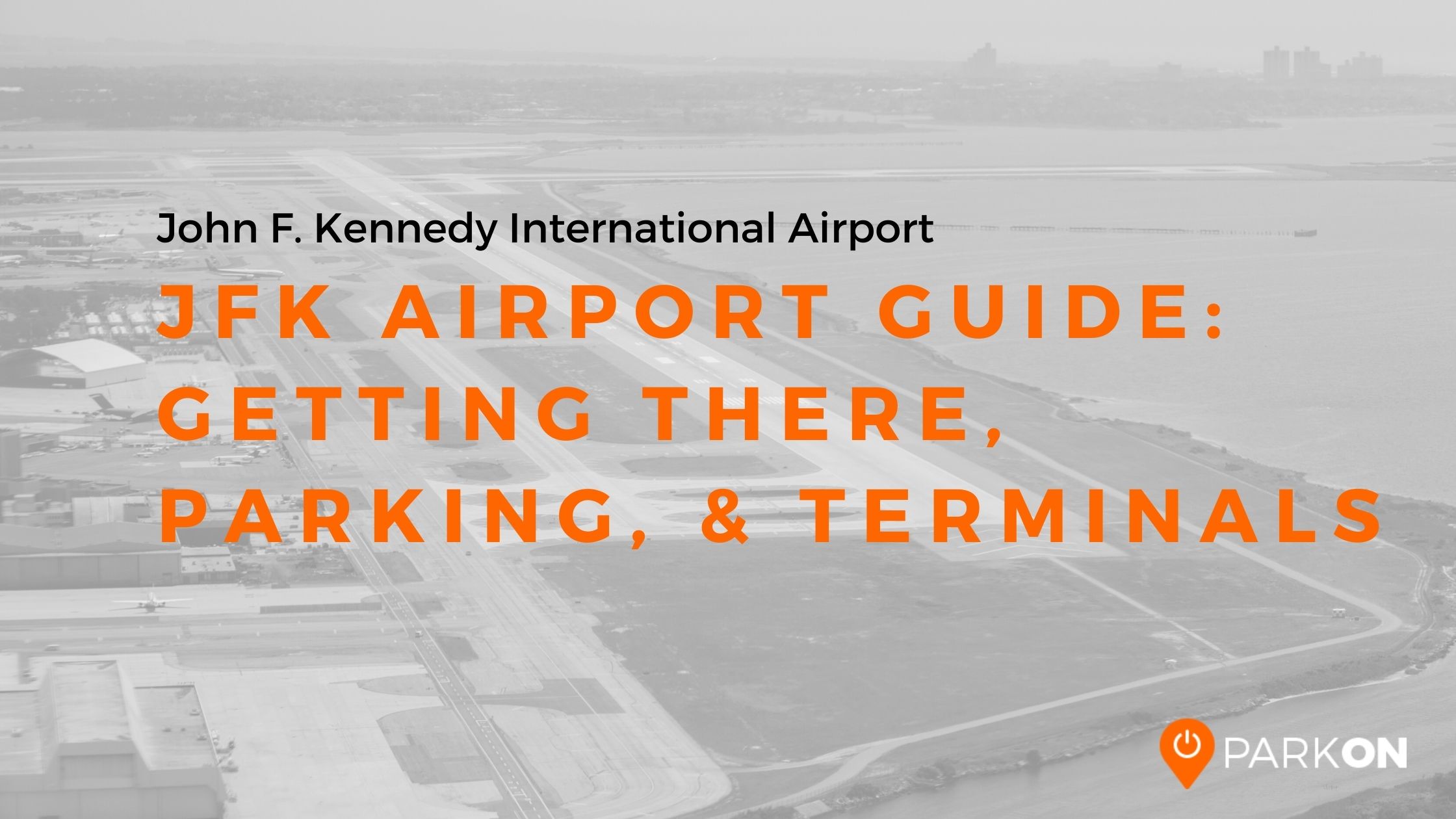 Getting to JFK
By Vehicle or Ride-Share
The John F. Kennedy International Airport, otherwise known as JFK, is located in South Jamaica, Queens N.Y. The Belk Pkwy runs from east to west through Long Island making it one of the most convenient ways to access the airport when arriving by vehicle or ride-share service.
The Belt Pkwy has a handful of exits that can be accessed from both the westbound and eastbound lanes of the highway. Below are exits that coincide with access to the airport's terminals, parking, and nearby airport hotels.
Traveling westbound on Belk Pkwy to JFK Airport:
Exit 18B is Lefferts Blvd (access to Long Term Parking Lot)
Exit 20 goes directly to JFK Airport via the JFK Expressway
Traveling eastbound on Belk Pkwy to JFK Airport:
Exit 19 is for 878/Nassau Expy, Van Wyck Expy, and direct access to the JFK
Exit 20 is for 150th street and Rockaway Blvd
Exit 21 is Rockaway Blvd
From NYC to JFK By NYC Subway
There are four subway train lines that connect passengers to the airport's two AirTrain lines. Passengers heading to the airport can take the E, J, and Z train to Jamaica Center in Queens or the A train to the Howard Beach Station.
From Queens and Midtown Manhattan, take the E train to Jamaica Center station
From Brooklyn and Lower Manhattan, take the J or Z train to Jamaica Center station
From Lower Manhattan or the Rockaways, take the A train to Howard Beach station
Jamaica Train Stops
Jamaica Station

Subway Line E, J, Z

Long Island Rail Road

Federal Circle

Rental Cars

Hotel Shuttles

Cargo Shuttles

Airport Terminals

1, 2, 4, 5, 7, and 8
Howard Beach Train Stops
Howard Beach Station

Subway Line A

Long-Term Parking Lot C

Lefferts Blvd.

NYC Bus Stop

Long-Term Parking Lots A & B

Airport Terminals

1, 2, 4, 5, 7, and 8
From NYC to JFK By NYC Bus
To arrive at JFK by bus, the stop closest to JFK is Lefferts Blvd. Travelers can take the bus to Lefferts Blvd. Station and transfer to Howard Beach AirTrain Line. The Howard Beach AirTrain line passes through all of JFK's airport terminals. The bus routes that go to Lefferts Blvd. Station are B15, Q10, and Q3.
From NYC to JFK By Long Island Rail Road
The Long Island Railroad has a stop at Jamaica Center, Queens. From Jamaica Center, jump on the Jamaica Train Line which goes to Federal Circle, and then passes through all the airport terminals.
From Manhattan, board at Penn Station and take the train to Jamaica Center, Queens
From Brookly, board at Atlantic Terminal, Nostrand Ave, or East New York and take the train to Jamaica Center, Queens
For more information on JFK Airport's Air Train Service Map and connecting stations, you can view the map here.
JFK Parking
Short-Term and Daily Parking at JFK
JFK's main parking is the Central Terminal Parking with 6 garages in total. Terminal parking is reserved for short-term and daily parking needs. The Yellow Lot that is closest to Terminal 5 is the busiest lot and is usually between 90-100% full.
The Green Lot provides parking to Terminals 1 & 2
The Blue Lot provides parking to Terminal 4
The Yellow Lot provides parking to Terminal 5
The Orange Lot provides parking to Terminal 7
The Red Lot provides parking to Terminal 8
To check the current capacity of the lots, navigate to JFK's airport parking page.
The AirTrain
The AirTrain is the most efficient way to get around JFK airport. The people mover loop passes through all the terminals and can be boarded from all the Central Terminal Garages. The AirTrain operates 24 hours a day with peak service between 11 AM to 10 PM every day, arriving every 4-6 minutes.
Long Term Parking at JFK
There are three long-term parking lots at JFK. Lot C is located near the Howard Beach station and Lots A and B are located near Lefferts Blvd. Station. Passengers that park at these lots can board the AirTrain in these stations to connect to the airport's terminals.
There are other long-term parking options nearby, clustered along Belt Pkwy on South Conduit Ave. The most common type of parking service provided at the nearby independent lots is valet service. This type of service allows for a quick drop off and most will have your car waiting for you upon your arrival. If you are someone that likes to self-park your car, keep this in mind and call ahead to see if self-parking is available. These lots are usually open 24 hours and provide complimentary shuttle service to and from the airport. Most are within walking distance to Lefferts Blvd. station which is a nice option if you prefer to take the train instead of the shuttle to the terminals. To check pricing and availability for long-term parking near JFK, enter the reservation dates needed on our JFK Airport Parking page.
Park, Sleep, and Fly at JFK
Airport hotels are very convenient for travelers that have an early morning or late flight and want to be close to the airport. JFK Airport Hotels line North Conduit Avenue from the Van Wyck to the JFKPkwy. Hotels offer complimentary shuttle service and usually run on the hour or every half-hour. Upon arrival back to JFK, passengers can board the Jamaica Train line to Federal Circle where hotel shuttles pick up passengers and transport them back to the hotel.
JFK Passenger Drop Off and Pick Up
Airport visitors that are dropping off or picking up a friend or loved one can park at either of the JFK Cell Phones lots until it's time to head to the terminal area. The Cell Phone lot parking is free and provides a safe place to wait without clogging up the airport's traffic flow. The West Cell Phone Lot is accessed from the Van Wyck Expressway. The East Cell Phone lot is on Cargo road via the JFK Expressway.
JFK Terminals
John F. Kennedy International Airport has six passenger terminals numbered 1 through 8 but currently skipping terminals 3 and 6 which were demolished in the early 2010s. Each terminal serves as a gateway for either domestic or international flights and has different amenities to offer. Since its opening in 1948, there have been many changes to the airport's infrastructure and the terminals have been at the center of helping the airport adapt and evolve to the needs of the passengers it services.
Terminal 1
JFK Terminal One is managed by Star Alliance, the world's largest airline alliance and it boasts a mezzanine level, departures level, and arrival level. The gates at Terminal One are 1-11.
Dining
Fast and fast-casual food is available at the food court on the Mezzanine Level and there are several cafes and more fast food on the Departures and Arrivals Level. Some featured dining spots are Mcdonald's, Starbucks, Dunkin Donuts, Soy & Sake, Panini Express, and Soho Bites. At the end of the Departures level between gates 8-11, passengers can enjoy a cocktail at the Martini Bar.
Shopping
The shops at Terminal One are mostly located on the Departure Level. In addition to the usual newsstands, you can shop at Cartier, Bulgari, Coach, Mont Blanc, Hermes, Burberry, Salvatore Ferragamo, Michael Kors, Tumi, Victoria's Secret, and Bally.
Airline Lounges
Mezzanine Level: Lufthansa, Korean Airlines, and Air France lounges
Departure Level: Turkish Airlines, Alitalia, VIP ON, and the recently opened TAV OS Lounge
Airlines
The gates in Terminal One provide service to and from predominantly European and Asian countries but also include flights to Africa, the Middle East, and the Caribbean.
European Airlines:
Air France, Lufthansa, Swiss Air, Austrian, Brussels Airlines, NEOS, Condor, SATA Azores Airlines, TAP Air Portugal, ITA Airways, Air Serbia
African and Mediterranean:
Turkish Airlines, Royal Air Maroc, Egypt Air, Air Senegal, Saudi Arabia Airlines
Asian Airlines:
Japan Airlines, Korean Air, Air China, Asiana Airlines, China Eastern, EVA Air, Philippine Airlines
The Caribbean and the Americas:
Cayman Airlines, Air Century, VivaAerobus, Volaris, Eastern Airlines, Flair
Terminal 2
JFK's Terminal 2 is known as the Delta Terminal. All the gates, check-in desks, and boarding gates are exclusively for Delta arrivals and departures.
At the Mezzanine level, Delta Sky Club members can enjoy the Sky Club Lounge.
There are a few fast and casual places to dine at on the Departure level including CIBO Express, Wendys, and the BRKLYN Beer Garden.
Terminal 2 does not have much shopping but does currently have a Best Buy Express for last-minute electronic needs.
Terminal 2 Gates: C60, C61, C62, C63, C64, C65, C66, C67, C68, C69, C70
Terminal 4
JFK's official International Air Terminal is Terminal 4. The terminal was completed in 2013 and serves as a gateway for many international flights and as an international hub for Delta Airlines. The gates are located on the Departure Level and are A2-A7 and B20-B41. If you find yourself in JFK's largest terminal during a layover or while waiting to board a plane, there is a long list of things to enjoy.
Dining
There are over 19 dining options ranging from fast food to fine dining. Restaurants include Uptown Brasserie, The Palm Bar & Grille, Blue Smoke, Bento Sushi, Mi Casa Cantina, Buffalo Wild Wings, Shake Shack, and Central Diner.
Worship
To accommodate the diverse population of travelers arriving and departing from Terminal 4, there are 4 chapels where passengers can pray and recharge.
Shopping
Terminal 4 has several accessible luxury brand stores like Michael Kors, Coach, Pandora, Kate Spade, Hugo Boss, Swarovski, Juicy Couture, Brooks Brothers, and Victoria's Secret.
Airlines
On the south side of the airport, long, Mix of Domestic and International Airlines.
Delta, Virgin Atlantic, AeroMexico, KLM, Kuwait Airways, Singapore Airlines, South African Airways, Emirates, Hawaiian Airlines, AirEuropa, Air India, EgyptAir, Asiana Airlines, Caribbean Airlines, El Al Airways.
Terminal 5
The original Terminal 5 at JFK began operating in 1962 and was iconically designed by Eero Saarinen. In 2017, the original terminal was preserved and redesigned to operate as a chic TWA Hotel. The hotel maintains its 1960s retro design but with some upgraded amenities like a rooftop pool with runway views and a 10,000 sq ft. gym. In 2008, the new Terminal 5 was reopened for its primary tenant, JetBlue. In addition to domestic flights, JetBlue also has an international arrivals concourse within Terminal 5.
Dining
The dining at Terminal 5 is a mix of coffee shops, juice bars, and some international eateries. Unique to Terminal 5 is the 5iveSteak Restaurant and Bar and Piquillos, the first tapas restaurant that opened at a U.S. airport. Additionally, there is Artichoke Pizza, H&H Bagels, NY Sports Grill, and Deep Blue Sushi.
Shopping
Terminal 5 offers limited shopping, but there are a few newsstands, souvenir stores, and tasty gifts at Baked by Melissa.
Airline Lounges
JetBlue Rooftop Terrace
Air Lingus Lounge
USO Center t5/JFK
Airlines
Mainly JetBlue and Aer Lingus
Terminal 7
Another international terminal operating out of JFK is Terminal 7. Since its opening in 1970, the terminal has been managed by OneWorld carriers, an airline alliance that includes British Airways, Alaska Airlines, and Iberia. Terminal 7 has 10 gates and it is the smallest terminal currently at JFK. Parent-friendly amenities found at this terminal are the "Mamava" stations. These designated areas have pods and lactation rooms where breastfeeding mothers can feed their children or mothers can have a private breast pump session on the go.
Dining
The major tenants in Terminal 7 have lounges where food and cocktails are available but travelers passing through can sit at the Gran Comptoir Wine Bar to enjoy a glass of wine and small bites or pick up a sandwich at Apartment 7 Deli & Market.
Shopping
While you won't find high-end designer shops, if you are in the mood for some high-end scotch whiskey, this is the terminal for you. There are a few Duty-Free Americas stores as well as a Macallan store and Jonnie Walker store. Cheers!
Airline Lounges
Alaska Airway Lounge in the Departures Level
British Airways Galleries Lounge in the Departures Level
British Airways Concorde Room in the Departures Level
Airlines
Alaska Airlines, British Airways, Ibera, Nippon Airways, LOT Polish Airways, United Airlines, Aerolineas Argentinas, Icelandair, and Ukraine International Airlines.
Terminal 8
Terminal 8 at JFK is a massive terminal and major hub for American Airlines. For the last two years, this terminal has been undergoing expansion to help improve its operations and provide more lucrative international flights like from New York to London. There are 29 gates in Terminal 8 but are numbered through 31. For travelers with Pets, Terminal 8 is one of the more pet-friendly terminals. There are several animal and pet relief areas, a wellness room, and a fun zone for kids near Gate 37.
Dining
If you navigate to the terminal's official website, they describe the dining choices as the "Best of New York". Of course, you can still order up some Starbucks or Dunkin Donuts for a quick pick me up, but eating local food is the dining theme at this terminal. Conveniently, online ordering is available for all dining at Terminal 8.
Terminal 8's Bars, Cocktails, & Local Eats
Bobby Van's Grill
Cascata Restaurant and Bar
Drink Martini Bar
New York Sports Bar
O'Neals Restaurant
Soho Bistro
Abitino's Pizza
New York Deli
Shopping
The shopping at Terminal 8 is pretty great! Concourse B has several beauty stores like MAC, Chanel, Kylie Cosmetics, and Estee Lauder. Need a designer watch, maybe some sunglasses or how about some new shoes? Terminal 8 shops have you covered. While you wait to board, shop at Dior, Hugo Boss, Bulgaro, Tag Heuer, and Salvatore Ferragamo.
Airline Lounges
Level 4 sits at the top of the outer terminal and is the designated area for two American Airlines air lounges. On one side is the American Admirals Club and on the other is the American Airlines Flagship Lounge.
Airlines
American Airlines, Cathay Pacific, Finnair, Qantas, Qatar Airways, Royal Jordanian Airlines, and Ethiopian Airlines.
In addition to all the information provided above, JFK has real-time information to further assist passengers and the airport's visitors. Visit the airport's official website: https://jfkairport.com/ to view their flight tracker, see current parking availability, security and customs wait times, and estimated walk times to gates.
Here you can download our quick from NYC to JFK Public Transportation Guide.