WallyPark Express
Parking Lot Overview
First Class Service. WallyPark is located about five minutes from the Los Angeles International Airport (LAX).

Wally Park Express offers an unmatched and affordable parking experience, with benefits that include secured self-parking, 24/7 shuttle service, immediate check-in/check-out, complimentary amenities and so much more. Whether you're traveling for business or pleasure, WallyPark Express at LAX will make parking the most enjoyable part of your trip.
Parking Options
Parking Lot Plan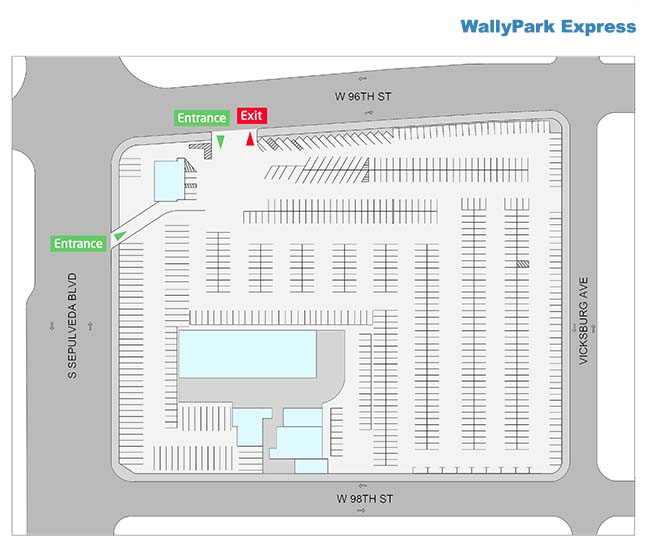 Customer Reviews Summary
Convenience (9/10)
The service needs to be more specific about the parking process, but overall it provides convenience.
Customer Service (7/10)
Some customers experienced slow pick-up times and encountered a cashier with a nasty attitude. The lack of helpfulness and poor attitudes from staff members indicate a need for new management.
Shuttle Service (6/10)
Customers complained about long wait times for the shuttle and overcrowded shuttles. Improvement is needed in this area to reduce wait times and provide more comfortable rides.
Speed (9/10)
Many customers praised the service for being quick and efficient, providing a fast shuttle experience.
Price (9/10)
Customers found the price to be great and had a hassle-free experience with no problems.
Reservation Process (9/10)
Customers had a positive experience with the reservation process, finding it easy to book and receive prompt notifications for changes.
Driver Attitude (6/10)
Some customers encountered drivers with poor attitudes, with one driver even refusing to pick up a customer.
Location (9/10)
The location was easy to find and provided a quick parking experience, with the added convenience of nearby hotel amenities.
Overall Experience (8.5/10)
The service was praised for its convenience, quickness, and reasonable price. However, improvements are needed in areas such as customer service, shuttle service, and driver attitude.
Reviews
"Shuttle was very packed."

Chris B - Santa Monica

"All around outstanding. Shortest wait time ever."

Andrew R Strauss

"Close to the airport, prompt shuttle service, will definitely use it again."

Crystal Yi

"I was able to grab this place via CheapAirportParking within 15 minutes of arriving to the airport and saved about 25-30% on my parking vs. the Company website. When I arrived I had a quick turn around on the shuttle to the airport. Also had to call to extend my reservation by two days. Customer service was super helpful, took little of my time, and sent me a re-booking notification within the hr. as promised. TA Great service overall and highly recommended."

Dex Murphy

"Driver at airport was going to drive by, needed to flag him down for pick-up."

Lorie H Judson

"The location was easy to find and parking was very easy. We arrived early enough to enjoy dinner at the Hilton hotel before the shuttle took us to the airport.I highly recommend getting to parking early enough for dinner. The Hotel staff was very courteous and helpful with catching the shuttle. Our shuttle driver both to and from the airport was nice and helpful. When traveling out of SFO I will definitely use Burlingame parking again."

DM - Los Angeles

"Excellent!!! Great and fast service. Quickest shuttle experience I've had. Very recommended!"

MH - LA

"Great and convenient service!"

Alberto Vazquez-Azul

"Good experience, good price, I will be parking here again."

Graciela Gonzalez

"Super easy quick parking experience. Extremely close to the airport too."

Wesley Pedersen

"Most courtesy drivers I have seen."

BHARATSINH ZALA
More WallyPark Express Reviews
Why book LAX airport parking with ParkON
Best price guarantee
Our prices are better than good.
They're guaranteed for LAX Parking!
Easy booking
Search, select and reserve - in less
than 5 minutes
Free cancellations
Cancel for free if your travel
plans change