Sunrise LAX Parking
Parking Lot Overview
Sunrise LAX Parking is located at 6155 west 98 street Los Angeles just across the street from LAX, (one block) the closest you can get and within easy reach of the major freeways in the area.

Worry-free parking with free shuttle service to/from LAX. We provide secure parking with 24 hours 7 days service.

- Directly Across from LAX
- 24/7 free Shuttle Service, No waiting
- Luggage help from and to your car
- 24/7 Parking Attendant
- Security Gate and Surveillance Camera

A note regarding oversized vehicles
SUV, trucks or minivans please add $1 / day.
Oversized vehicles (crew cabs) please add $5 / day.
Transit and Sprinter vans please add $9 / day
Parking Options
Parking Lot Plan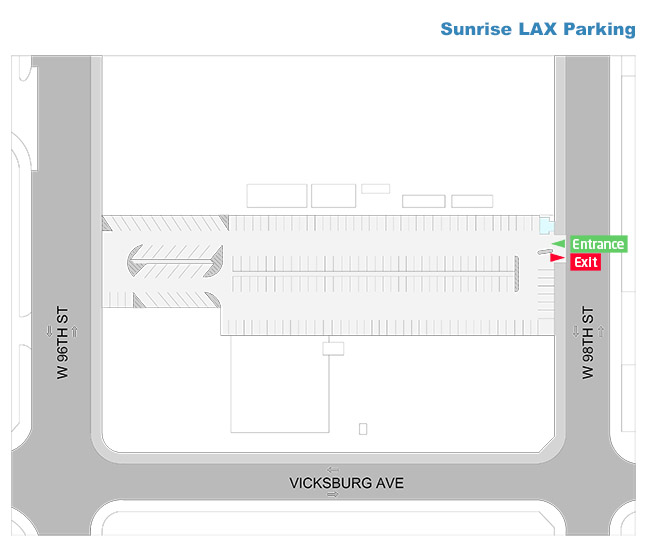 Customer Reviews Summary
Shuttle Service (8/10)
The majority of reviewers reported that the shuttle service was prompt and reliable, with minimal wait times.
Staff (7/10)
While many customers found the staff to be friendly and helpful, there were a few instances where staff members appeared to be uninformed or unorganized.
Price (8/10)
Most reviewers felt that the price was reasonable for the service provided, although a few mentioned issues with overcharging or confusion with online prices.
Location (10/10)
The parking facility's proximity to the airport was highly praised by all reviewers, as it made the overall experience more convenient.
Safety (6/10)
Some customers expressed concerns about the lack of covered parking, but overall felt that their cars were safe during their absence.
Easy to Use (9/10)
The majority of reviewers found the parking facility to be easy to use, with straightforward instructions and processes.
Waiting Time (7/10)
While many customers experienced minimal waiting times for shuttle service, there were a few instances where delays occurred and multiple calls had to be made.
Service Quality (10/10)
The service quality was consistently rated highly by all reviewers, with positive feedback on the efficiency and helpfulness of the staff.
Overall Experience (7.5/10)
The overall experience was generally positive, with customers appreciating the convenience, location, and service quality. However, there were some issues with staff knowledge and organization, as well as occasional delays in shuttle service.
Reviews
"Excellent and what I expected."

Alok J. - Pasadena, CA

"You guys more than met my expectations. I will definitely use you again."

Charles E Cornelison

"Very quick response time. Helpful and pleasant employees. Close to airport. Will definitely use again."

Stacy L. - Orange

"The whole experience was great EXCEPT that I had printed out the email reciept, and when I gave it to the guy at counter he said it was the wrong thing. After gentle arguing, and me pointing out several times that all the info was there ALONG WITH THE CONFIRMATION NUMBER, he let me pay what I was supposed to pay. Don't know what the problem was, but I printed it out and did everything I was supposed to. Other than that, everything was great. Maybe just get that stuff together a little - have some way to reference the confirmation #, and to also have the clerks to be able to access how much has been prepaid so there are no arguments. I've seen other complaints describing this exact situation..."

Sam B. - Ventura, CA

"Parked for 14 days. They provided valet service from the entry/exit and their shuttle took us to the airline promptly. Upon return, shuttle arrived within a very few minutes and our car was waiting at the exit. A very smooth experience. Price was as contracted on the web."

Steve Foster - Coto de Caza, CA

"Great experience, no delays checked in, in minutes shuttled to airport only minutes away, very pleased !!!"

Robert P Kauka

"Super fast pick up and drop off!"

Shel

"Used airport parking for 1st time; this was a positive experience."

Vyethel P. - Los Angeles, CA

"No complaints.. the wait time to be picked up at airport could have been a little better considering the parking facility is not that far away. Everything else was very good! I would use this lot again."

Joe G. - Valencia, CA

"The only drawback was that it wasn't a covered parking lot ... but my car was safe, the service to and from the airport was quite and in a timely manner. The staff was friendly and helpful with the bags.. I will park there again ..."

Kennia M. - Oxnard, CA

"We had to wait about 25 minutes to be picked up from LAX, and we had to call twice. Other than that, the outbound service was immediate, and the staff were very friendly and courteous."

Sheron - California
More Sunrise LAX Parking Reviews
Why book LAX airport parking with ParkON
Best price guarantee
Our prices are better than good.
They're guaranteed for LAX Parking!
Easy booking
Search, select and reserve - in less
than 5 minutes
Free cancellations
Cancel for free if your travel
plans change