4.0
out of
5
Airport Parking Rating
Description
FOX Auto Park (Open 24/7)

Driving distance to LAX: 1.5 miles
Type of parking: Outdoor Valet Parking
Clearance: no restrictions

Extra charge for SUVs, vans and trucks: $1/day
Extra charge for oversized vehicles: $2/day

Fox Auto Parks is located just minutes away from Los Angeles International Airport (LAX) and offers safe and well-lit parking spots. We have staff on duty 24/7 with video surveillance cameras and a security gate.

Upon entering you will be directed to a parking space and a shuttle bus will pick you up at your car and take you to your terminal.
Fox Auto Parks offers 24/7 free shuttle services to and from airport terminals and complimentary luggage assistance. Shuttles run every 5-10 minutes all depending on traffic.

Additional services:
Free charge battery jump-starts and pressurized air to fill your tire. If you lock your keys in your car, AAA is just around the street from us and can quickly offer assistance.

Additional information:

When you are back from your trip, call to request a pick up or simply wait under the purple sign RENTAL CAR PICK UP in front of each of the terminals (arrivals).

If you feel you have lost any of your items in FOX shuttle buses or at the parking lot, do not worry. Fox Auto Parks logs all lost articles and keeps these items under lock and key. Call (310) 342-6445 or (310) 641-3838 to inquire about any lost items.
Lot Plan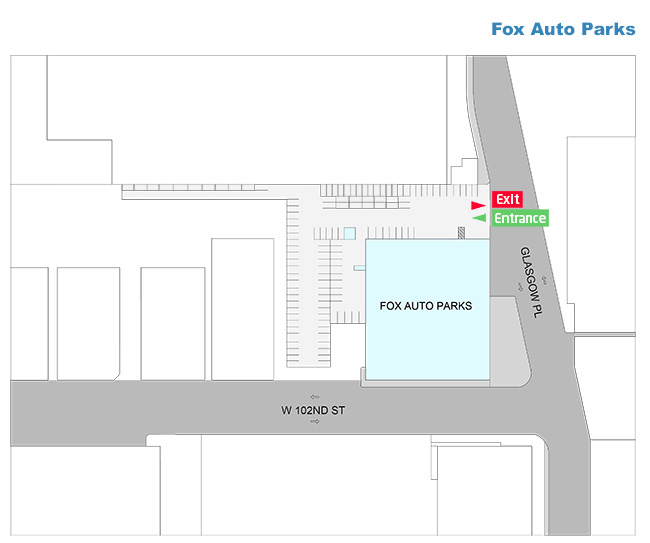 Reviews
09/07/2015Kristin - Los Angeles
There is a chip in my windshield from the outdoor valet at Fox. It is not normal wear and tear to park your car for 5 days and return to damaged windshield. I usually don't trust reviews since everyone has different experiences, but it's not worth the damage to your car to go to Fox. Customer service, employees and shuttles were not impressive.
---
11/15/2015MS. KRISS A MARLIN - La Mirada, California
Excellent service (even when I made a freaking-out phone call to you because I couldn't find the 'purple sign' at LAX to get picked up! Both drivers were very professional and courteous. I was especially impressed with one who spoke to us about what happened in Paris (we didn't know) and was very kind. Will definitely use FOX again!
---
11/16/2015David G Eichler - Bakersfield
Great experience and very reasonable. Definitely will park here the next time.
---
08/28/2017Valerie Gray
Appreciate FOX Parking employees, they are very professional.
---
08/28/2017Patrick Brown - Los Angeles
Great experience all around.
---
06/22/2015Maclean - Ventura
When got to the airport and sent text that we were there - waited 20 minutes then tried to call. Couldn't get a live person on the phone (though they assured me there was an option on the menu). Texted again it was 45 minutes waiting for the shuttle and others said they had been waiting longer. Won't use them again.
---
06/14/2015Marc M.
The staff was good, the pick up and drop off where quick. We plan to use them again. Price was great.
---