FOX Auto Parks
Parking Lot Overview
Fox Auto Parks has been serving the LAX airport area with easy, low-cost airport parking since 2001. Their lot is conveniently located less than 2 miles from LAX with easy access from the 405 and 105 highways. The check-in and check-out process is managed by friendly and efficient staff that will have you boarding the shuttle and heading to the terminals in minutes.
Shuttle Information
Please arrive at least 30 minutes before you want to arrive at your terminal. Upon entering the lot a shuttle bus will be ready to pick you up and transport you to your terminal.
The shuttle for airport pick-up is on-demand. Once you have returned to LAX, use the express texting service to dispatch a shuttle and allow the parking attendants to have your vehicle waiting for you when you get back to the facility.
Discount Information
Reservations must be booked online to receive the discounted rate.
Military discounts are honored for service members showing proof of service.
Frequently asked questions
Please review the following FAQs for Fox Auto Parks to ensure a smooth and seamless parking experience.
How far is Fox Auto Parks Located from LAX?
Fox Auto Parks is located within 2 miles of LAX, about a 5-10 minute ride to the airport.
When should I arrive at the Fox Auto Parks?
Please arrive at the parking facility 30 minutes before you would like to be at the terminal. Travelers can check with their airlines for suggestions on the best time of arrival.
What should I do upon return from my trip?
Upon your return back to LAX, proceed to baggage claim to pick up your luggage. Once you have your luggage in hand, send Fox Auto Parks a text with your claim number and the last name on the reservation. The number to text is (310) 266-4255. You can also call (310) 342-6445 to have your car prepared and ready for you. To wait for the shuttle, proceed to the outside of the arrivals level and wait under the purple sign that says "Rental Car Pick-Up Only."
What if I have a dead battery or flat tire in my car upon my return?
Fox Auto Parks will provide a complimentary jump-start if your battery is dead and pressurized air to fill your tire as needed.
What I leave something in the shuttle van by mistake?
Fox Auto Parks keeps a log of all lost and found articles and stores them under lock and key until they are claimed. Please call (310) 342-6445 or (310) 342-5155 ext. 3001 to inquire about lost items.
Can I park vans, trucks, SUVs, and oversized vehicles at Fox Auto Parks?
Fox Auto Parks can accommodate most passenger cars, trucks, and SUVs
For company and medium SUVs and Minivans, add $1.50/day
For full-size SUV's and medium-sized trucks, add $3.00/day
For full-size trucks and passenger vans, add $4.00/day
For oversized, high-roof, off-road trucks, and 12+ passenger vans, add $5.00/day
We do not accept trailers, campers, RVs, dual and oversized axle vehicles at Fox Auto Parks
Parking Options
Outdoor Self
Covered Valet
Parking Lot Plan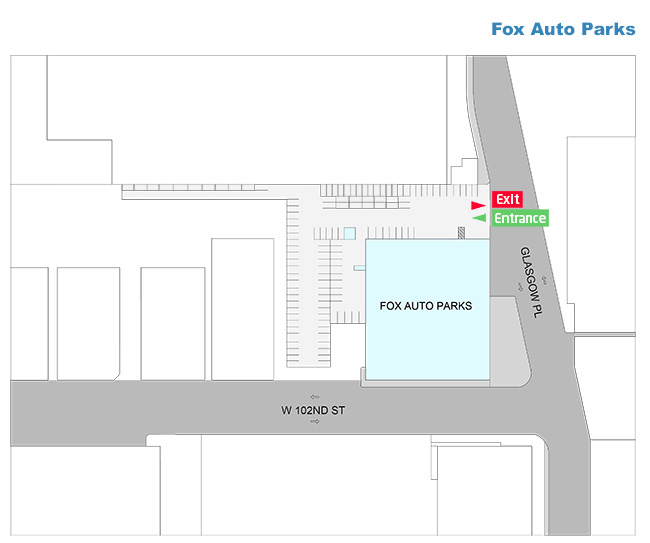 Customer Reviews Summary
Convenience (9/10)
Most users found the service to be quick and efficient, noting that it greatly simplified the parking process.
Customer Service (7/10)
Some users found the customer service to be lacking, with rude and unhelpful staff members.
Shuttle Service (8/10)
Most users had a positive experience with the shuttle service, but some experienced long wait times.
Price (6/10)
While some users found the prices to be reasonable, others felt that they were unfairly charged extra fees.
Overall Experience (8/10)
Overall, users had a positive experience with the airport parking service, with most praising its convenience and reasonable prices.
Reviews
"Excellent, outstanding service"

Samuel Raynier Bautista

"SUV $1 up-charge. Very slow check in, so take extra time. Had much better experience with other facilities."

Raffa - Agoura

"When we checked in they told me my Subaru cross trek was considered a large car and was up charged $1 a day. They were very matter a fact about everything and I witnessed other customers being upcharged as well. I felt like they were very thuggish to me and everyone. On another note, the drivers were very easy going and made us feel welcomed."

Honest Reviewer

"My car was dirty - I don't think it was parked in the garage the whole time."

rg - LA

"Good facility and good prices. I have used numerous times."

Gary Wynings

"Great experience and very reasonable. Definitely will park here the next time."

David G Eichler - Bakersfield

"I travel a lot and parked at many different places, and I can tell you there's no better place to park then here. I will use them everytime I fly, and would recommend them to everyone."

Daniel Licciardi

"I've used this lot a few times and it is perfectly fine as long as you're not in a hurry. When going to the airport make sure to arrive early enough so you don't feel squeezed getting in. And when you get back, if you have nowhere to be then this lot is great. I needed to get to work straight from my arrival and the time waiting for a shuttle and then my car was an hour. It was pretty frustrating. They give you a number to text, but it does nothing and when I asked about it the guy working the desk ignored me."

Sarah B

"There is a chip in my windshield from the outdoor valet at Fox. It is not normal wear and tear to park your car for 5 days and return to damaged windshield. I usually don\'t trust reviews since everyone has different experiences, but it\'s not worth the damage to your car to go to Fox.\r\n\r\nCustomer service, employees and shuttles were not impressive."

Kristin - Los Angeles

"Your late PM office help named Anthony saved my vacation and got me squared away in a critical time crunch."

Donald G Bayles

"Once we got back to the FOX facility to pick up our car, the guy behind the counter said that I had never parked my car there. Then we said that I never used the voucher and that my car wasn't there. He said that I was wrong even though I showed him my car's location via my phone. Finally, someone else came out and told him my car was there."

John Mueller
More FOX Auto Parks Reviews
Why book LAX airport parking with ParkON
Best price guarantee
Our prices are better than good.
They're guaranteed for LAX Parking!
Easy booking
Search, select and reserve - in less
than 5 minutes
Free cancellations
Cancel for free if your travel
plans change