Joe's Airport Parking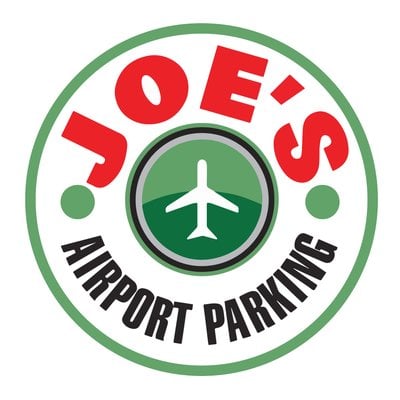 Parking Lot Overview
Joe's Airport Parking is a few minutes from LAX airport, it's only about a half-mile away. This parking facility is known for having a speedy check-in process, accommodating staff, and great prices. Customers rave about how quickly they are able to park and board the shuttle to the LAX. The shuttle service is efficient, with minimal wait times, and are well-maintained and clean. The parking facility is secured with both an onsite security guard and security cameras. Arriving late at night or after a long flight, have no fear, Joe's shuttles will have you back to the garage and on your way home in no time. If you encounter any problems with parking take comfort in knowing that our friendly and knowledgeable staff is here to help you. The parking facility's entrance can be accessed through W. Century Blvd. When you're just about in front of the famous LAX sign, you'll see signage on your right to Joe's Airport Parking facility. If you have trouble seeing the garage from the street, it is located right next to the Hilton Homewood Suites Hotel.
To enter the garage, scan the QR barcode provided in your confirmation email. After finding a parking space, board the shuttle to LAX. Customers are dropped off and picked up at the Departures level at the terminals.
Upon arrival back to LAX, locate the "Hotel Shuttles" sign and catch the shuttle back to Joe's Airport Parking. There is a red tram sign at the Departure level where off-site airport parking shuttles pick up customers. To exit the garage, a QR code is also scanned on the way out.
Parking Lot Amenities
Free Wifi
24/7 Complimentary Shuttle Service
Complimentary Coffee and Bottled Water
Luggage Assistance
Covered Parking Lot
Parking Lot Plan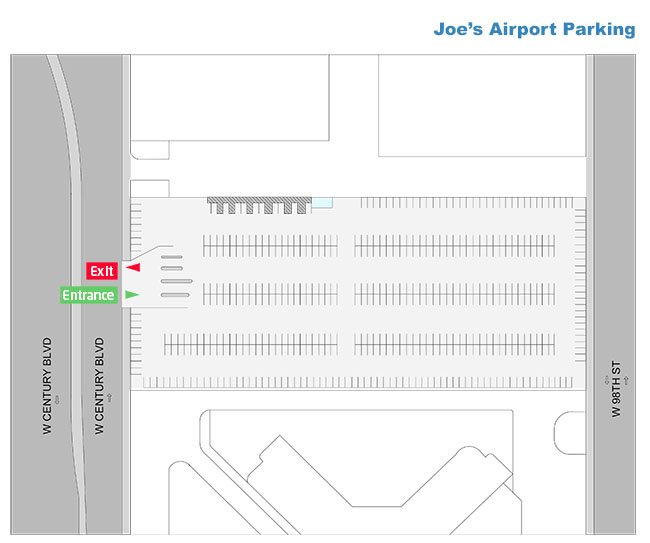 Reviews
"My favorite place to park when leaving from LAX. We are repeat customers."

Robin McAlpine - Ventura, CA

"New offices under construction... parking structure is fine... elevators need to be renovated."

Gordo - Orange County

"En route to the Airport, the driver packed additional 8 people standing in the aisle with bags slamming into my legs on turns. The shuttle took 15 minutes to show up and then 25 minutes to get to the airport, which i could have walked to in 5 minutes. When i was waiting to be picked up, the shuttle took 15 minutes, and when I called to complain, the woman tried to tell me i was wrong and that they say 10-20 minutes wait. I will not ever be using Joe's again."

Anonymous

"Easy to park. We pre-paid for our parking, so you just scan a barcode to enter and exit. Minimal wait for the shuttle to the airport. On return, we caught the shuttle just as it pulled up. Definitely will park there again."

Lisa M - Los Angeles

"Wait time for shuttle when going to terminal was nothing and the driver was very helpful with the luggage. The wait time however to be picked up, upon my return was 20 minutes. I did see multiple vans from where I almost made a reservation continue to go by and was thinking, I could be at my car by now. The driver for the pickup wasn not as helpful wit the luggage. Also, the light by the elevator when I got out on the 5th floor was out which didn't give me the safest feeling. Overall, I liked the service would consider parking here again."

Meghan K Herndon - Paychex

"Easy to get to, quick to check in. On return, text got response in less than 2 minutes, driver picked us up in 5 and we were back to our car in 10 minutes. Great service, would use again."

Catherine - Escondido

"I waited longer to get my car, then it took for me to fly from Las Vegas to LAX. There appeared to be only one shuttle running at 9:00 in the evening and it was being run by a woman who was not friendly, or helpful. I called the office 4 times in the 45 minutes that I waited, and was told each time that a driver was on the way. When the driver finally got to me, she opened the door and scowled. No offer to help. I watched 10 "Parking Spot" buses come and go in the first 10 minutes that I was waiting for your bus. I couldn't believe the service was so bad."

Frankie Beth Sexton

"They said I did things right for reservations and the lower rate worked well. The web rate is lower than the posted rate. I will park here next time."

Douglas V.

"Need to have signage on the walk side as well as the street. We had a very hard time finding where to go to pick up the shuttle."

Leslie Badin Jr

"Good location, but that's about it. Horrible customer service. One hr wait for shuttle. Rude driver. Definitely will not be using this lot again."

Kyle Song

"Great going. Coming back there were no clear instructions on where to catch shuttle. It's by baggage claim outside under a red sign that says HOTELS. You'll see the sign when you cross the road and look back!"

CHRISTINE A GROSS
Why book LAX airport parking with ParkON
Best price guarantee
Our prices are better than good.
They're guaranteed for LAX Parking!
Easy booking
Search, select and reserve - in less
than 5 minutes
Free cancellations
Cancel for free if your travel
plans change